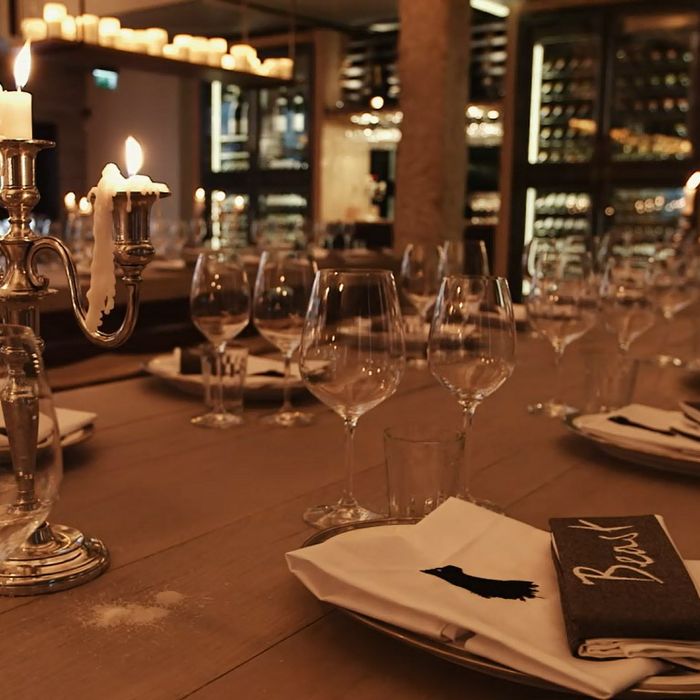 This is going to get messy.
Photo: The Beast/London
Because everyone loves an absolutely devastating restaurant review, here are some choice bits from The Guardian's most read story this weekend — now at 550 comments and counting — in the form of Jay Rayner's Sunday Observer review. A new high-end, formidably named London restaurant specializing in Norwegian red king crab and Nebraskan steak called Beast, the critic writes, is "the most unintentionally funny restaurant to open in London in a very long time."
For are 10 of the best lines:
1. "[G]o with someone else's money, because God knows you'll need a lot of it. Got any friends who are, say, international drug barons? Excellent. They may be able to afford dinner."
2. "The corn-fed, dry-aged Nebraskan rib-eye, with a carbon footprint big enough to make a climate-change denier horny, is bloody marvellous: rich, deep, earthy, with that dense tang that comes with proper hanging. And at £100 a kilo it bloody well should be. At that price they should lead the damn animal into the restaurant and install it under the table so it can pleasure me while I eat."
3. "If Beast were a chap, he would be a part-time rugby player smelling of Ralgex who's trying to tell you he's deep and thoughtful, even though he'll later be implicated in an incident involving a traffic cone and a pint glass of his own urine."
4. "There are dry-stone walls and glass-fronted wine cabinets bulging with Montrachet and Pomerol, priced in four figures for men with teeny-weeny penises. I order one of the very cheapest options, a Bordeaux by the glass."
5. Rayner, on being told there's no bread on the side: "I could see this as some stand for a bang-on-trend, carb-free Palaeolithic diet, were it not for the fact they serve chips."
6. On those chips: "They're advertised as coming with truffle and foie-gras salt, which is like getting a gold-plated, diamond-encrusted case for your smartphone because you've run out of things to spend money on."
7. On the pricing schematic: "With the crab, which costs £75 a kilo, it's even sillier. You have to buy a whole beast, and the smallest they have is 4.3kg, at a mere £325.50. Before service. We have to make do with a single spindly leg at £25."
8. "I ask for a finger bowl. They don't do those either. I am directed to the hard stone sinks around the edges. Maybe I should save on a walk to the men's while I'm there. It feels like that sort of place."
9. On the "deconstructed" vanilla cheesecake: "A cushion of whipped vanilla cream lies under a landslide of shattered digestives with a few berries in mourning. And all of this is served with huge solemnity and seriousness. It may be hilarious, but those involved have no idea."
10. " It's worth going to see what the unmitigated male ego looks like, when expressed as a restaurant."
Looks like the Beast's owners are already working on some of the critic's suggestions.
[Guardian]