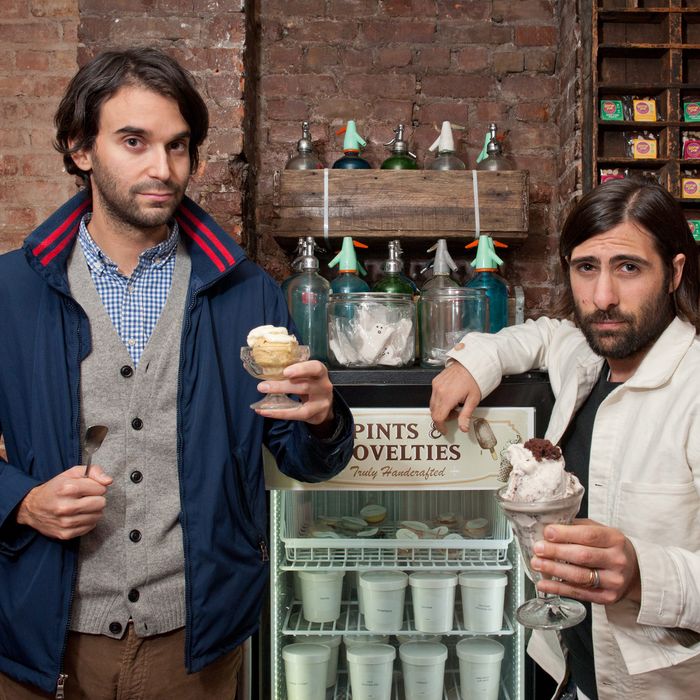 Perry and Schwartzman, inside what's formerly known as Lula's Sweet Apothecary.
Photo: Liz Clayman
Sweets are at the core of the relationship between Jason Schwartzman and writer-director Alex Ross Perry: They hatched the plan for their new movie, Listen Up Philip, at a tiny, vegan ice cream shop in the East Village called Lula's Sweet Apothecary. "The shop became a big part of what we wanted to do with the film," Perry says. So even though it doesn't make a cameo in the movie itself, the parlor nevertheless served as a refuge during filming. Interestingly, Lulu's has since closed and reopened with no official name, but it still specializes in dairy-free, nut-free, soy-free, gluten-free sundaes. In honor of the film, which opens this Friday, Grub — who tends to prefer dairy-centric frozen desserts — suggested a meeting with the star and director to see if they could make the case for why the shop and its ice cream are so special.
Schwartzman calls himself a "hard-hardcore vegetarian," or, he reconsiders, "a flamboyant vegan." In other words, when his 3-year-old daughter offers him a piece of regular cake, he obliges and takes a bite. Perry, though, is a longtime vegan, albeit one with a massive sweet tooth. At the shop, both he and Schwartzman go for Flurries flavored with cake batter and vegan marshmallows mixed in, plus additional scoops of hard ice cream: peanut butter flavor and pumpkin chocolate chip.
To their credit, the ice creams, made with a cashew-milk base, do taste similar to actual ice cream. Even if it isn't Morgenstern's, it's easy to see how someone could get hooked. "When we were filming, I'd come home, put my daughter to bed, and think, If I ran over there, I could get that ice cream before Lula's closes," Schwartzman says. "I just love it so much." Before leaving the shop, Schwartzman also grabs as many ghost-shaped, Halloween-themed vegan marshmallows as he can fit in his hand.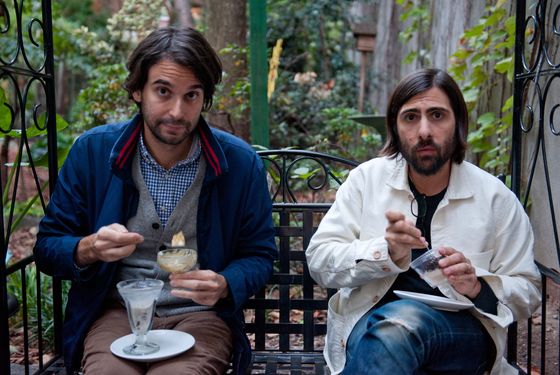 Enjoying their ice cream inside the community garden on 6th Street.Photo: Liz Clayman

What inspired Schwartzman to adopt an animal-free diet? "For this interview," he deadpans. "I've been getting ready for it, thinking, what could set me apart?" The actual answer is that, around 2001, Schwartzman played in a band with a vegan friend, and decided to give it a try because he didn't eat much cheese or meat anyway. Perry, who makes seitan and broccoli-miso soup in his spare time, adopted a vegan diet because of cholesterol concerns.
When pressed on other favorite vegan spots around town, they say they frequent Caravan of Dreams, Champs, Liquiteria, Atlas Café, and Angelica Kitchen, which they apparently didn't know is in danger of closing because of a battle against a landlord who wants to increase the rent. When I suggest the closing could be a subtext to the interview, Schwartzman looks aghast. "It should be the main text!"
But with the news of the potential closing of a vegetarian institution, it's probably a good thing that Perry is now teaching Schwartzman how to cook: "We went to Whole Foods together, got all these ingredients, made pad Thai, and talked," Schwartzman recalls of a recent evening. "That's how you should be able to do these things, if you can." And, of course, Perry points out that there was dessert after the pad Thai: "It's hard for me to relate to people who don't have a huge sweet tooth. I eat dessert two or three times a day. To me, it's like smokers versus non-smokers."
Relaxed nights of cooking at home keep with Schwartzman's low-key attitude. "I always tell my entourage — my chef, my masseuse, my driver, my herbalist — 'Call me Jason,'" Schwartzman jokes. "I'm on a first-name basis with everyone that works with me. That's one way I keep from being a dick."