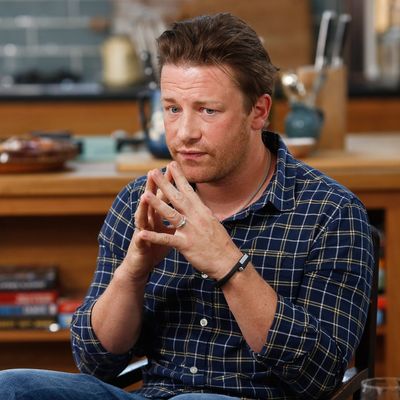 Should this apprentice be fired?
Photo: Simon Dawson/Bloomberg via Getty Images
The intentions were plainly good, but Jamie Oliver has spent the last day defending his decision to give one of his coveted Fifteen restaurant apprenticeships to David Mason, a 24-year-old who at 19 raped an underage girl. The respected program has been around since 2002 as a way of helping aspiring chefs discover "untapped talents often hidden by problems in their home lives," which includes Mason, but since news of this "golden opportunity" blew up in Britain's Sun tabloid story yesterday, a growing number of people have called for a boycott.
Every 1 Should Boycott Until The Rapist Is Sacked #jamieoliver pic.twitter.com/GAKtax0hTe— Geeza (@Geezajay2013) October 17, 2014

His spokesperson tells the Daily Mail it's common for Fifteen to work with "people who want to try to turn their lives around," adding that Mason was "completely honest" about his past. They offered him the job on the grounds that he'd served his time for the crime, two years in prison and another two on probation.
So far, reportedly, Mason's "doing very well" in his new job.
[Daily Mail, Sun, IBT]