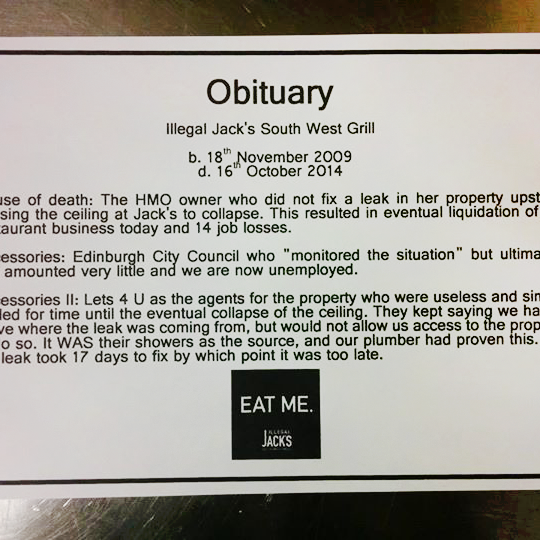 R.I.P.
Photo: Illegal Jack's South West Grill/Facebook
Jack Muir found himself moving through the stages of grief after a leaky roof collapsed the ceiling at his Illegal Jacks South West Grill, cutting the popular Edinburgh Tex-Mex spot down a month shy of its fifth birthday. Frustrated and faced with the grief of laying off 14 employees, not to mention the unceremonious end to his haggis burritos, Muir decided to pen an obit that's now been shared almost 800 times (on Facebook, of course). It also barely disguised his anger with the people he blamed for the 17-day saga leading to the demise of his restaurant.
"Friends, it's been fun, and you have been wonderful. Thank you for all the memories," the restaurant posted to Twitter, along with a photo of the farewell. The posted obit, which Muir says was a "toned-down version," goes somewhat off-script as quickly as you'd imagine, naming the property agents and city council as "accessories," murder suspect style, and ends with their standard logo, which happens to bear a very well-placed "Eat me" motto.