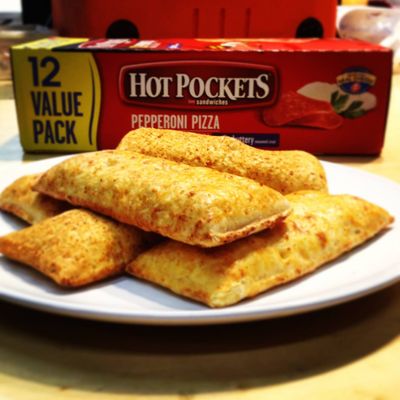 Get them while they're hot.
Photo: Hot Pockets/Facebook
Things must be looking extra glum right about now in the corner of the Hot Pockets factory where they fold the industrial pepperoni in with the cheese: A just-published study indicated that people 34 and younger were twice as likely to avoid anything in the freezer as older eaters, perhaps because they perceive frozen food as less healthy. That's not the worst of it for Hot Pox, though: Nestlé executives now say that Hot Pocket sales have taken a very big hit.
Nestlé execs say updated and tighter food-stamp restrictions have negatively affected one of the main buying groups for Hot Pockets, but it seems there could be another reason: the influence of Jim Gaffigan's now-classic standup routine.
A rebound strategy is certainly forthcoming, but in general, things haven't been so, well, hot for Hot Pockets for some time. And it's not just isolated trouble in Four Meat & Four Cheese Calzone land these days, it's hard times for processed food — McDonald's, for example, is having a particularly bad week. Check out the steady decline of nobody's favorite food:
2009: Prosciutto-wrapped Hot Pockets served in a Meatpacking District bar attempt to upscale-ify the junk food. Soon enough, everyone involved regrets this decision.
2012: 103 workers at the L.A. Hot Pockets plant are laid off.
2012: Snoop Lion and Andy Milonakis try to revitalize the brand by appealing directly to stoners in a smoke-filled ad starring product mascot "Herbie." It's since been delisted on the Hot Pockets YouTube channel but lives on elsewhere.
2012: Cory Booker, then the mayor of Newark, wrote "I believe in you" to a man on Twitter who said he was running out of Hot Pockets in the aftermath of Hurricane Sandy. The company immediately sent hundreds of coupons for free Hot Pockets. Problem is, few of the local stores that would carry the product are actually open.
2013: Kate Upton tries valiantly to save Mr. Hot Pocket.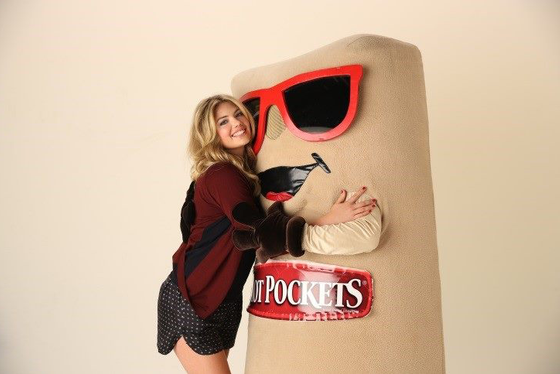 2014: Nine million pounds of "diseased and unsound animals" are recalled by a California slaughterhouse. This recall extends to countless packages of Philly cheesesteak style Hot Pockets. Jon Stewart eviscerates the company.
2014: Brian McCurren, a student in South Bend, Indiana, used a flower pot to break a window at a day spa. "Then he grabbed a hammer and pounded his way through a wall to get inside," it was reported. He was later apprehended after having half a box of Four Meat & Four Cheese Calzone. Later, it is speculated that the Hot Pockets bandit is a Jim Gaffigan fan.