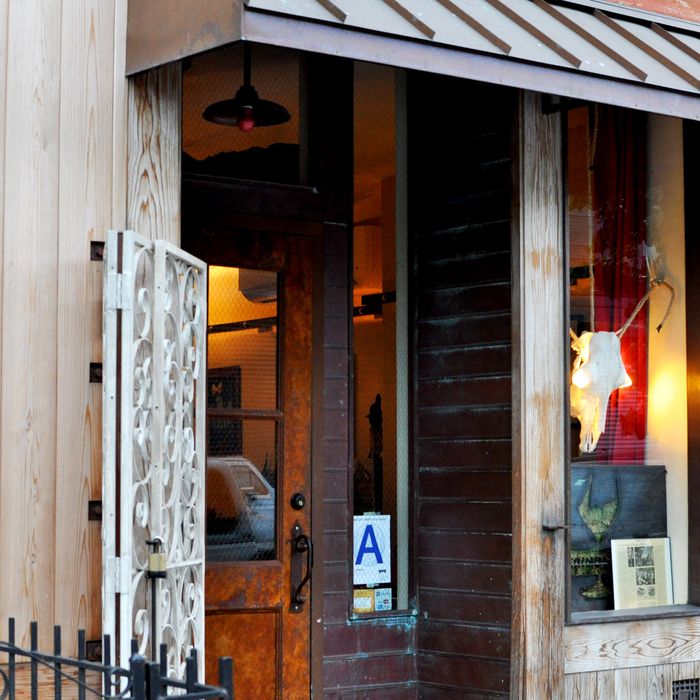 Now open for lunch. And steak.
Photo: Hugh Merwin
Erin Norris sends word that Aaron Taber is no longer in the kitchen at Grindhaus, her ten-month-old Red Hook restaurant. The chef, whose foie gras and strawberry dish Pete Wells admired so much he ordered two in a row, left last week. "As wonderful as it was, there were a lot of aspects that weren't working," Norris says. "It was not a sustainable business model." In his place is now Carole Greenwood, a New York native and James Beard Award nominee who cooked most recently in Johannesburg. The menu is now more focused on meat and includes a steak for two. "One of things you can't get in Red Hook is a good steak," she says.
"It's almost going back to the roots of Grindhaus," Norris says, referencing the restaurant's intended format as sausage parlor and beer hall. Hurricane Sandy, of course, altered those plans, and the restaurant finally opened last December with a focus on plated food and ingredients such as foraged greens, Long Island duck, and local surf clams. Aside from the massive sirloin steak, which feeds at least two and retails for $50, expect what Norris says are "a lot more accessible" items like an iceberg-lettuce wedge with smoky chicken wings, chicken paillard, and Brussels sprouts with hazelnuts and thyme. Desserts include Italian plum cake and an apple tart with caramel custard.
The restaurant is now open for dinner-only Wednesdays through Fridays from 6 p.m. until 10 p.m., and has added lunch service Saturdays through Mondays in addition to dinner hours. Plans include extending service to six days a week. The tiny Brooklyn restaurant will also celebrate the two-year anniversary of Hurricane Sandy with a special meal that commences right after the neighborhood's unofficial Barnacle Parade next Wednesday, October 29. The night will feature oysters from the Montauk Shellfish Company and six courses, for $150 per person. (There will be cameras present, too — Grindhaus will appear in a forthcoming docu-series.) Call the restaurant for reservations.