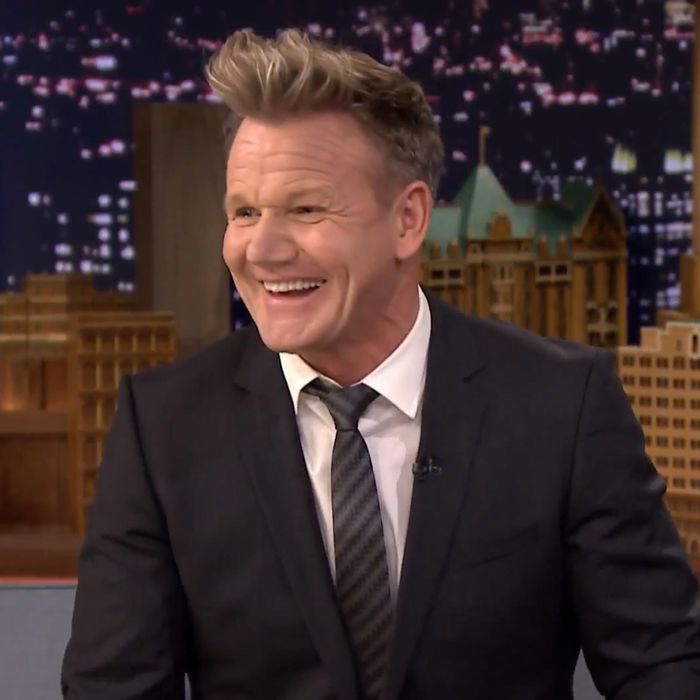 He certainly turned that frown upside down.
Photo: NBC/YouTube
Last night, the British chef went on the Tonight Show to promote the new season of MasterChef Junior and admitted to Jimmy Fallon that he cried when it was time to slaughter the pair of Heritage breed pigs he and his family had raised for meat. The day of, Ramsay explained, he'd even brought the pigs into his home kitchen because he wanted to cook them a "proper breakfast and make sure they were okay." Then he almost changed his mind when he got to the abattoir.
Of course, the chef recanted and relished those "amazing f–king sausages" the next day, but it's definitely a conspicuous show of emotion for the guy known for yelling a lot, stealing the reservations book from his own restaurant to drum up publicity, and speaking candidly about having his testicles pounded out into crêpes suzettes. Though Ramsay scholars suggest he's always been in touch with his sensitive side, it seems he's becoming increasingly so; if things keep going the way they are, it even seems that the chef may even blossom into something of an philanthropic juggernaut. Here's a timeline of Emo Gordo. He always had a kinder, gentler side, you'll see, but it increasingly seems to be his default state now that Kitchen Nighmares is over.
2006: Ramsay tells an interviewer he's trying to learn how to play nice on the eve of his New York City debut. "The moment I touch down at the airport I get put in my straitjacket and I go straight to the management skills manual to learn how to ask a kitchen porter to wash out a copper pan for me," he says. The strategy later bombs.
2010: An unnamed charitable weirdo wants to give Ramsay $10,000 to give to the charity of his choosing. All he has to do is berate him loudly. "He said, 'No no no, scream at me and call me a f–king donkey for ten thousand.' I couldn't do it, so he got upset," Ramsay later said, explaining there's a limit to his temper. "I have to get upset for a reason."
2013: Gordon Ramsay begins filming what will be the seventh and final season of Kitchen Nighmares. He teams up with Nick Jr. cartoon characters Team Umizoomi for a minute-long ad that's so adorable it is later banished from the internet.
2013: Gordon Ramsay's MasterChef Junior debuts. The chef surprises everyone by not screaming at small children.
2013: Michelin's New York City ratings for 2014 reveal that Gordon Ramsay at the London has lost not one, but both its stars. Though he hadn't been formerly affiliated with his namesake midtown dining room for four years, Ramsay breaks down into tears upon hearing the news.
2013: Ramsay abruptly cuts ties with a French foie gras producer over allegations of animal cruelty.
2013: Like he does every year, the chef tells some delightfully bad jokes for the holiday season.

2014: At this point in his career, Ramsay has opened 49 restaurants around the world and seen 23 of them close; this can make any restaurateur cynical beyond belief. In a move that screams nostalgia, though, Ramsay buys the site of the former Aubergine, his first big restaurant, for $2 million.
2014: The chef forbids his 12-year-old daughter to curse on the set of her forthcoming cooking show.

2014: Gordon Ramsay at the London finally calls it quits, years after everyone who cares about the place deemed it a lost cause. The notoriously stubborn chef issues a statement, however, that says the "door remains open" for engagement.
2014: With his wife, Tana, Ramsay launches the nonprofit Gordon Ramsay Foundation. Plans are announced to raise $3.2 million in two years for a variety of charities, including the Scottish Spina Bifida Association, Cancer Research U.K., and Action Against Hunger.

2014: Ramsay admits crying over his pigs. MasterChef Junior moves on to season two; expect more niceness directed at kids.
Related: Gordon Ramsay Has Opened 49 Restaurants in His Career — and Seen 23 Close