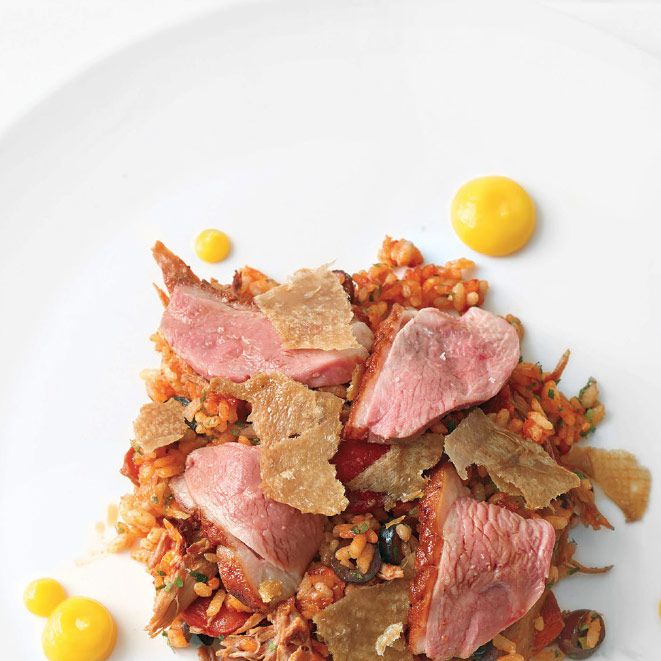 You can do it.
Photo: Romulo Yanes
Aldea chef George Mendes's Best of New York-winning arroz de pato — or duck rice with duck confit, chorizo, black olives, cirtus purée, and duck cracklings — is the signature dish at his five-year-old restaurant. "If there's one dish that defines the flavors of my childhood and of Aldea, this is it," Mendes writes in his new cookbook, My Portugal, which comes out tomorrow. But just as the official Cronut recipe's difficulty is categorized as "extreme," this four-page-long job is quite involved — which makes it more of a weekend project than the kind of meal you throw together after work. But trust us when we say homemade duck cracklings will change your life, even if it takes an entire Saturday to make them happen.
The recipe is really five different preparations: duck confit, duck stock, duck jus, duck rice, and crispy duck cracklings. Oh, and it calls for a vacuum sealer and an immersion circulator, so this is definitely intended for experienced home cooks, or doodies. The required ingredients include two Long Island (Pekin) ducks, duck fat, and several fresh herbs (nothing that you can't find in a specialty grocery store).
So why even bother sharing this recipe if it's the kind of thing only the most dedicated home cook would even think to attempt? Because even if you don't make it yourself, you can always head over to Aldea, grab a seat, and pay your $29 to have Mendes's kitchen make it for you — you'll appreciate it even more knowing exactly how much work went into the dish.
Then again, you can always just skip most of the recipe and just make the duck-skin cracklings, which, as Mendes says, make an amazing snack. All you need for that recipe are the skins from two duck breasts, Kosher salt, and white pepper — and they only take about 15 minutes to make.
Duck Rice [PDF]