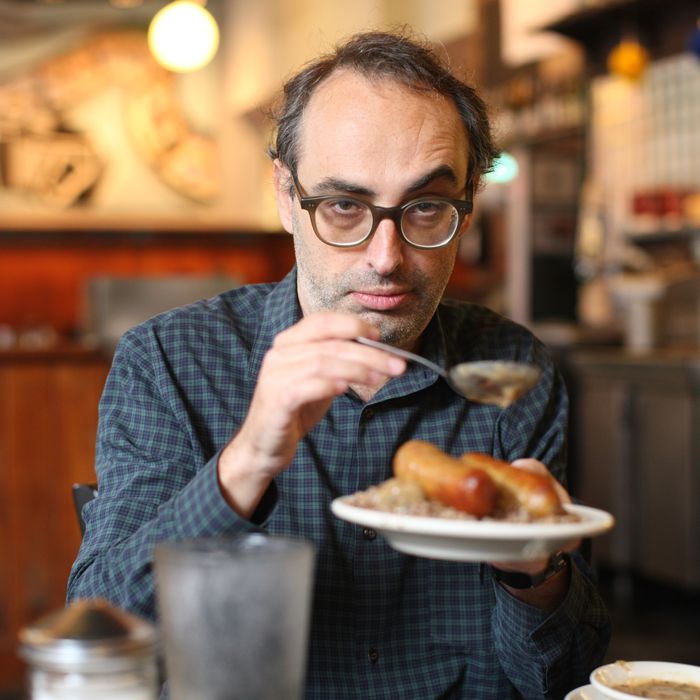 "Not everything can be sea urchin and chicken cracklings, you know?"
Photo: Melissa Hom
Gary Shteyngart, the author of Super Sad True Love Story and Little Failure (which comes out in paperback on October 7), has lived and traveled all over the world. He grew up in what's now St. Petersburg, Russia, and recently visited Beijing and Bangkok, but all this now-New Yorker really craves is a good bagel. This week, he had to visit Ess-a-Bagel three times before successfully scoring one — describing the line as "like 12 cops long" on one occasion. Shteyngart also feasted on deviled eggs with sea urchin at Casa Mono, Austrian berner wurstel at Café Katja, and kasha at Veselka. Read it all, straight ahead.
Friday, September 26
I wake up at 6 a.m., jet-lagged from a monthlong trip to Mantova, Beijing, Shanghai, and Bangkok. I've missed bagels so much, but Ess-a-Bagel on First Avenue is closed because of the Jewish high holidays. This further estranges me from God. I have an almond croissant and a macchiato at Pushcart Coffee on Second Avenue. The baristas are arguing about whether or not it's too early to play Beyoncé. They decide it's never too early to play Beyoncé.
Around lunchtime, I realize I have to go to Buffalo for a reading. At Le Vie, a restaurant in the Jet Blue terminal, I have a Badoit sparkling water and a salade-niçoise sandwich. The sandwich is huge but doesn't taste like anything in particular. I miss Bangkok. I had these Khao Soi noodles on Thong Lo you would not freaking believe.
Buffalo's a fun town. After the reading, some cool University of Buffalo people and I head to Gabriel's Gate for a late dinner of wings and a bowl of fries, which I dip into a pot of gravy and wash down with some pints of simple Labatt's. Buffalo wings are probably my favorite colloquial American food. I wish I were a frat boy here just eating wings all day long and majoring in organizational psychology or whatever it takes these days.
Saturday, September 27
At the Buffalo airport, some dudes in "keep calm and chive on" T-shirts are already pounding their Labatt's at 9 a.m. What a lifestyle choice it must be to live in Buffalo. I have a coffee served in a clear cocktail glass and a true breakfast of insane champions, an omelette stuffed with Buffalo wings!
When I get back to New York, I crash for 16 hours.
Sunday, September 28
I've lost two pounds in my sleep somehow! Which is good news because I gained five pounds in Italy and Asia. Mantova was plagued by tortelli di zucca and I just cannot say no to pumpkins. Ess-a-Bagel is open, but the line is like 12 cops long. Back to Pushcart to get an espresso, a pecan kiss, and an almond kiss. No Beyoncé today. They're playing what I think is called independent rock and roll music.
For lunch, I'm feeling kinda unadventurous, so I order an adana kebab from this Turkish place called Limon and a side of feta because life without feta is meaningless.
Jet lag strikes again and I sleep through dinner, losing half a pound by morning's light. Somewhere in there I manage to do a panel at the 92nd Street Y. It goes well, I think.
Monday, September 29
Finally I make it to Ess-a-Bagel! Woo hoo! I have an everything bagel with whitefish salad. Damn, that's good! Thank you, Buddha!
My friend Karl Gajdusek, my co-writer for Super Sad True Love Story: the TV series, flies in from L.A. to polish some scripts with me, and I take him to Casa Mono on Irving for some lunchtime tapas. I manage to skirt the carbs, but pig out on some ensalada Rusa, stuffed deviled eggs with sea urchin and chicken cracklings, eggplant and Spanish anchovy cazuela with toast, spicy herbed pork sausage with clams escabeche, and mussels with cava and chorizo. Yummers, as we say in the industry.
For dinner, I have to do a reading at City Winery in Tribeca, where I eat a duck.
Tuesday, September 30
I repent for yesterday's gorging with my usual simple breakfast at Veselka: the Mediterranean feta-tomato omelette with egg whites and a side order of kasha with mushroom gravy. When I was a kid, I hated kasha because my parents made me eat it, but now I feel good about this really crappy Eastern European cereal. Not everything can be sea urchin and chicken cracklings, you know?
For dinner, Karl and I go to Café Katja on the Lower East Side, where I eat an Austrian berner wurstel, a sausage stuffed with cheese and wrapped in bacon, and drink a couple of zwickels to make sure it goes down. Then off to my favorite bar Clandestino on Canal Street for a long round of vodka tonics.
Wednesday, October 1
I wake up a little fuzzy. Drinking, jet lag, sausage. I swallow an espresso and head over to Brooklyn College, where they're making the first-year students read my memoir Little Failure. Before speaking to students, I require dark chocolate in the 75 to 85 percent purity range, which the English department happily provides.
I get home by 5 p.m. and completely conk out for the rest of the day, dreaming of a quiet life in the country prancing among the sheep and sometimes eating them. I wonder what I will eat next week when I head to Cleveland, Atlanta, Nashville, St. Louis, Kansas City, Houston, and Denver for some more readings. Feed me, America! But within reason.