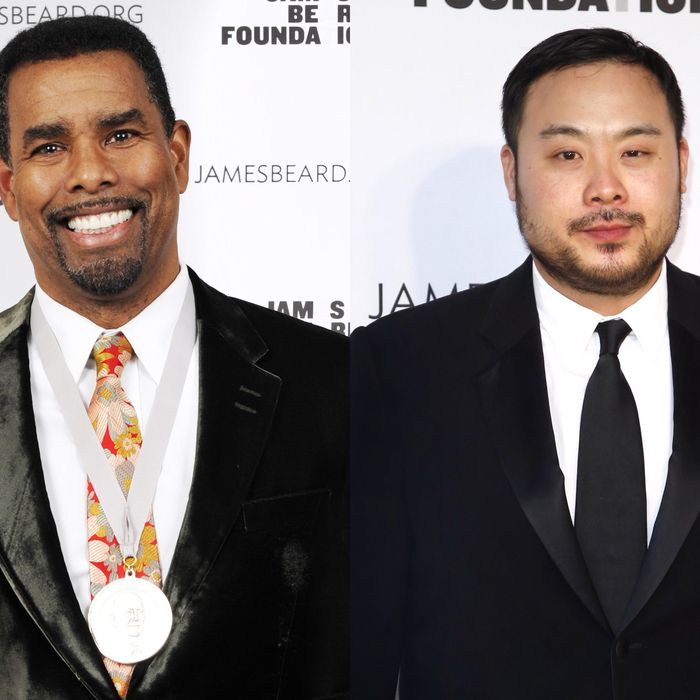 It's Oliver vs. Chang.
Photo: Kent Miller/James Beard Awards; Patrick McMullan
David Chang is in amused martyr mode after penning yesterday's ode to awful, cheapo beer in GQ — "I've never gotten so many hate emails in my life," he writes. But now he has his pal Brooklyn brewmaster Garrett Oliver to contend with.
Oliver has a warring GQ article up now, written under the guise of an "I'm worried about you" letter, and it really smacks the fancy-beer opponent around: Chang, for instance writes of his "tenuous relationship with the epicurean snob sets." Oliver puts the smack down thusly: "You are the epicurean snob set!"
In the original, Chang brags "there's no drink I love more" than Bud Light. Oliver's tactful response? He writes that he "respects" the AB InBev empire, but says he's also very happy he doesn't have to drink it. Meanwhile, in his essay, Chang noted how his Bud Light obsession probably has something to do with the egalitarian nature of its blandness, but also has a nostalgic pull for childhood memories of mowing grass.
Oliver totally gets this. "Could I still murder a bag of White Castle cheeseburgers at midnight? Hells yeah! But I don't go telling Danny Meyer about it every time I see him," he writes. The friendly spat may seem to agree on nostalgia, but not all nostalgia's good, in the eyes of Oliver — take his first beer, a Miller High Life. "I took a massive swig and spat it out into the grass. Turned out the stuff was nasty."
[GQ]