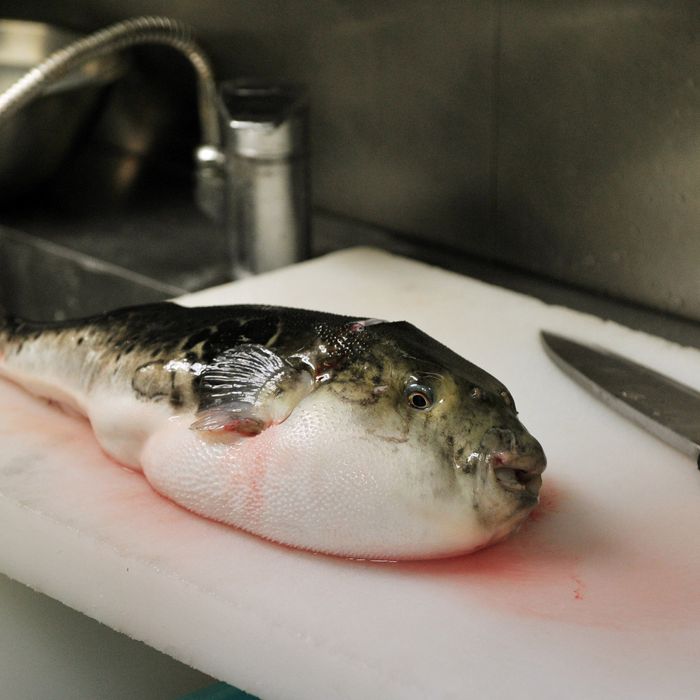 Not worth it.
Photo: Yoshikazu Tsuno/AFP/Getty Images
This is some ghastly news: A big family meal in Brazil got really bad quickly when the fish in their soup turned out to be pufferfish, a creature in the running for Earth's most poisonous animal. Japan requires sushi chefs to train intensively for two years before slicing it into fugu sashimi, we've all heard, and the Souzas, from Rio, hurried it into the pot straight from their friend's boat like they probably would any fresh catch.
They also "invited the whole family" to partake, and now a total of 11 people are hospitalized and in critical condition, reports Brazil's G1. This includes four kids between 3 and 5.
Cristiane Souza, who escaped serious injury, recounts that others started vomiting almost the second they dug into the peixada. Facial numbness followed, and spread quickly to their arms and legs. Most family members became completely paralyzed — "We had to carry them out and rush them to hospital in a car," she says.
"We had no idea it was a pufferfish," her grandmother adds. "We put the fish on the table in the yard outside and everyone dived in. They were all saying how delicious it was."