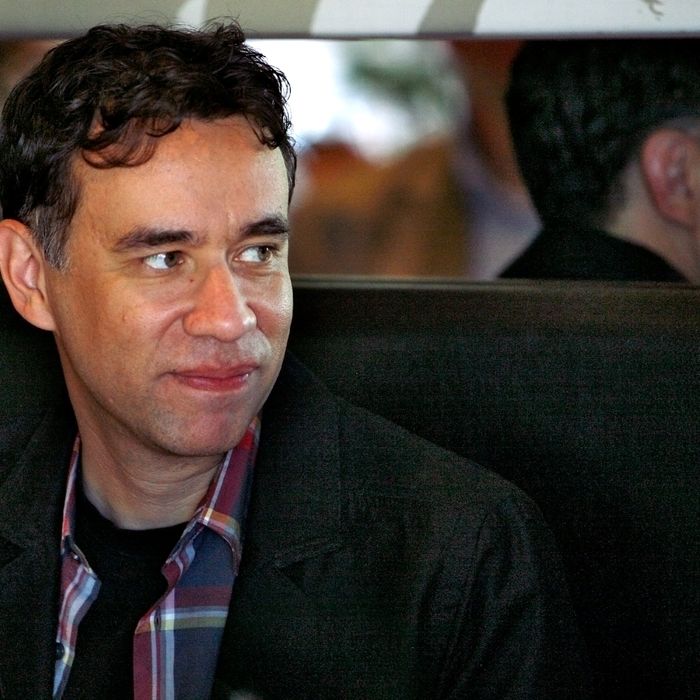 "I want my food quickly. I want my food in my stomach."
Photo: Jackie Butler/Getty Images
At some point in the recent past, Grub Street was debating whether we should cover Portlandia's Fred Armisen or Carrie Brownstein in this week's edition of the Grub Street Diet. They both seem erudite, fascinating, and hilarious. They also share co-author billing on the just-released Portlandia Cookbook. And each is integral to the actual show. So instead of choosing only one, we figured we may as well feature both — and that's what we're doing today. Below, you will find Armisen's Diet. And here is where you can read Brownstein's. Grub's advice is to, of course, check both out.
Thursday, October 23
In the morning, I like having either Grape Nuts or granola with blueberries and almond milk. It's important to me. I'll eat it while either listening to Howard Stern or reading something. Blueberries are healthy, so I never feel bad about eating them! There's no gross aspect to them. Some fruits and vegetables look gross. Blueberries are these perfect little blue bubbles.
I make coffee in a French press — a dark roast from a local place. Or Starbucks is great, too. And I feel like a lot of supermarket coffees are getting better and better.
I went to a recording studio in Woodstock, and they ordered sushi. That was my first time properly there. I was doing a video with Kate Pierson from the B-52s. And I'm name-dropping, openly.
I had dinner with some friends at Takahachi. Sushi is always a good way to go. Most likely, it was tuna, maybe salmon roe, yellowtail, salmon. But I had so much sushi this week that I can't remember! I'm very uninformed and uneducated in the department of mercury poisoning. I can't keep that much medical information in my head.
Friday, October 24
Again, Grape Nuts with almond milk.
For lunch, I had a sandwich and coffee from a deli downtown. New York is a place where it's fine to not have favorites. It's like, What is on your block? I mean that as a compliment, in that everything is great. And the New York service industry is the only one where they point at you and shout. I don't want a friendly smile! I love that they're unfriendly. I want my food quickly. I want my food in my stomach. I don't want conversation. I don't want "How was your day?" You know it's going to be delicious. I've never had a better egg sandwich anywhere else in the world. I don't know if it's the butter or what. If I have a chance to have it for lunch, my day is going great.
There was a place that was too crowded that I really like — Blue Ribbon Sushi. I could see someone through the window looking annoyed, so I didn't even go inside. So I found Nagomi in Soho nearby. It was a pleasant surprise. I had a salmon-sashimi bowl and miso soup. That's another example of New York being great.
No dessert, though. I love sweets. I wish I had chocolate every minute of the day. But I'm doing this thing where I'm not eating sugar. It's a huge bummer. It's been going on for a year. I miss it. I've tried to just eat Clif Bars, but then I start abusing the Clif Bars. I'm totally addicted.
Saturday, October 25
Grape Nuts and blueberries with almond milk and coffee.
On a flight from New York to Los Angeles on Virgin, I had scrambled eggs with toast and potatoes. They make good food on Virgin. I like that their portions aren't too big.
I consider three cities home: New York, Los Angeles, and Portland. I spend equal amounts of time in each. It's a fantasy I had when I was a kid to live in different cities. The more that comes to fruition, the happier I am. In my wildest dreams, I'd have a place in London too.
For dinner, I had an omelette with basil and bacon in Los Angeles. I went to a cool diner in Silver Lake, which was great. I like having eggs as much as I can. As far as food goes, L.A. is really exciting.
Sunday, October 26
More Grape Nuts with almond milk, plus coffee.
I was only in L.A. for Festival Supreme. I had Thai noodles with peppers on the plane back to New York. I couldn't remember if they were sesame or Thai noodles.
For dinner, I picked up a tuna salad pressed sandwich from the deli.
Monday, October 27
I ate an herb omelette and coffee for breakfast. I had to meet someone, so it was a breakfast meeting at Empire Diner. It's a really cool diner, and they only recently starting doing breakfast.
For lunch, at the NBC commissary, I had pork tacos with a side of rice. It was great. I had limited time, so I ran up and grabbed it.
Later, I went to this Xbox event where they introduced new games. I like going to things like that because I like video games. Well, certain video games. I was starving! I didn't have a chance to eat dinner, so I took a few cups of mac and cheese. I'm not a big cheese person, but it was there, and it looked good. It was actually very good!
Tuesday, October 28
Grape Nuts, blueberries, and almond milk. Coffee.
For lunch, back at the NBC commissary, we had a vegetarian guest, so out of politeness, I had seasoned brown rice with cooked vegetables. That was easy! It was a nice break, in a way, to have food like that. It wasn't overly natural.
I never, ever cook. Ever! The only thing I make for myself is breakfast. Being a New Yorker — maybe it's different for other people — but it's a different lifestyle. And then I end up not cooking in Portland and L.A.
I sat down at a place — it might be called Sushiden? — I had an hour in between working Seth's show and going way downtown. This was near Rockefeller Center. I had the sushi deluxe with miso soup and green tea. It was very nice, but not hip like a downtown place.