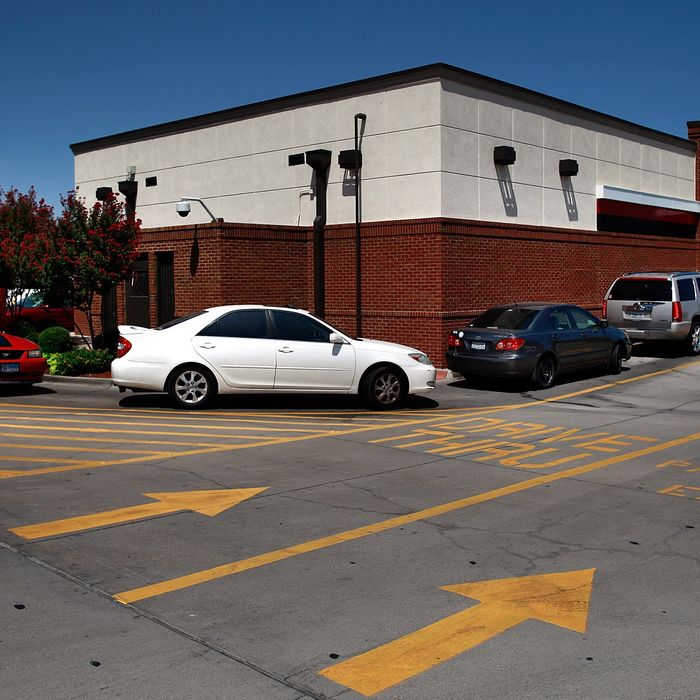 The way we wait for food now.
Photo: Tom Pennington/Getty Images
Every year for the last 16, QSR Magazine has undertaken the fun-sounding job of tracking fast-food drive-through performance data, and this year's wait times, it says, are the worst in the history of the study, up by almost a quarter from last year's. That's nearly a 40-second jump — from 181 to 220 seconds per car — and as you've by now suspected, it's all because of complicated junk like Arby's "Meat Mountain," the quintessential example of a sandwich you don't want the guy in front of you ordering since it requires the hapless employee to locate, separate, and assemble probably in some predetermined order six sliced meats, two chicken strips, bacon, and cheese.
The industry's push to include fresh items, or even worse, in this case, stuff made-to-order, comes at a cost, QSR reports, which is that speed of service has just taken "a big U-turn." Surprisingly, the busiest time of day is during "the midafternoon snack" zone, a mysterious window occurring between 2 and 5 p.m. on weekdays. Breakfast time is next, along with a suggestion that everyone's blended Frappuccino knockoffs may play a particularly outsize role in this. If you're looking for a positive here, it's that accuracy in service is also on the rise, so at least the chances that you'll ever have to leave your car to go inside and complain have decreased. Maybe that's a good thing?
[QSR]