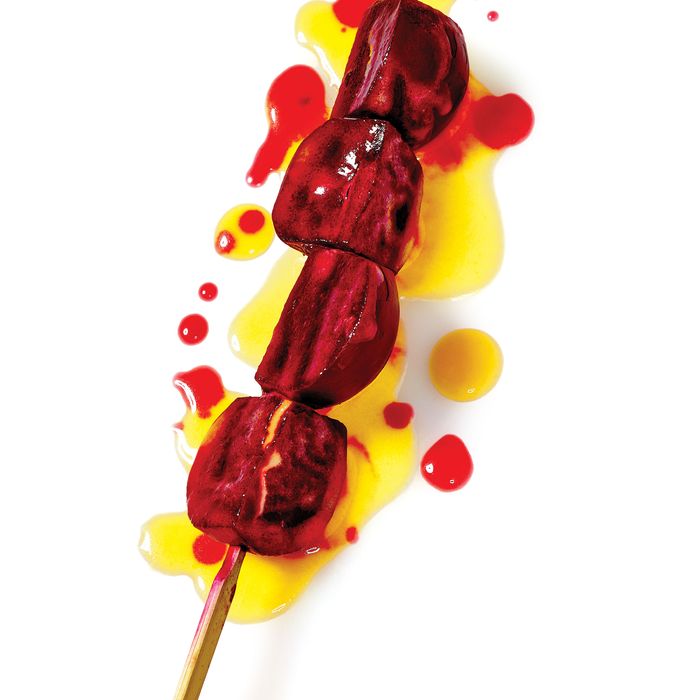 Photo: Bobby Doherty/New York Magazine
Anticucho, from the native Quechua language of the South American Andes, refers to a traditional food of skewered beef heart cooked over an open flame. It's still a street-food specialty of Peru, where Le ­Bernardin's Eric Ripert encountered it in his travels. Back in New York, he used the snack and the sauce that accompanies it as inspiration for a dish at his new casual outpost, Aldo Sohm Wine Bar. But in an effort to diversify the typical wine-bar cheese-and-charcuterie hegemony with an array of lighter, of-the-moment vegetables, ­Ripert and his chef de cuisine, Erik Fricker, jettisoned the beef hearts for bloodred beets, drizzled with Ripert's anticucho sauce. And to drink? Le Bernardin sommelier and the new bar's namesake, Aldo Sohm, recommends pairing it with Wachter-Wiesler's 2012 Blaufränkisch ­Südburgenland, a spicy Austrian red.
Mouse over or tap the image to read more.
On the menu at Aldo Sohm Wine Bar, $4 per skewer; 151 W. 51st St., entrance on 6th Ave.; 212-554-1143.
*This article appears in the October 20, 2014 issue of New York Magazine.