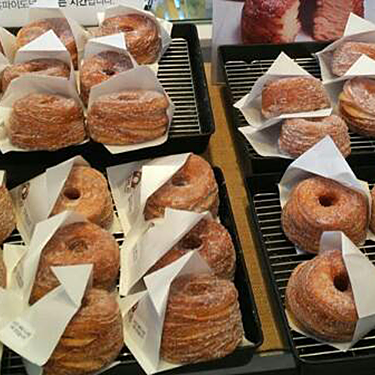 Don't call it a Cronut.
Photo: Dunkin' Donuts Korea/Facebook
Dunkin' Donuts has finally figured out how to bring its definitely-not-a-Cronut Croissant Donut to American stores on November 3, roughly 15 months after introducing it across South Korean franchises, for some reason, as the "New York Pie Donut." The delay was just natural, explains the company; Dunkin' plans to be "selling a lot more of them than a single shop bakery" — one owned by He-Who-Must-Not-Be-Named — "so it was important to do it right." They were a big hit upon launch in Korea, so who knows?
Dunkin' says this novel pastry concept will sell for $2.49 and be covered in its Glazed Donut glaze, à la this:
For future versions, the chain says it's "looking at" fillings and toppings — who knows, they could even rotate them on a monthly basis? No specific flavors mentioned yet, but chocolate is among those already tested in Korea:

Post by Dunkin' Donuts.
In an interview, John Costello, the doughnut chain's president of global marketing and innovation, schools the AP on the "at least 20 years" bakers have been making doughnuts out of croissants, or vice versa, which is a paltry form of proof that Dunkin' isn't "copying a specific bakery in New York." The companywide name avoidance does start to border on parody, though: Asked how the Croissant Donut and Cronut differ, Dunkin's CEO Jeff Miller would only tell the AP he's "tried the product that you mention" and likes theirs better.
So yeah, cue the 31 Ways Dunkin' Donuts Went Out of Its Way Not to Say the Word Dunkin' Donuts' Korean 'Cronut' listicles. And not that they'd know this or anything, but the timing was pretty smart. The guy who makes that other "product" is kicking off his book tour for The Secret Recipes right now.
Related: The Official Cronut Recipe Is Out
Related: Dunkin' Donuts Figured Out How to Make Cronuts
[AP]