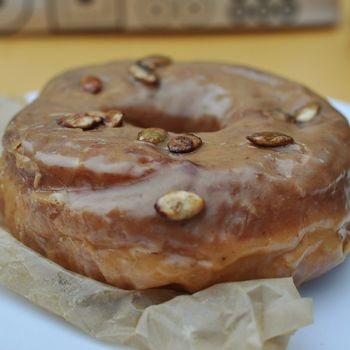 Pepitas totally count, right?
Photo: Hugh Merwin
Earlier this week, Doughnut Plant introduced two seasonal flavors, apple-cinnamon and pumpkin with spiced pepitas. They may both be delicious, but the latter doughnut transcends its seasonal novelty if not just because it is the rare pumpkin-spice-themed foodstuff that contains real pumpkin, at least in the form of candied seeds — most pumpkin-spice things, after all, contain no actual squash, so call this is progress. And that's not all: The Lower East Side-based establishment, which just announced it will expand to Long Island City and will otherwise be featured at Sunday's Grub Street Food Festival, also innovated recently by launching a mole-glazed doughnut.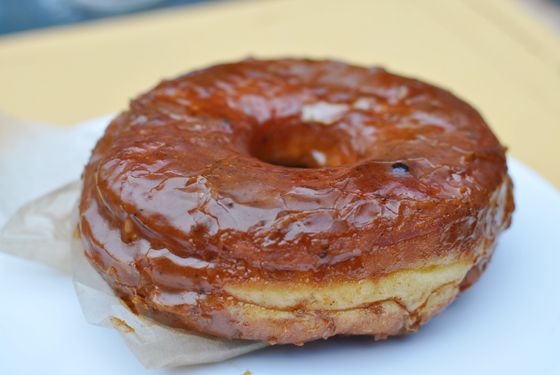 Most regional versions of the thick Mexican sauce may not actually be made with chocolate, but thankfully Doughnut Plant's mole version includes it, mashed into a barely sweet glaze with ground nuts and a bit of chile pepper. It looks modest, sure, but that glaze is subtly hot and moreover gets an expansively warm flavor profile thanks to its spices. As such, it's perfect company for a brisk, slowly graying fall day, everything the entire mafia of commercially available pumpkin-spiced products purports to be but isn't.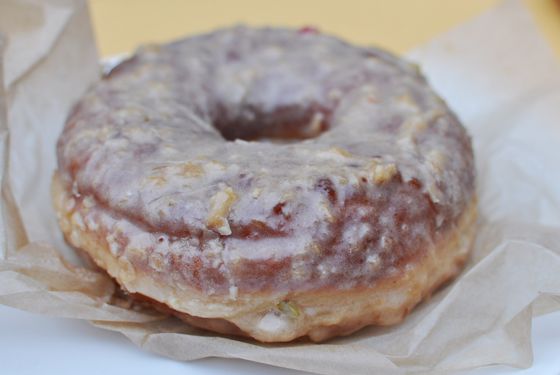 Finally, here's the apple-cinnamon, which has a tart Granny Smith thing going on and bits of real apple in the glaze. All three will be a part of this weekend's Grub Street Food Festival at the Hester Street Market; check out the lineup here.
Related: The Grub Street Food Festival Happens This Sunday — You Will Definitely Want to Be There
Related: Sweet: 101 Amazing American Doughnut Shops With Serious Street Cred