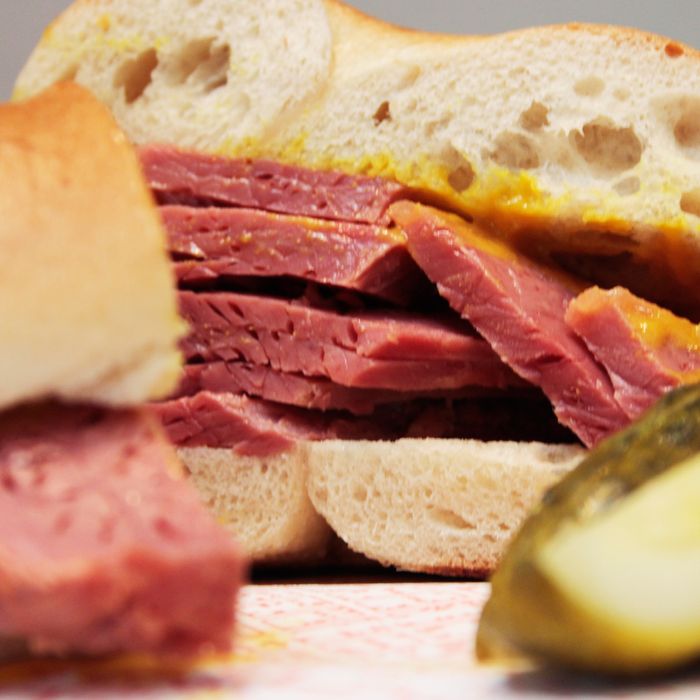 Salt beef, which is really corned beef, on a bagel with yellow deli mustard.
Photo: Courtesy of Delancey & Co.
A somewhat brash and distinctly American fast-food aesthetic has been crashing London's posh food scene for the last few years, in the form of cheffed-up burgers, high-end hot dogs, and even basic lobster rolls that have somehow inspired very long lines. An import promising to offer a perhaps more soulful respite from all this is Delancey & Co., Daniel Moosah's ode to the Lower East Side. The London-born chef-restaurateur says he grew up eating traditional Jewish foods made by his grandfather, who was also a chef. His well-researched fondness for the pastrami carvers at Katz's Delicatessen and stalwarts like Russ & Daughters has led him to refine his set of recipes for a few years, and he'll now try to faithfully re-create a little bit of that neighborhood magic in central London.
The renaissance of Jewish delis and appetizing shops, of course, isn't limited to New York places like Mile End, Shelsky's, and the first-ever sit-down venture from the hundred-year-old Russ & Daughters team. There's the market-based Wexler's in Los Angeles and salt-beef-centric Monty's in London. Both nod to old New York, however, and make their affinities for old-school lunch counters and delicatessens central to their menu. Delancey & Co., which opens any day now in Fitzrovia, does more of the same, not only draping its website in an old map of lower Manhattan, but by mashing up a little of all these formats as a marble-countered take-out shop.
There will be two kinds of Reubens — one adorned only with salt beef (corned beef) and sauerkraut, the other with coleslaw and Swiss cheese. Moosah will serve the Tokyo x Delancey, a challah roll with cream cheese, sliced salmon, and wasabi tobiko. There will also be chicken noodle soup, based on Moosah's grandfather's recipe, with lokshen and optional matzo balls made with schmaltz. Purists may scoff at the seaweed salad or the beets in the cream cheese, but all breads are being made by a traditional Jewish bakery, and the "ethically sourced" brisket will be sliced to order by meat-cutters, Katz's-style, and made into sandwiches on rye, served only with yellow mustard. If you want a side of mayonnaise, you're going to have to ask for it at the counter.