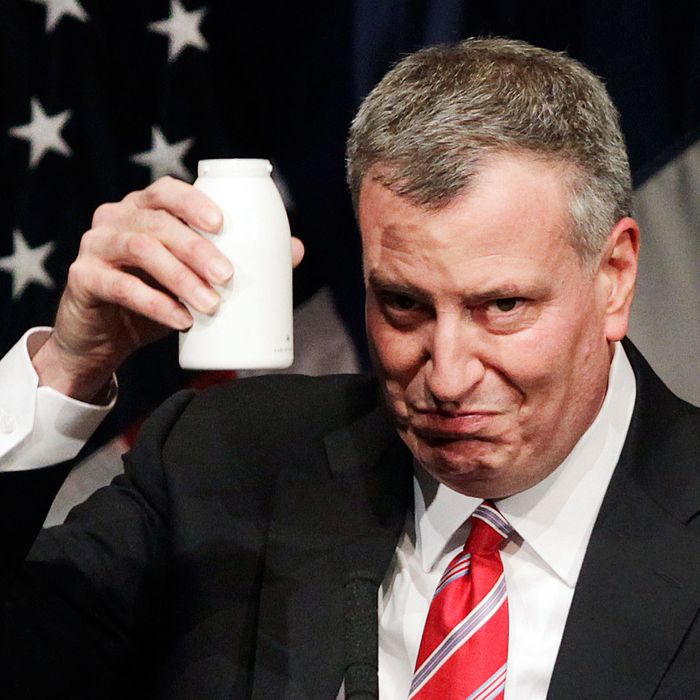 Cheers!
Photo: Mark Lennihan/AP/Corbis
Back in June, soda drinkers everywhere belched a collective sigh of relief when the New York State Court of Appeals killed the city's proposed sugary-drink ban, a distinctly Bloombergian proposition that Mayor de Blasio kept around. The Wall Street Journal says today, though, that undismayed de Blasio has in fact still been "holding high-level meetings behind closed doors" to figure out how to revive the proposed law while avoiding its prior missteps. "The administration is currently considering plans on the best way to reach that goal," the mayor's spokesperson Phil Walzak says.
The m.o. seems to be less blunt-force this time: Meetings have included the American Beverage Association and Coke, Pepsi, and Dr Pepper executives as well as health advocates, and even they've even pried a statement from Big Soda about how "discriminatory policies against our products [aren't] the way to go," but they do hope to work collaboratively with de Blasio "to figure out what's the best way to help New Yorkers cut their calories." That's in keeping with the industry's surprise pledge at last month's Clinton Global Initiative to help curb Americans' liquid calories by 20 percent over the next decade.
Of course, the Bloomberg ban wasn't overturned because Big Soda got mad — the yeoman's work for de Blasio remains when it comes to convincing a dubious City Council, and, as Thomas Farley, former health commissioner, says, "It would be good if he tried to persuade folks."
Related: As Promised, De Blasio Hates Your Sugary Sodas As Much As Bloomberg Did
Related: The Soda Ban Is Really, Truly Dead
[WSJ]