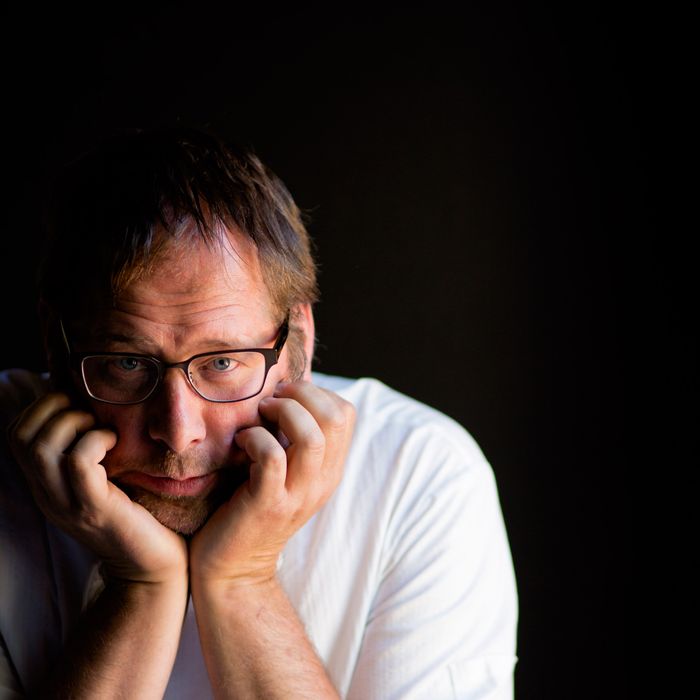 "Things can change on a dime."
Photo: Eric Wolfinger
Around 4 a.m., the morning of July 7, David Kinch's internationally acclaimed, 12-year-old restaurant in Los Gatos, California, caught fire. Three months later, Kinch still isn't sure how, or why, the two-alarm fire started, but it did enough damage to tear open parts of Manresa's roof, kitchen, and service areas. The destruction forced Kinch to close his restaurant for an indefinite period of time, but he promised he'd reopen it stronger than ever, and he's making good on his word. (Plus, he's opening a separate bakery.) A fire is a horrible blow for any restauranteur, but how do you go about rebuilding a place that's so beloved? We sat down with Kinch, who's in New York for a screening of a documentary about his collaboration with Love Apple Farms, about how he's coping and moving forward.
I hate to make you relive something so traumatic, but I'd like to start from the beginning. How did it feel to get the call that a fire had damaged your restaurant? Where were you?
I was in the Pittsburgh airport, in the process of going back home, when the fire department called me. It was a number I didn't recognize. It was about five o'clock in the morning back home, so I thought, Who's calling me at this hour? The good news was that I was at the airport, so I was going to be home in six hours anyway.
That's such a horrible call to receive.
Yes. We were on vacation. We had closed for the week, and the fire took place on a Monday. We were scheduled to prep on Tuesday and reopen the doors Wednesday, after our mini summer break.
What was your first step? Tell the staff? Contact the insurance company?
We contacted the insurance company right away. But, I mean, the first thing we did was spend a lot of time with the staff. There are key members that are still with me. Everybody else … each department worked very hard at placing people in other, temporary positions. A lot of people went to stage in Europe or in Japan. I think we have a real good commitment — I mean, it's not close yet — but I think that we have a pretty good commitment on people coming back. A building can burn down, but it's really hard to replace the people. So to me, it was important that we worked hard at taking care of them first. And then the actual building and the rebuilding started to happen.
How much of the damage did insurance cover?
I can't talk about it right now, because it's ongoing. But the restaurant is going to reopen — that's gonna happen for sure. It's going to be the same restaurant in terms of ambition, scope, and our individual and team goals. None of that has changed. A hiccup's a wrong word to describe it, but it's a break … And it's a shame because I thought Manresa was the best restaurant it's ever been, and I thought we had the most momentum we ever had when the fire happened. So we want to recapture that. I think the hard part's going to be to regain that momentum.
Does this present an opportunity to make structural changes?
We're giving the insurance company the original footprint. But, you know, we were 12 years old, so there were a lot of things that were 12 years old and will get replaced by new equipment. But it's a hell of a way to change a carpet.
Do you have any estimate of the timeline for reopening?
I think if it happens by the end of the year, we'll consider ourselves lucky.
How has your day-to-day life changed?
My complete focus is to get the restaurant open as fast as possible. My days are different. I start work fairly early in the morning; I'm finished in the afternoon; I have the weekends off; and I'm heavily involved in a project in which I have absolutely no skill set whatsoever. It's very different. But there's something to do. There's always something to do, whether it's with the contractors, the subcontractors, the insurance company, the architect, the design team, or off-site special events.
Did they ever figure out what caused the fire?
It's still under investigation.
That, in itself, is a mind-fuck.
It'd be nice to find out … I miss going to work. I miss it terribly. I just want my restaurant back. That's all I want. That's really all I want, is to be open … But it could be a lot worse. You know, the cause of the fire is undetermined right now, and there are a lot of municipalities where they won't let you rebuild until you find out what caused the fire. They want to know, so it doesn't happen again. But the fire department, the police department, and the town all said, "We're finished with our investigation, in terms of trying to figure out what happened on-site. You can commence doing what you need to do to get open as soon as possible." That's fantastic stuff.
When it happened, I remember seeing an outpouring of support from chefs, customers, people who never, ever dined at your restaurant. Has that provided comfort?
It's been gratifying. It's hard to put into words — the support, the offers of help. The industry is all about hospitality and generosity and that sort of thing. Taking care of each other. Taking care of customers and taking care of each other. And we say that, but sometimes I think we take it for granted. But it's really kind of overwhelming, when people actually reach out, in very sincere ways, too. It makes us feel really relieved and great.
Are you planning on doing any events similar to the one this week at Roberta's?
No. Carlo [Mirarchi] and I have always talked about doing something together. And Mark [Ladner] and Brooks [Headley] and Danny [Bowien] — they're all great friends. And I think, more than anything else, it's the fact that my time has been freed up. And I'm out here for the documentary screening.
Yes, The Farmer & the Chef. Can you tell me more about that? When was it filmed?
It was filmed over a four-year period from 2009 to 2013. It was released back in March, but this is the first East Coast screening of it. Michael Whalen, the director and producer of the film, was really enamored of the relationship between the restaurant and the farm, back before our renovation. We did a major renovation of the restaurant in 2010, and Love Apple [Farms] at its original location was very, very small. It was actually less than three acres. He was just filming because it was interesting, and then we closed and went through a major renovation in 2010, and Love Apple moved to 22 acres, in a different spot in the mountains. So it essentially went from a garden to a real, working farm. Then, there was an interest in the transition, and how we all worked together and moved together, and that's shown in the film.
Is it difficult to present the film at this time, which is certainly a period of transition for you, and look back on your life pre-fire?
Well, I have to admit, it showed at a very small film festival up in the wine country a couple of weeks ago. I walked in and I sat down and I watched the first ten minutes of it, and then I just got up and left. It was the first time I had seen it since the fire, and it was difficult to keep watching — I have to admit. I see the restaurant, and I don't have it right now.
It might feel too soon to reflect on this experience, as you're still going through it, but how has it informed the way you do business?
Well, you can't take anything for granted. I think you can apply that lesson to life itself. You know, I've had stuff happen. We've had periods at that restaurant where we were really slow. We struggled at the beginning. My original partner at the restaurant passed away unexpectedly three years ago. And that was a real tragedy. But I wasn't really expecting this. I mean, it's a great thing that nobody was hurt, nobody was there, I understand that. But, you know, this is a different ball game. Things can change on a dime — not just for me, but for everybody else.
… But I think the restaurant's going to be gorgeous when it opens up. Everybody's committed to coming back better and stronger than ever. It's a chance to reflect on how we do things, and how we might want to do things differently, and a little bit better. I think we've left our dismayed and depressed and sad phase, and I think we're all starting to get antsy, and a little bit angry and annoyed. And that's a good sign.
If people want to help, how can they?
They can come to the restaurant when we reopen. And we're starting a bakery, which will probably be open before the restaurant. We have some space leased in Los Gatos, and we'll sell bread and pastries and lemonade. And then, we look forward to welcoming everybody back. You know, ultimately this has to be about us. It has to come from within. That's how we'll be better and stronger. I've kind of shut down … I don't want to milk this. It's not in my interest. We did a benefit at Love Apple, and I was even nervous about that. I just want the restaurant back. That's it.
Earlier: Fire Damage at Manresa Will Take 4 to 5 Months to Repair