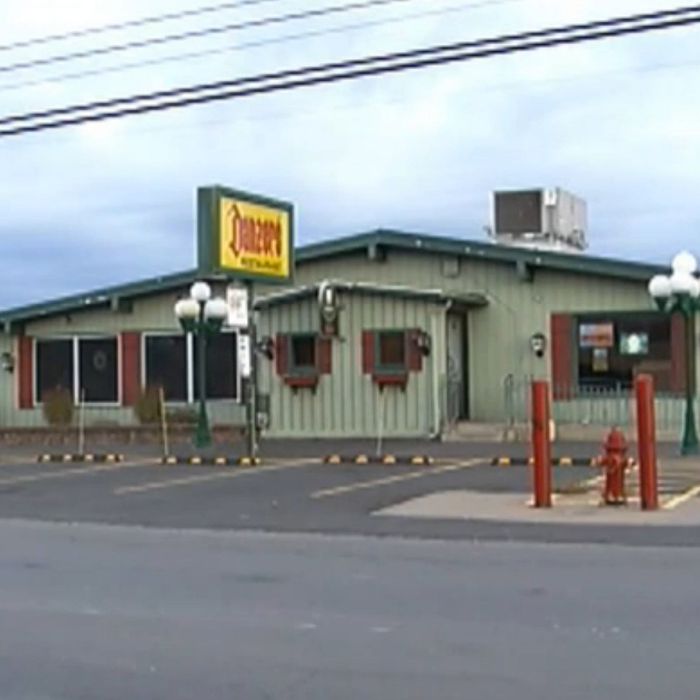 It's just "under repairs."
Photo: CYNCentral
Danzer's, a 41-year-old German restaurant in Syracuse, shuttered abruptly on Friday after the waitstaff quit in protest of what they described as a hostile workplace. Employees cited deplorable conditions and and said that their ex-boss, owner Egon Heil, should probably expect legal action over alleged discrimination. "He wants you to fire people because they're black. He wants you to fire people because they're old. He wants to fire people because they're fat," an ex-server says.
There is also, it turns out, an alleged flying insect problem. "You can't walk into the ladies room without being covered in bugs. They fly in your mouth," a waitress said. "They literally fly in your mouth, your ears. Every table you wait on complains about them," added another. Interestingly, there is no mention of any such bugs in the restaurant's online reviews, and regular customers seem shocked by the news.
Regardless, the walkout has left Danzer's in a bind. Heil isn't talking, and the restaurant's bare-bones Facebook page noted yesterday that Danzer's is "under repairs and renovations." A Craigslist ad posted at the start of the week says Danzer's is "currently taking applications for all positions," which at least is a start. If the restaurant can't get rid of the bugs, perhaps it could take the opportunity to reinvent itself. It sounds like the place needs an update, and insects are, after all, the future of food.
[Jezebel]