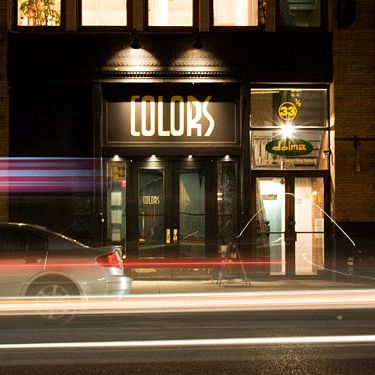 The restaurant has a "new and improved" menu and guiding principle.
Photo: Gavin Thomas
Yesterday Colors, the East Village venue that originally opened in 2006 as a cooperative owned and operated by former employees of Windows on the World, made a surprise comeback as a full-service restaurant on Lafayette Street. The space had been host to private events for some time and was more recently closed for two years, but is now newly renovated and serving "upscale comfort food" like pork meatballs in heirloom tomato sauce and buttermilk fried chicken with spiced honey and pommes purée.
The revived Colors is owned by ROC-United (Restaurant Opportunities Center), which opposes the Tipped Minimum Wage, and the reopening is timed with the nonprofit's One Fair Wage campaign. As such, it will pay a sustainable living wage to its workers. Chefs involved with the relaunch include Colt Taylor (One If by Land, Two If by Sea) and chef de cuisine Aaron Stein, formerly of Perla and Manzo at Eataly. Steven Picker (Good Restaurant), Barbara Sibley (La Palapa), and Rosanne Martino, general manager of One If by Land, Two If by Sea were also involved in the relaunch.
The restaurant was opened originally in 2006 by several workers who had been employed by Windows on the World, which was destroyed on September 11, 2001. Despite the early press and its unique position as an advocate of workers' rights, Colors was depicted as struggling to find a steady customer base a year later. "We're dead, doing 10 covers, 20 covers, 30 covers a night," its chef told the Times.
Thirty-five workers sued ROC-NY later that year, claiming that they had been shut out of the restaurant and they had no real ownership. The restaurant relaunched the following year with a "tighter chain of command" and a new chef, only to cease regular service shortly thereafter.
The latest reopening, however, comes after nearly two years of organized protests in favor or raising the minimum wage for workers, and widespread attention to workers' rights and startling new figures on sexual-harassment rates within the industry. Even the realm of gluten-free foods, which was fledgling in 2009, has turned into a multi-billion-dollar enterprise in 2014. "[W]e are reopening after being closed, renovated and rejuvenated," the restaurant's website notes.