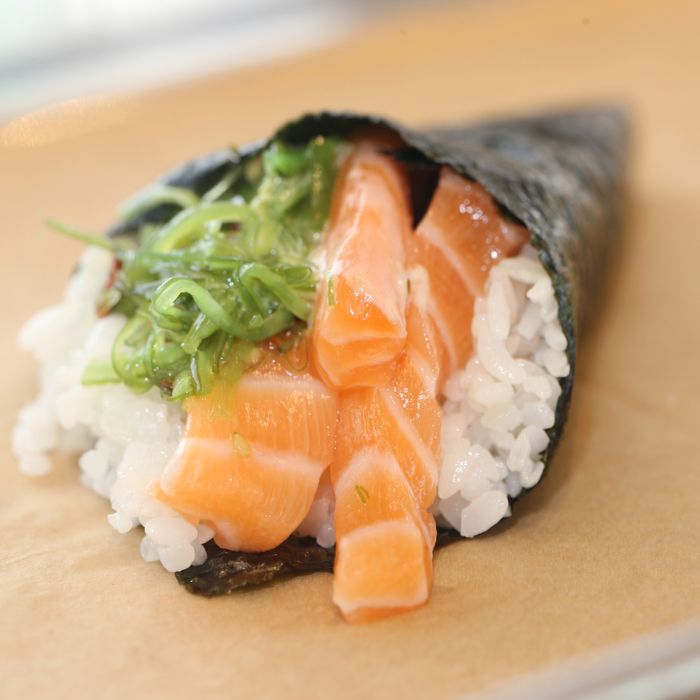 Isara salmon temaki with seaweed salad and creamy miso — yours for just $6.
Photo: Melissa Hom
The next evolution of fine dining might truly be a full embrace of fast food. Look at brands like Shake Shack or Tortas Frontera: They're successful, well-considered spinoff companies that's can be replicated all over the world, yet they approach food from the same perspective as high-end restaurants. When it works, owners can maintain a sense of integrity about it — no one's accusing Danny Meyer or Rick Bayless of selling out; they're praising them for bringing high-quality food to airports and parks and other public spaces. Even Daniel Patterson and Roy Choi are getting in on the action with loco'l, "a new kind of fast-food restaurant" that will launch this spring. But this week, right in New York, All'onda chef (and Morimoto and Ai Fiori alum) Chris Jaeckle opened Uma Temakeria in Chelsea, a fast-casual restaurant that specializes in Japanese temaki, or cone-shaped hand rolls. Will Uma do for sushi what Chipotle did for burritos? Grub talked to Jaeckle to find out.
What inspired you to start a so-called fast-casual concept?
Over the years, I've been thinking about what I can do to make higher-quality Japanese food more accessible. My go-to comfort foods are pasta, which I get to make at All'onda, and sushi. If I'm having a bad day, or I'm really hungry, they're what I want. I didn't really see — I don't know if angle is the right word — but pasta is accessible in America, and I didn't see anyone doing good sushi at a low price point. Temaki is something I saw that you can carry with you, or eat on the street. I thought it was ideal.
There's certainly a lot of cheap sushi in New York, but so much of it, like you said, is mediocre at best. What's the major issue?
The void in the market is that you can either sit down for two hours and spend $100 and get a quality product, or you go into Duane Reade, spend $9, and you have no what idea what kind of protein you're eating. The main issue is that the rice is cold, or made in different facilities. Once rice is refrigerated, it kills the texture and the quality.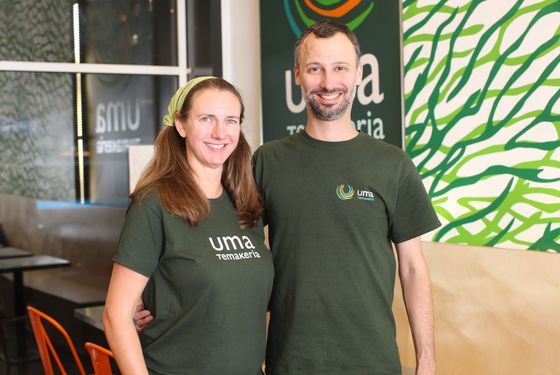 Jaeckle with co-owner Cynthia Kueppers.Photo: Melissa Hom
How are you balancing this with cooking at All'onda, which isn't even a year old?
I don't sleep a lot. I wish I had a better answer to that. But Uma is different than All'onda: I built the business plan and raised the capital, but it has always been structured as something for me to build and take a step back into a role as an owner. I'll be there for the next few months, but the idea is to streamline it so I don't need to be there every day. I can eventually take a backseat.
I came up with this business plan when I was at Ai Fiori. This isn't something that I'm doing just because I'm the "It" kid. It's taken years, and the timing worked out that they're both this year, which I wish wasn't the case, because it's pushing me.
You're one of several high-profile chefs opening a fast-casual concept — Daniel Patterson and Roy Choi will launch loco'l next year. What's the draw, beyond the obvious financial benefits?
There's a lot of risk involved in all these projects, but yes, there is potential to make actual money. I want to have a family someday. And I want to be there to support my family. What I do for a living isn't taking in hundreds of thousands of dollars. You have to find a way to expand, but not necessarily compromise what your focal point is — and, for me, that's All'onda … And I'm legitimately passionate about sushi and Japanese food. It's not just a smart idea as a businessperson.
How are you sourcing high-quality fish at such a low price point?
I'm fully prepared for people to pick on me about the quality of the fish. People need to understand that I'm selling a product for $6. For example, it's tuna from the Philippines — we did what we could with sustainability to manage the price point. We're doing a seasonal, local fish, which is fluke at the moment, and from Long Island. We have fluke, salmon, tuna, and crab. The striped-bass season just ended, but maybe that will be the local fish next summer. We're trying to do the best we can. The rolls are a take on what is traditionally Japanese-American.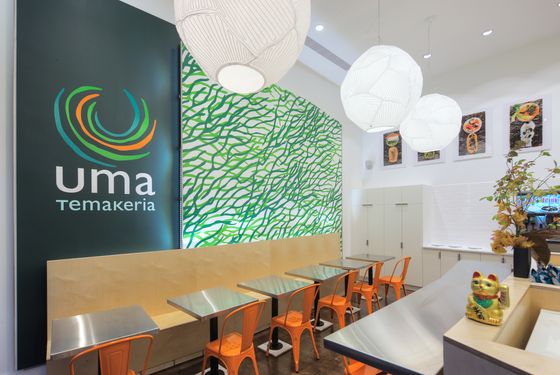 It's at 64 Seventh Ave.Photo: Melissa Hom
Which fast-casual chains do you think get it right?
Chipotle is the obvious answer, although I'm curious about if they're going to go with a McDonald's-like expansion. You're starting to see signs in windows about GMO-free "when possible," and that just comes with expanding a company. It is what it is. I think Sweetgreen does a good job.
Is your goal to take this nationwide?
The hope is to open several more locations. We raised a fair amount of capital, and we're hoping that if this one is profitable, then we expand. We structured it through franchise rates so that we can have 10 or 20 of them. I'm an ambitious human being, but realistically, it's going to be a New York thing for the next few years. But I'd love to see this in every city in America.