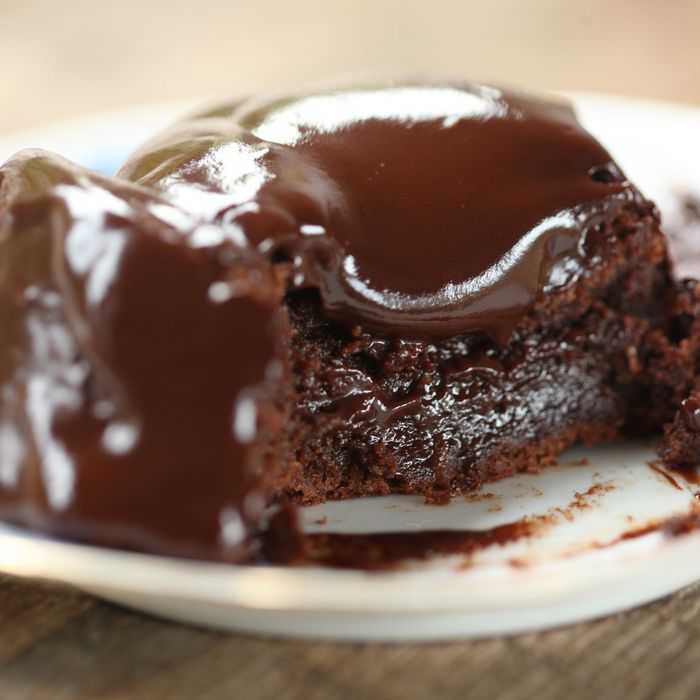 Maman's chocolate-thé fondant.
Photo: Melissa Hom
News that Grub can get behind: According to a study in Nature Neuroscience, an antioxidant found in chocolate could greatly improve memory skills — particularly among people ages 50 to 69. The best catch is that in order for the health benefits to kick in, you'd have to eat a "large amount" of dark chocolate. No problem, right? We've rounded up 15 excellent chocolate desserts — in the name of good health, of course.
Chocolate-Sourdough Tortino
Where: Locanda Verde
Price: $12
Pastry wizard Kierin Baldwin pairs chocolate with poached pear, toasted walnuts, spiced fudge, and amaro gelato.
Chocolate Pudding, Pretzel Tuile
Where: Bar Bolonat
Price: $11
Don't miss Einat Admony's excellent desserts: The milky chocolate one's delightful, as is the Moroccan-tea gelato with walnut-pistachio baklava.
Chocolate-Thé Fondant
Where: Maman
Price: $6
Yes, the chocolate-chip cookie at this French bakery is superb, but so is the moist, molten chocolate cake — spiked with Earl Grey tea and topped with extra-rich chocolate ganache.
Chocolate Cremeux
Where: Le Fond
Price: $8
Chef Jacob Eberle is overseeing the pastry department himself — and his current menu includes a chocolate dessert with candied orange preserves and vanilla cream.
Candy Bar
Where: The NoMad Bar
Price: $13
This might be the most expensive candy bar you've ever purchased, but the housemade treat — with dark chocolate and caramel — is miles ahead of a Caramello or Sky Bar.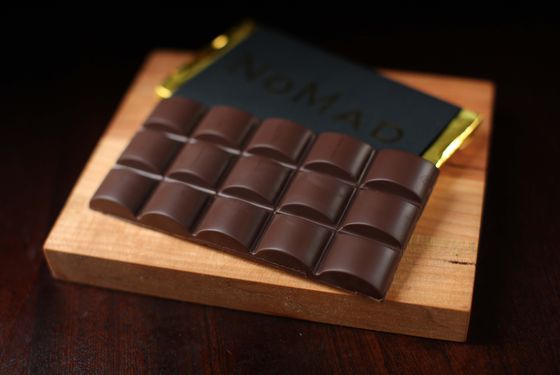 Mexican Iced Mocha
Where: El Rey
Price: $3.25
Here's something special: Kyoto-style coffee brewed directly with cinnamon and Aleppo pepper, plus a mixture of sweetened condensed milk and cocoa powder.
Bread and Chocolate
Where: Prune
Price: $7
Need an excuse to eat yet another comforting chocolate dessert? Prune's 15th anniversary should do the trick.
Chocolate Sablé
Where: Vic's
Price: $10
Even though Vic's has been open less than a week, it already feels like a true neighborhood restaurant. Chef Hillary Sterling's chocolate-cookie dessert — with chestnuts and cream — is the perfect end note after a pizza dinner.
Chocolate Mousse
Where: Buvette
Price: $8
No meal at Buvette is complete without the restaurant's famed chocolate mousse, made only with five ingredients: bittersweet chocolate, butter, egg whites, salt, and sugar. (Oh, and an optional dollop of whipped cream.)
Ice-Cream Panino
Where: Marta
Price: $7
The hot ice-cream sandwich trend continues, and Adam Platt's a fan of this iteration, with "smoked-mascarpone-flavored gelato, two salty, addictively delicious chocolate biscotti, and a coating of crushed pistachios."
Black Forest
Where: Bâtard
Price: Part of a prix fixe starting at two courses for $55
This rich, luxurious dessert combines chocolate sablé, kirsch-chantilly cream, and bing cherries.
"It Came From Gowanus"
Where: Ample Hills Creamery
Price: $4.75
This special new flavor, which debuted for the Gowanus parlor's grand opening, is a super-dark salted-chocolate-fudge ice cream with "with surprise mix-ins" like white-chocolate pearls and dark-chocolate brownie bites.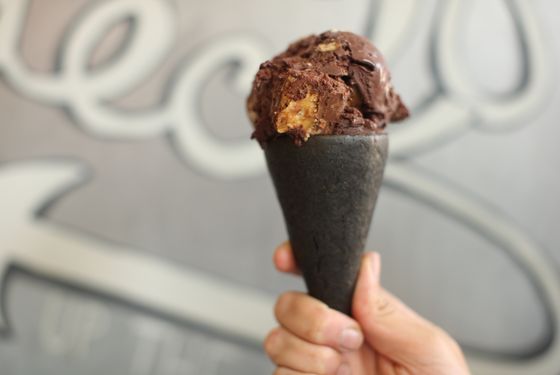 Chocolate-Peanut Crunch
Where: White Street
Price: $12
It's nice to see a dessert with nostalgic, comforting flavors on a fancy restaurant's menu: This one includes peanut-butter ice cream and a hazelnut praline.
Warm Chocolate Budino
Where: Charlie Bird
Price: $12
There's a reason why this dessert hasn't left Ryan Hardy's menu since Charlie Bird opened: He mixes chocolate with olive-oil gelato and — brilliantly — caramelized Rice Krispies.
Chocolate Semifreddo
Where: The Eddy
Price: $10
This under-the-radar East Village restaurant has a fruity, refreshing chocolate dessert on its menu — dressed up with Angostura bitters, coconut, and banana.
[NYT]