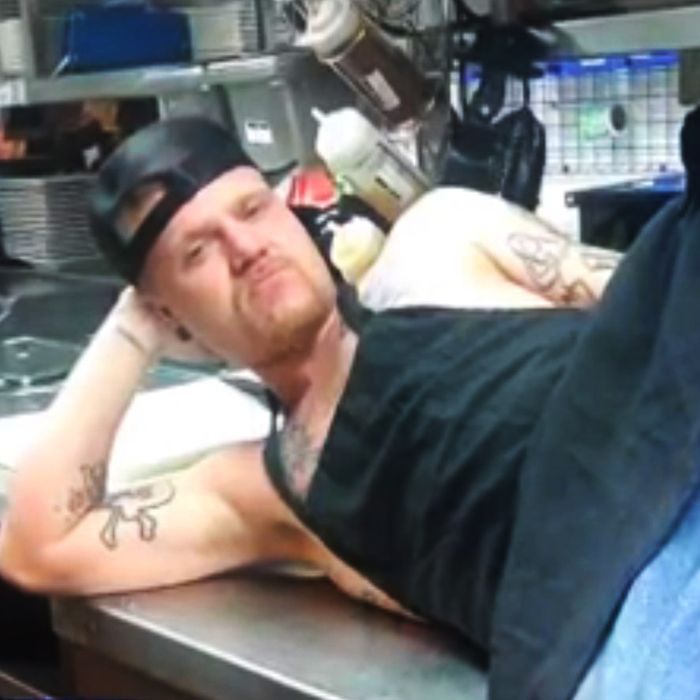 Calendar boy.
Photo: ABC Action News
Like his forebears lettuce-stomping guy and Subway penis dude, Justin J Speekz knew the decision to pose "sexy" and shirtless in the Tampa Bay Chili's kitchen where he cooked would be a few steps backwards in respect and job prospects. Speekz posted the pictures (which he says were taken after-hours) to Facebook anyhow, with the caption "Some Pics for the 'Sexy Cooks Of Chili's' Calender that the company is putting together lmmfaooo ya boy is the main feature/headliner! Bahahahaha! :D I'll have copies for $15 Yeyyyy!" Then he tagged his own restaurant in the post.
In two photos, says Action News, "he's lying shirtless on a table where food is prepared." Speekz's philosophy, however, is apparently "food safety be damned." "Women and jobs come n go," he says, and now tells people he's "brain storming" and "capitalizing," the first fruits perhaps being aprons he'll allegedly autograph with a calendar purchase. Facebook friends, meanwhile, are mounting a #StandWithSpeekz campaign to help their man, who's also a rapper, get noticed. Their idea of fame, however, seems more in the "15 minutes of" vein and involves Tosh.0:

Post by Skunk Works.
For its part, Chili's made sure to remind everyone that it "clearly does not encourage this type of behavior," and, if there were any doubt, "ended this team member's employment after learning of his conduct."