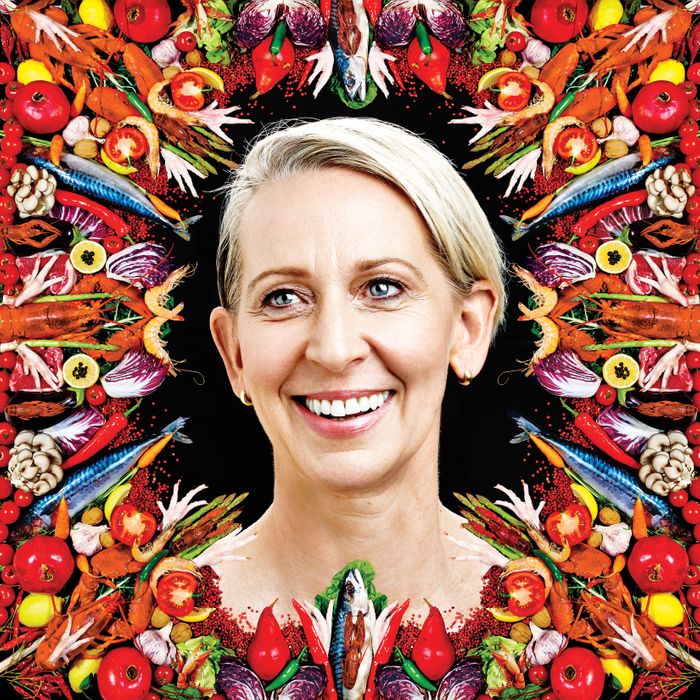 "Fuuuuuck. Sometimes it's really worth it to spend money," says Gabrielle Hamilton, holding a half-glass of Robert Michel Cornas 2006, a southern French red that is the final vintage, she explains, made by one of those dying-breed Frenchmen with the leathery hands and "he-drinks-too-much cheeks." It's just before 5 p.m. on a Friday, the sun streams diffusely through the front windows of her restaurant, Prune, the chairs have just come down off the tops of the tables, the candles are freshly lit, and the staff is sitting down to a family-style meal of steaming chicken soup, radish salad, and thick, crusty cuts of country bread topped with eggplant and melted cheese. Hamilton calls for glasses and then gives everyone a little pour—the better to sell the wine, one of the restaurant's most expensive, tonight, but also because, like the vintner, this wine is itself a dying breed, the real deal, and therefore worth proselytizing. "What's that at the end there?" Hamilton asks, taking another tiny sip.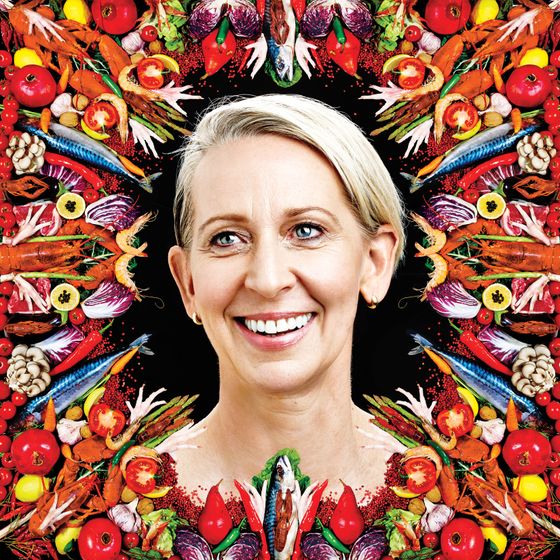 "Fucking deliciousness," says Kat, a pretty server with a messy topknot.
"Menthol," counters Hamilton. Then she takes a seat at the table, leans back, and closes her eyes reverently, smacking her lips. "Yup."
This month, Prune had its 15th birthday, making it a grande dame among New York City restaurants. And haute-casual moments like this one, where age-old traditions dovetail with more homegrown ones, are both the cause and the effect of the place—Hamilton's rationale for opening a restaurant, having never been a chef or even a sous-chef before signing the lease, and also, not coincidentally, the atmosphere that Prune reliably achieves. The "blind hard work" it takes to maintain a restaurant, the relentlessness of which caught Hamilton off guard in the early days, hasn't abated, but in the momentary calm before the first seating, the family meal seems not to be only familial in name.
Which is by design. Her 2011 memoir, Blood, Bones, and Butter, describes in vivid detail the allure of a bohemian childhood played out in the ruins of a 19th-century silk mill in the Pennsylvania wilds—French mother manning the stove; artist dad throwing themed parties for hundreds of guests—as well as the fallout of the dissolution of her parents' marriage, after which Hamilton and the younger of her siblings might as well have been left to the wolves. At 13, she was doing cocaine, improvising meals from what she could steal or cobble together from her mother's long-abandoned pantry, and supporting herself, most ironically, as a dishwasher at a restaurant called Mother's. By 16, she'd parlayed that job into an urban-cowboy waitress position in opulent '80s New York and later a career in catering, where the impersonalization of the enterprise stoked her memories of both true hunger and of meals served with generosity and simplicity during her backpacking years, finally prompting her to sign a lease on an abandoned East Village 32-seater where cockroaches ran rampant and, as she writes, "twenty-five pounds of apples had rotted away to black dust."
Now halfway into that 30-year lease, Prune—where Hamilton won a James Beard Award in 2011, and which became such a marker of taste that its pink business card was once displayed on a bulletin board in a Crate & Barrel catalogue—has given Hamilton the "facsimile, more-structured family" she's always craved. "There's always food, the lights are on, the bills are paid, and you don't ever have to wonder if anyone's coming home. I'm definitely home," she tells me. "At four, when the staff arrives, I get a sort of dreamy, soft-focus feeling." Indeed, the restaurant's success lies not just in the "quirky, eccentric, but grounded in classics" excellence of the cuisine but also in the homey welcome it's offered to others, as both a mainstay of the neighborhood and a place where the dishes are largely Hamilton's attempt at re-creating memories of particular meals—her father's annual lamb-roast extravaganza, the chanterelles her mother gathered, the zucchini she ate when she first met her husband's Italian family—in a way that invites people to feel the history behind the smoky finish. It's this need to invite diners into a cherished moment that's won Prune such a cult following, much to Hamilton's surprise. "To mean so much to others, it's like, 'Oh, thank God! I do exist in a world. I'm part of a group, a community of like-minded people. And they validate me, and I validate them.' " She pauses to laugh her clarion laugh. "Well, that's so pretty, I need a tissue."
Since she published her memoir—and it became a best seller—Hamilton has had to adjust to a level of celebrity she admits she still doesn't understand ("There are parts of me that are very slow to catch on to what is going on in the universe; I forgot the internet"); doesn't cater to ("I should be excommunicated from the foodie world because I don't care where you ate last night or what chef so-and-so is doing or about your tomato"); and doesn't like ("I'm not here to blow your fucking mind. I'm here to just get you fed and do the dishes"). She will not be hosting a TV show. "I know how to do that shit, but I have no interest in being America's Next Iron Chef," she says, frowning. She will not be expanding her empire. "I don't want to muck it up. It's so intangible what makes a place go, and you could move into the right space and have the right food and the right soundtrack and the right staff and the right wine, and just die on the vine. There's that little intangible magic and it's here and I am in its grip, like, 'Man, I will not fuck this up.' "
She is enough of a celebrity, though, that the tabloids have gone at her real, flesh-and-blood family, which has not always been such a dreamy, soft-focus subject. She is still technically married to the father of her two sons, 8 and 10, though the couple lived together for only two "egregiously brutal" years of their 14-year union. "Page Six" called her out for an alleged affair with her sister's husband. "I am the arbiter of my own moral code," Hamilton tells me matter-of-factly. But her choices fit in with a larger philosophy that she doesn't shy away from in her cuisine or elsewhere: the idea that what's imperfect and unpretty still has value. "Those things that are commonly quieted or hidden or pushed aside, they in fact excite me and interest me and are where I feel most alive, where I feel like some kind of truth is happening."
After 15 years, Hamilton is finally releasing a Prune cookbook on November 4. The pages have been given the spattered look of those "bequeathed" recipes passed down through generations, and Hamilton's notes—scribbled in the margins in her own hand—correct mistakes in the originals with the knowledge born of repetition, serving to highlight not only the process but also the fallibility. "If you grind the scallion in the food processor, it makes the mixture spongy and weird," she admonishes in a recipe for "Deep-Fried Shrimp Toasts With Sesame Seeds." "Save wishbones for birthdays," she advises (between asterisks) on page 117.
To mark Prune's anniversary, Hamilton staked out a spot in the restaurant for 15 hours ("Marina Abramovic style") and invited friends and family to come by for 15 minutes to enjoy a glass of cava, a tin of commemorative sardines, and a moment to reminisce. But Prune wouldn't be celebrating 15 years if it weren't the type of place people treat as their local anyway. An erstwhile employee has dropped in today to show off her cherubic baby, and as the family meal clears, she tucks into a sandwich named for her. The baby bangs a spoon on the bar, and the little white chips he puts in the dark stone look like they were always meant to be there.
*This article appears in the October 20, 2014 issue of New York Magazine.
Related: Gabrielle Hamilton's Long-Awaited Cookbook Finally Has a Release Date