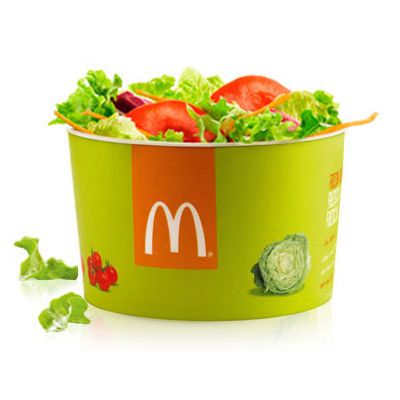 Not so hearty, but healthy at least.
Following Monday's alarming news that gimmicky fast-food novelties are slowing down drive-throughs and depriving Americans of their precious breakfast waffle tacos, today we find out that the overall calorie count at chain restaurants is finally trending downward. The American Journal of Preventative Medicine–published study looked at 66 chain menus and found new items in 2013 had 60 fewer calories on average than those examined in 2012. This may not sound like much, but it's a real feat, the authors argue; more than a third of adults eat fast food every day, so the shift, according to WSJ, "could be significant" for America's obesity problem, especially if it continues.
At the same time, the study "found no meaningful changes in calorie counts" with items on the menu both years, suggesting that restaurants haven't been tinkering with the nutritional aspects of existing items but just introducing new items. Everyplace, from McDonald's to Chili's, has been touting new low-calorie options, but most of these take the form of fruit and salads, an easy out. Fewer calories on menu boards overall might seem like great news, but not as much when it's put upon customers to choose between Wendy's pulled-pork fries doused with cheese sauce and apple slices.