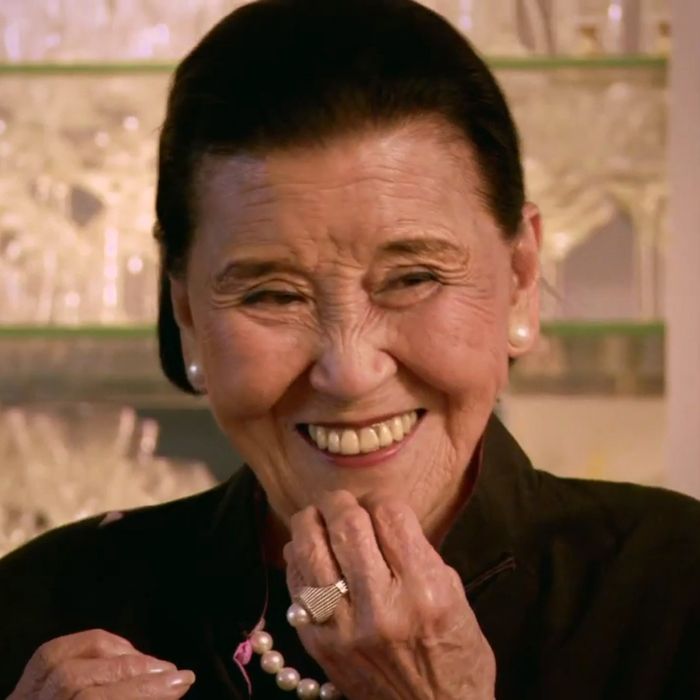 95, and still dropping knowledge on char siu techniques.
Photo: Oscilloscope
Cecilia Chiang, the so-called "matriarch of Chinese cooking in the United States," sold her San Francisco restaurant, the Mandarin, in 1991 after 30 years, and the place closed in 2006, but she remains vastly influential to a young generation of chefs. In 2011, Chiang cooked a huge meal in director Wayne Wang's apartment for numerous guests, including Alice Waters, Ruth Reichl, and Wang himself, who was trying to tell a little of the restaurateur's story. Soul of a Banquet, Wang's resulting documentary about the meal and Chiang's broader legacy, has made the festival circuit and will finally be released in theaters this month. If these two minutes are any indication, the film features a whole lot of incredible food in addition to all the food-world luminaries.
Beyond her books and showing the ropes of Sichuan food to James Beard, Cecilia Chiang's techniques inspired the early days of Chez Panisse. Moreover, her food prompted thousands of young chefs who were looking to cook something tangibly authentic. "She has this taste memory that goes back to a time when there aren't a lot of people alive who remember the food of that China," says Ruth Reichl.
Oscilloscope will kick off the film's release on Sunday, October 19, when a screening at the Film Society of Lincoln Center Elinor Bunin Munroe Film Center will be followed immediately by a Q&A; with Wayne Wang, Cecilia Chiang, and Ruth Reichl. Soul of a Banquet will also be shown Monday, October 20 at the Bruce Cost Ginger Ale Factory in Bushwick. Chefs Anita Lo, Danny Bowien, Jonathan Wu, and the soda-maker himself will discuss Chiang and Chinese cuisine; Francis Lam, the editor, will moderate, and the chef will be in attendance, along with Wayne Wang. The screening is free, but an RSVP is required.