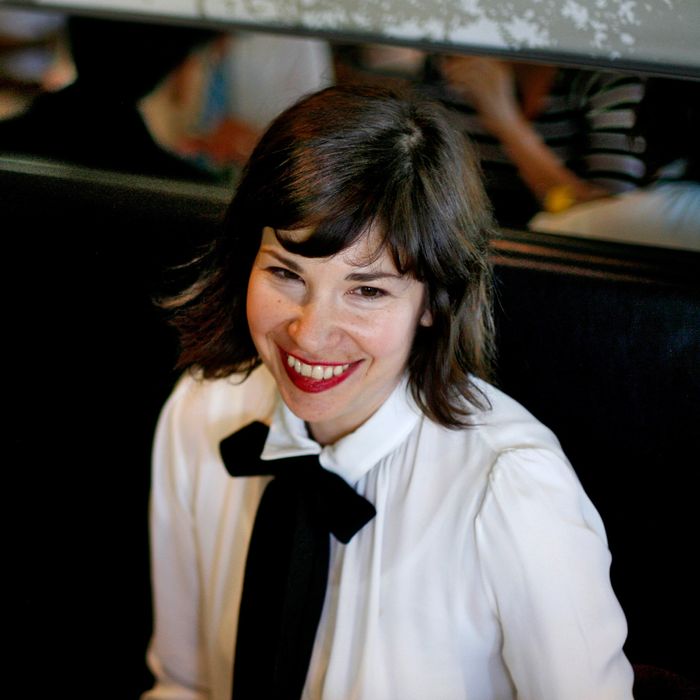 "One of the Portland food trends is to overcomplicate the menu."
Photo: Jackie Butler/Getty Images
At some point in the recent past, Grub Street was debating whether to cover Portlandia's Fred Armisen or Carrie Brownstein in this week's edition of the Grub Street Diet. They both seem erudite, fascinating, and hilarious. They also share co-author billing on the just-released Portlandia Cookbook. And each is integral to the show itself. So instead of choosing only one, we figured we may as well feature both — and that's what we're doing today. Below, you will find Brownstein's Diet. And here is where you can read Armisen's. Grub's advice is to, of course, check both out.
Thursday, October 23
This was a travel day, which are always a little bit jarring for eating. I didn't have a proper breakfast! I had coffee with half-and-half from the Sunset Tower Hotel in L.A. On the plane to Portland, I ate one bag of mini pretzels and drank a Bloody Mary. Once you have a Bloody Mary, the day is gone.
I got home and then went to Grain & Gristle. It was dreary compared to L.A., so I was craving hearty food. I ordered a wonderful stew with bacon, potato, and kale, and I wrote and read. I also had a salad with couscous, arugula, and creamy goat-cheese dressing, plus a glass of Chardonnay. So I had about three drinks by 4 p.m., on the job. That day was just completely languid. Apparently I was treating myself to a midweek vacation.
I live near a lot of Thai and Vietnamese restaurants in Portland. I think it's some of the best food. Thai Seasons is near my house. I'd say what defined my week of eating was an onset of a cold: I'd never normally eat two things of soup in a day, but all I was craving was more broth. I picked up tom kha soup with shrimp and ate it as I watched the finale of Project Runway from the week before.
I'm just not a big cook. I cook if I have guests in town, but I essentially live like a New Yorker in Portland. If I lived in New York, I'd have a normal existence. For Portland, it's heavy on the takeout.
Friday, October 24
For breakfast, I ate Barbara's multigrain Spoonfuls with unsweetened almond milk. That stuff is good. I basically emulate sugary cereals from my youth that I was not allowed to eat. They've all been created in organic, gluten-free, natural forms. You can get, essentially, Cocoa Krispies, but it's just cocoa brown rice. It's very strange, because it's essentially those terrible cereals, but reimagined with a green pasture on the front and the word organic. And then you're like, "This is really healthy." So, I've totally fallen prey to that marketing scam. But cereal is the perfect food.
I also had an Americano with half-and-half, which I made in my AeroPress. I had a friend in Seattle who was using it for years and was always proselytizing this great method. I used to do pour-over, and now I love AeroPress. I invested in a Virtuoso coffee grinder. If I'm writing, I don't want to go out and get coffee. If I don't get up, sit down, and start, it's this avalanche of procrastinations and distractions. So it's essential to make coffee at home, but I do want good coffee.
Sometimes, on days that I'm writing, my second meal becomes my second and third meal. It's like a late-day, 4 p.m. thing — something that's filling. I love taquerias and the cart situation in Portland. There's a place called Rose City Food Park, and I always get the same thing, to go — a pescado taco, a pollo taco, plus a side of rice and beans — and I walk it back to my house. That sufficed for lunch and dinner, since it was a no-man's-land time zone. I watched this documentary on Netflix called Afternoon of the Faun, and that was my night. When I'm writing, I tend to isolate a little bit.
Saturday, October 25
All my breakfasts are pretty much the same. I ate maple-buckwheat flakes with unsweetened almond milk and blueberries, and made an Americano with half-and-half.
Then I went on a dog walk along the Sandy River. It was really rainy. Again, the context for all this was the onset of a cold, which is concomitant to the onset of rainy weather here. My friend suggested we eat Shandong, which is a good Chinese restaurant near my house. It's a place I usually get to-go food from, but I sat down and it was really nice. I had Judy's Noodles with chicken: spicy, wide rice noodles with shiitake mushrooms and spinach. It's the perfect mix. The shiitake flavor has to be what sells it.
For dinner, I went with a friend to Luce, a restaurant I go to because it reminds me of eating in the West Village. One of the Portland food trends is to overcomplicate the menu, or at least the presentation of the menu. I think it's a way of making not just the restaurant seem exemplary, but also making the customer seem exemplary and special. It can be effective, but to me, sometimes it's just overly precious and cumbersome. And Luce just has really simple, austere presentations, and delicious food.
Luce has a great wine selection, too, and their salads aren't trying to be some kind of weird, Abstract Expressionist painting. They're just trying to make the salad. It's like, "Here it is. It's just green." I chose — again, because of the impending sickness — the cappelletti in brodo, which is this pasta filled with cheese in a nice broth. And I had a side of Swiss chard with Parmesan on it, and a glass of red wine. Luce is not trying to do anything other than make good for you. Same with food carts. They're trying to perfect a certain cuisine and then give it to you without fuss.
Sunday, October 26
For breakfast, Barbara's multigrain Spoonfuls with unsweetened almond milk, plus blueberries and raspberries, and an Americano with half-and-half.
I'm really loyal to my neighborhood. I live in a very unhip part of Portland. It's surrounded by all the newfangled versions of Portland, but there are a lot of families here who have lived here since the '70s. Killer Burger came in maybe a couple years ago. It was a cursed location where nothing seemed to be surviving, and then finally one establishment cracked the code. And again, like the Mexican food earlier in the week, it was one of those 4 p.m. meals that's just a burger — no cheese, no bacon — and French fries.
I'm not a very adventurous meat eater, but when I do eat meat, I like a really great burger. I definitely am a frequent customer there. When I call in, they always say, "Oh hey, is this Carrie? You just want the classic?" There's some hint of embarrassment, but then there's also this sort of recognition — that feeling of being a regular, I really embrace, even though I always feel a little bit guilty. "Yes, yes, I'm calling. Yes, I ate a hamburger last week as well." Anyway, that was that day.
Monday, October 27
It was another work day. I started with oatmeal with unsweetened almond milk and apple slices, and an Americano with half-and-half.
I had a veggie burrito at La Sirenita, a place that I used to go to all the time when I first moved to Portland. It's a classic taqueria that sells a burrito that makes you think, This should never fit. I hope I don't eat the whole thing. That's what you think, and then it's gone. It's stuffed with rice, beans, cheese, and lettuce. It's kind of simple, and then I usually add various salsas to give it a little kick. I way prefer burritos to sandwiches.
Tuesday, October 28
I went back to the buckwheat-maple flakes, or whatever, with blueberries and a coffee. And for lunch, I went to Whole Foods, which is near my house. I had to do grocery shopping, so I just ended up making a salad.
When they give you the lettuce options, one of them is the "Super Green," which is some mixture of kale and chard. It looks purple. It looks like organ meat, but they're vegetables. You can see the health benefits flowing in the ether around the container of green. And I start to feel so guilty. So I just put that in there instead of getting the regular mixed salad, and then I don't like it. I added some shredded chicken and a few tomatoes and carrots and beets and some kind of balsamic-vinegar dressing. It's not how I like to eat! And I don't know what the health benefits are, because I just spend the rest of the day really hungry.
For dinner, I met a friend and we went to this place that's called Old Salt Marketplace. It has hearty food. Surprised that after my overly green meal I went out and ate proper food? I got a bratwurst thing, with a side of peppers and little gem lettuces. Totally opposite direction. I don't usually do dessert because I feel like I would rather, in the sugar war in my body, choose wine.
Related: Fred Armisen Craves Egg Sandwiches and Rude Service From New York Delis