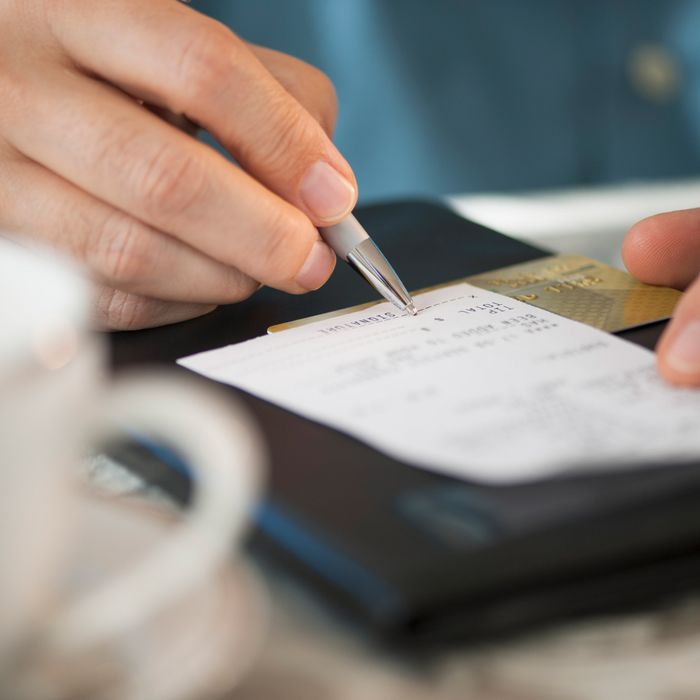 "I don't want to think about it" is a lame customer excuse.
Photo: Tetra Images/Corbis
The restaurateur-fueled movement to pass along the increased business costs associated with affordable care onto the annoyed dining public never really took off, but a few prominent restaurants on the West Coast — Lucques, AOC, Son of a Gun, and Animal among them — are adopting the practice, the L.A. Times points out, simply because their owners want to give employees insurance but fear they can't afford to otherwise. More than a dozen establishments have added a 3 percent surcharge to dinner checks "as a group," calling it a necessary evil to maintain already slim profits.
Rustic Canyon co-owner Josh Loeb tells the paper he signed on because of the health-care imperative, "not because we support Obama or don't support Obama, or are Democrats or are not Democrats." Dragging a political debate into dinnertime, of course, stands a chance of alienating diners, and the Times notes it remains an "uphill battle" explaining the surcharge. Customers for the most part seem not to mind helping a restaurant's staff — a sentiment reflected increasingly and more broadly on both sides of the political aisle now.
It also turns out that no one wants to see it itemized on the bill. "If you want to offset costs try turning up the thermostat. There's your 3%! Now please pay your workers' health insurance, and hush," one Yelp user wrote recently of Hancock Park restaurant République. "It should be seamless," a restaurant customer tells the Times. "I don't want to think about it."
[LAT]