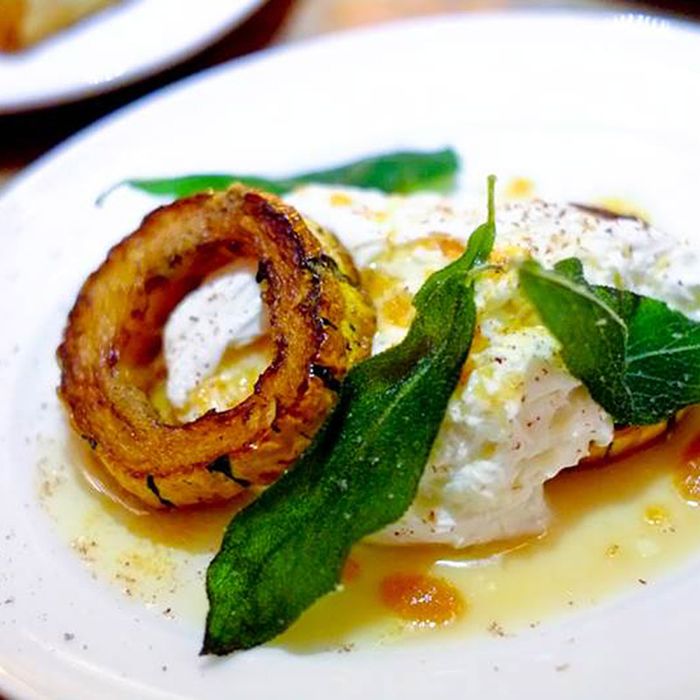 Burrata, roasted delicata squash, and brown butter.
Photo: Courtesy of John Dory Oyster Bar
There's one menu item you can almost always count on seeing at a new restaurant: a composed burrata dish. The smooth, rich Italian cheese — a mozzarella shell filled with more soft cream, essentially — is an ingredient that both chefs and diners love to a point that it's omnipresent. It used to be that it was just on every Italian menu, but now restaurants like Xixa, Mission Cantina, and Casa Mono feature it, too. Indeed, burrata is having its bacon moment. But you won't hear Grub complaining — the stuff is amazing. (Even if burrata French toast — a real thing — is right on the cusp of pushing things a bit too far.) And so, here are two dozen notable dishes from around town that make the most of everyone's favorite ingredient.
Mission Cantina
New to the menu is a sandwich with burrata, yuzu cream, and tarragon — stuffed into a squishy potato bun.
Price: $13
Colicchio & Sons
Baller move: In the main dining room, you can order warm burrata with Brussels sprouts and white truffles.
Price: $65
White Street
Chef Floyd Cardoz serves New Jersey burrata with fruity arbequina olive oil, Long Island sea salt, and toasted bread.
Price: $14
Xixa
This Williamsburg tapas spot pairs burrata with mango, habanero chile, masa cakes, and apricot jam. Believe it or not: It works.
Price: $10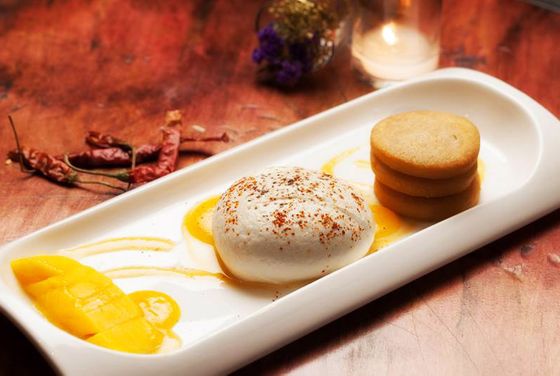 Xixa
This Williamsburg tapas spot pairs burrata with mango, habanero chile, masa cakes, and apricot jam. Believe it or not: It works.
Price: $10

Xixa's burrata with masa cakes.Photo: Courtesy of Xixa
Marea
The Nova Scotia lobster with burrata, eggplant al funghetto, and basil is one of Michael White's most beloved dishes, and arguably the plate that kicked off New York's current burrata renaissance.
Price: $27
The Upsider
This recently opened midtown east restaurant has a burrata appetizer on the menu, served with pickled seasonal fruit, mustard seed, aged balsamic, and herbs.
Price: $16
Murray's Cheese Bar
A spot that's almost too obvious a choice for people seeking out great cheese. Here, you can eat burrata toast with crispy artichoke and grilled bread. (And at the cheese store, a $8 BBLT melt: bacon, burrata, lettuce, tomatoes, pesto aïoli.)
Price: $14
Recette
For brunch at this West Village mainstay, Jesse Schenker serves a burrata-filled grilled-cheese sandwich with romesco sauce, basil, and a choice of bacon or chorizo.
Price: $13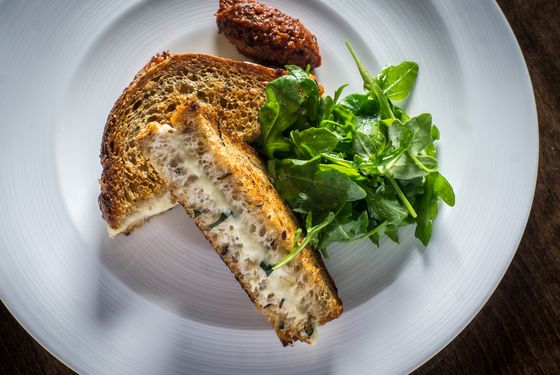 Recette
For brunch at this West Village mainstay, Jesse Schenker serves a burrata-filled grilled-cheese sandwich with romesco sauce, basil, and a choice of bacon or chorizo.
Price: $13

Recette's burrata-filled grilled cheese.Photo: Paul Wagtouicz
Kingside
Extra-rich mushroom-burrata arancini comes with a side of truffle fondue.
Price: $15
Aldea
Chef George Mendes assembles an elegant composition with burrata, heirloom tomatoes, wild oregano, lemon thyme, and a dash of maple vinegar.
Price: $14
Locanda Verde
The ricotta isn't the only noteworthy cheese here: Order burrata with broccoli rabe, spicy peppers, and pine-nut gremolata.
Price: $18
Scarpetta
Pickled eggplant, charred radishes, peas, and balsamic aren't exactly typical burrata accompaniments, but it's little surprise that they work as well as anything else.
Price: $18
Trattoria Il Mulino
Here's something new: burrata French toast. It's available starting this Saturday for brunch, and includes housemade burrata stuffed with ricotta, a thick piece of sugar-and-egg-coated brioche bread, and a sauce made from fresh blueberries and oranges.
Price: $19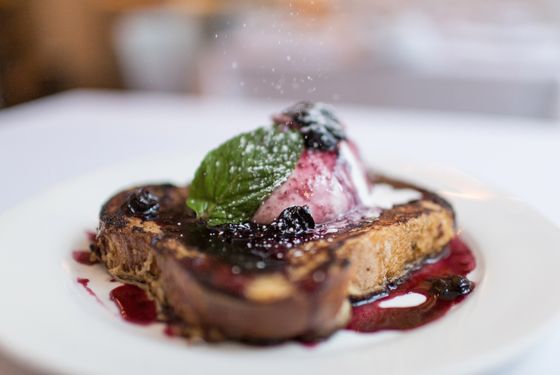 Trattoria Il Mulino
Here's something new: burrata French toast. It's available starting this Saturday for brunch, and includes housemade burrata stuffed with ricotta, a thick piece of sugar-and-egg-coated brioche bread, and a sauce made from fresh blueberries and oranges.
Price: $19

Il Mulino's burrata French toast.Photo: Courtesy of Il Mulino
The Spotted Pig
April Bloomfield is clearly a fan of burrata: Here, she pairs it with sautéed wild mushrooms — maitake, lobster, pioppini, and chanterelle — plus lemon juice, grilled holland chili, and a salad of arugula and pea shoots. All served on grilled Filone toast.
Price: $19
The John Dory Oyster Bar
At her seafood restaurant, chef Bloomfield buys her burrata from Vermont, and then adds roasted delicata squash and brown butter.
Price: $21
Estela
The burrata with salsa verde and charred bread is a classic dish here — even President Obama is a fan.
Price: $16
Gato
Bobby Flay pairs his burrata with peperonta and harissa. Pete Wells was a fan of the previous iteration of the dish: "Many chefs leave burrata to its own, oozy devices; Mr. Flay piles on roasted beets and a vinaigrette made from oil in which black olives have stewed, and suddenly it's a dish with something to say."
Price: Three bar snacks for $17
Bar Sardine
At Gabriel Stulman's newest restaurant, executive chef Mehdi Brunet-Benkritly serves local burrata with radishes and mild marinated anchovies — excellent drinking food.
Price: $16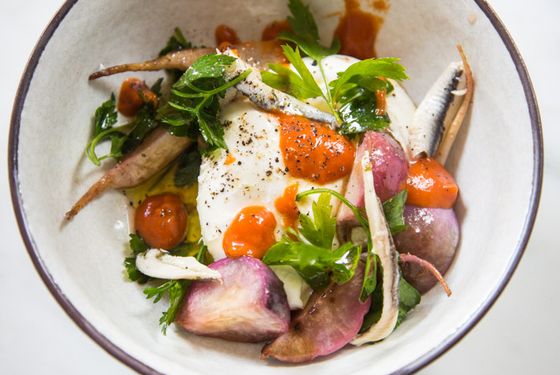 Bar Sardine
At Gabriel Stulman's newest restaurant, executive chef Mehdi Brunet-Benkritly serves local burrata with radishes and mild marinated anchovies — excellent drinking food.
Price: $16

Bar Sardine's burrata dish.Photo: Henry Hargreaves
Del Posto
Right now, cold lobster with burrata, fermented broccolini, and lemon-pane grattato is part of the ever-changing tasting menu.
Price: $179 for 8 courses, $126 for 5 courses
Corkbuzz Chelsea
In a rush? You can order this burrata sandwich — with hot chilies and basil, all on semolina bread — to-go.
Price: $10
Giovanni Rana Pastificio & Cucina
This Chelsea Market takes Italian ingredients seriously — and wisely lets the soft, creamy cheese shine by only adding cured cherry tomatoes, pistachios, and oregano.
Price: $17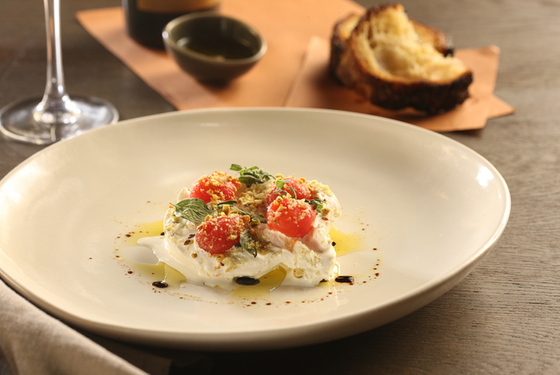 Giovanni Rana Pastificio & Cucina
This Chelsea Market takes Italian ingredients seriously — and wisely lets the soft, creamy cheese shine by only adding cured cherry tomatoes, pistachios, and oregano.
Price: $17

Rana's burrata with cured cherry tomatoes.Photo: Courtesy of Giovanni Rana Pastificio & Cucina
Smith & Mills
This autumnal preparation includes burrata, roasted butternut squash, croutons, toasted squash seeds, and a maple-sesame vinaigrette.
Price: $14
Casa Mono
Don't forget about this exceptional Spanish restaurant, where Buffalo's milk burrata comes with saffron oranges and toast.
Price: $16
Lincoln
How about burrata with walnuts, pumpkin seeds, smoked pumpkin puree, and crispy buckwheat? Yes, of course.
Price: $19