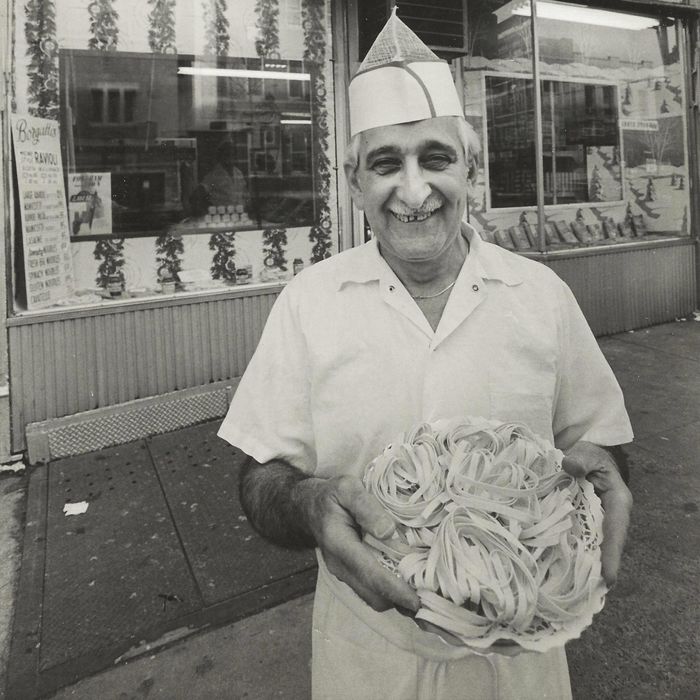 Borgatti started at the age of 17.
Photo: Courtesy of Borgatti's
The Daily News brings word that Mario Borgatti, who spent eight decades at his family's Borgatti's Ravioli and Egg Noodles in Belmont, Bronx, died October 8. He was 97.
Borgatti was born in 1917 and was just 17 when his parents opened up shop on East 187th Street in 1935. The neighborhood was a stronghold of produce vendors and butchers, whose businesses predated even the Arthur Avenue Retail Market, which opened in 1940. Though the business started off with everything from the spaghetti to the tortelloni being made and sliced by hand, and the News says the business only got its immense, wheel-turned pasta cutter in 1950, which made production easier. The full arsenal of modern sheeters, presses, and guillotine-style machines — many of which are no longer in production — came later, cementing Borgatti's as the destination for cut-to-order pasta.
The store also sells jarred salsa and dried pasta, but customers who have been going there for decades grew up with Mario Borgatti as the man who cut their noodles, then wrapped it their orders in white butcher paper with a sprinkle of cornmeal so that the strands didn't stick together. Even when Mario stepped back from the business in recent years, he reported for work, white vendor's coat and all.
Here's a look at Borgatti's today, featuring Chris Borgatti, Mario's son.
Mario Borgatti was buried today at the Holy Mount Cemetery in Eastchester. Appreciations from longtime customers are still coming in on the business's Facebook page. "Apparently, the good Lord was ready for some righteous pasta," reads one. "Rest in peace, and congratulations on a full and rich time down here."
[NYDN]