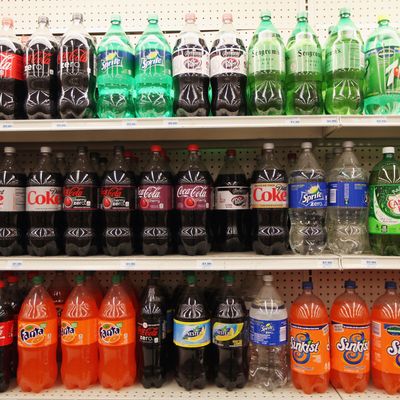 Look at all that tax revenue.
Photo: Mario Tama/Getty Images
The "most contested fight" in Berkeley right now is "pitting every elected official … against the soft drink industry." Residents voted on a proposed one-cent-per-ounce soda tax in November, and taking no chances, Big Soda — which already fizzed out Michael Bloomberg, plus Maine and Texas, plus an assortment of municipalities — has plowed $1.4 million into ads and other efforts so far, dwarfing the $135,000 put up by anti-sugary-soda proponents. "If it can't pass in Berkeley, where is it going to pass?" pro-tax Mayor Tom Bates tells him. "Honest to God, if they can stop us here, they can stop us anywhere. And they know that."
There's a bolder two-cent tax proposed across the bay in San Francisco proper, but it needs a two-thirds vote to pass, so insiders have mostly written it off. "We feel pretty confident we can beat it in San Francisco," says a beverage-industry spokesman, but adds, "Berkeley is a lot tougher."
The fight there has plenty of chest-pounding. There are "Berkeley vs. Big Soda" yard signs, city officials have welcomed the entire industry to "their Waterloo," and Big Soda is dismissing Berkeley's broader political cachet in case of a loss, a place that's "not necessarily the trendsetter that they claim to be … They give free pot to low-income folks." Mud-slinging or not, this measure is honestly probably doomed like every soda ban/warning label/tax effort before it, but that's all the more reason to choose sides, grab a water or Coke, regular or diet, sparkling or tap, and watch the returns.
Related: California's Plan to Put Obesity Warning Labels on Soda Fizzles Out
[NYT]