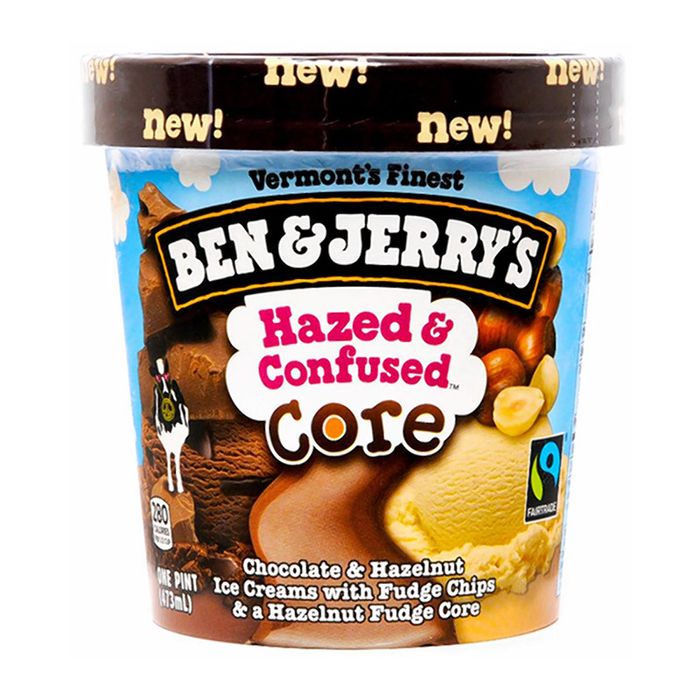 The "hazed" part comes from its hazelnuts.
Photo: Ben & Jerry's
The timing on this one could've been a lot better, with a New Jersey school now roiling in yet another hazing incident, but Ben & Jerry's says that after carefully considering the complaints by the parents of a Florida teen who died during a fraternity "hell week" hazing ritual, it has decided not to rename the new "Hazed & Confused" flavor. Sean Greenwood, a spokesperson, said that no one at the ice-cream company meant to "condone — nor support in any manner — the act of hazing or bullying," going on to say the practice has "no place in our society." Greenwood said that the "pop culture reference" had an established precedent and wasn't much different from Cherry Garcia or Phish Food, in other words.
Irreverent names have spelled trouble for Ben & Jerry's before, but this time it says it didn't intend to court controversy, just pay homage to Zeppelin and Richard Linklater, which does turn out to be great timing now that the filmmaker says he's making a "spiritual sequel" to the 1993 movie.
The fudge and hazelnut flavor has been out since February, but the parents of Harrison Kowiak, who became outspoken anti-hazing advocates after he died in 2008, have voiced their opposition to it since September, when they saw an ad. Other anti-bullying groups urged people to complain, and Ben & Jerry's told them at the time it would consider a name change. It now says it only got 11 complaints, mostly by email. The Kowiaks are blasting the company, saying it "completely avoided" dealing with "the unintentional implications of this chosen name." In a separate comment, Greenwood intimated that the naming process was perhaps stymied by the company's habit of bad puns and cutesy schtick. "Not a lot of words rhyme with 'hazelnut,'" he said.