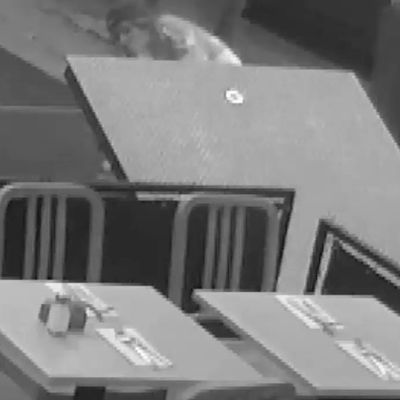 Hey, here's something curious that happened over the weekend: On Friday night, a man emerged from an emergency subway exit on Sixth Avenue and proceeded to throw smoke bombs at Bar Pitti and Da Silvano, then escaped back into the subway. Nobody was injured, thankfully, but the incident has naturally raised some questions: How did the perpetrator gain access to the subway exit? Where do you even get smoke bombs? Why target these two Italian spots instead of Guy Fieri's Times Square restaurant? And, of course, who would do such a thing?
That last question is the most alarming one because nobody seems to know yet. Since the reports surfaced on Friday night, nothing new has really come up. All police have said is that they're searching for "a white male approximately 20 years old with blond wavy hair," who appears in this video:
Da Silvano's manager did tell the press of the suspect, "I saw him come out — it was like Ninja Turtles." So, that's where we stand at the moment. Manhattan either has a militant blond ninja roaming its subway tunnels, or maybe this was just a setup for a terrible online prank show. Either way, it's disconcerting.
Earlier: Man Emerges From Subway Grate to Smoke-Bomb Greenwich Village Restaurant [Daily Intelligencer]