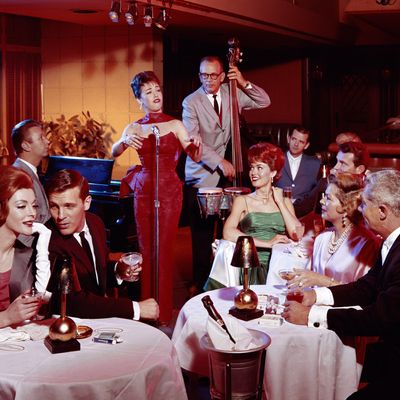 Let's just go back to the old way of doing things, shall we?
Photo: Tom Kelley Archive/Getty Images
An industry group charged with making sure music owners get their royalties has sued nine restaurants on Long Island, some of which have been pumping out contraband tunes for eight years now, from the sounds of it. Federal law requires restaurants to get licenses from up to three entities — ASCAP being just one — to play or perform copyrighted music; none of these nine establishments ever did, and now the lawsuits enumerate violations detected earlier this year at each venue by ASCAP sleuths.
The co-owner of one spot, the Homestead in Oyster Bay, estimated it will cost $15,000 to settle their suit. A manager at another, Luciano Fiorvanti of Sergio's in Massapequa, says in their case the music cited came from satellite radio and karaoke night; in all, fines range from a few hundred dollars to $150,000. The New York State Restaurant Association is disturbed by the crackdown and tells Newsday that the music licenses are just one of "a seemingly endless number of financial pinpricks" to restaurateurs, but it sounds like they'd all better get used to it: With album sales gone to seed, ASCAP says it "fears it might have to file more in the future."
[Newsday]