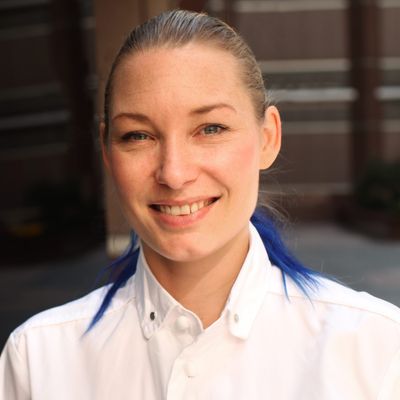 Emma Bengtsson, who had previously served as Aquavit's pastry chef.
Photo: Melissa Hom
Aquavit occupies a strange spot among Manhattan's high-end restaurants: Open for nearly 30 years and the recipient of warm reviews throughout its entire run, it's never quite managed to become one of the city's truly storied, iconic restaurants. And yet it's now entering an intriguing chapter in its existence, led by a new executive chef, Emma Bengtsson. The Stockholm native moved to New York just four years ago, originally to take a job as Aquavit's pastry chef. But Bengtsson took over the entire kitchen in April after Marcus Jernmark left — and it's worked out pretty well. Last week, Aquavit received a much-coveted second Michelin star, bringing renewed attention to the restaurant's food and thrusting Bengtsson into the spotlight as a result. Grub called her to talk about the accolade and newfound regard, how she transitioned from the pastry department to running an entire brigade, and why it's taken so long for female chefs to finally get the recognition they deserve.
First off, congrats! How did you react when you heard the Michelin news?
I wasn't expecting it for even a second. I was just hoping that we would keep the one star and they'd see all the hard work we put in. When the lady actually told me about the two-star rating, I think my first reaction was "Are you sure?" It took a moment to let it sink in, and I still don't think it fully has yet.
This is a massive accomplishment, regardless of gender. Are you aware that you're one of two American female chefs with two Michelin stars?
I wasn't aware of it at first, but now I am. I know it's a huge deal. I feel very honored to get it, and I hope that, within the next coming year, we'll see more and more women rising up and competing to take our spots, too. I'm just one of the first to come, and there will be many more. And Dominique Crenn is a brilliant chef.
How did you make the transition from pastry chef to executive chef? That doesn't happen often.
It was really hard and challenging at first. It was something that just fell on me in April, and I had to rise up and take care of it. It wasn't necessarily, at that point, something that I felt like I could handle. But the more I got familiar with it, and thanks to my amazing people in the kitchen who pushed me and encouraged me on, it got easier. It's still really, really hard. I had a lot of support from my staff. I'm growing into the role. I try and transfer the positive things that I learned in pastry: the organizational skills, the techniques.
… I'm the kind of person who doesn't go into something if I'm not 100 percent sure that I can manage it. I was a little bit scared in the beginning if I was up to the test. I'm not the one who goes and grabs. I'm more in the background, working hard. And I had a great opportunity handed to me, and it was a bit scary, but it looks like it's working out fine.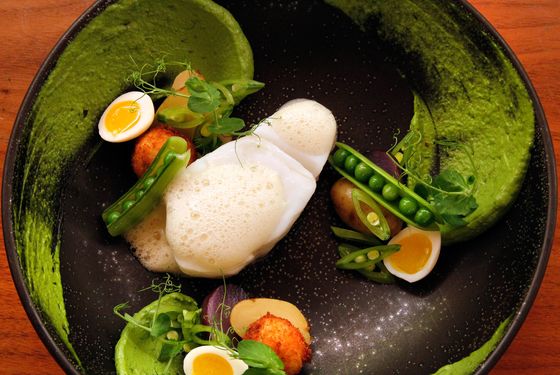 Cod and sugar snap peas.Photo: Courtesy of Aquavit

More than fine! But that's so interesting. When I interviewed female critics about the gender disparity in their line of work, many said that one reason might be that women, in general, aren't encouraged to be assertive.
It has a lot to do with gender. It's starting to change, but overall we're coming from a history where men were allowed to do more things, while women were held back. It's something that's very slowly changing. And I think it has to do with our history and the way women are taught to think.
… It might take a little bit longer, but I think a lot of women are putting in a lot of hard work. You've also got to figure that when you get to the age when you're reaching these positions, it's a natural time to start a family, too. A lot of women might choose that. It's hard to work 90 hours per week and raise a family.
What motivated you to move to New York? Do you think you'll stay?
I've always been in love with this city. I came here for vacation in 2005. I was only here for two days, and it was always on my mind that one day I would live in New York. And then, all of a sudden, I had a job offer from here. It didn't take much to pack my bags. And I think I'll stay for a while longer. It might not be the city where I want to grow old in. But for years to come, I'll be in New York.
Do you have an end goal, professionally?
My dream has always been, ever since I started in the business, to own a fine-dining bed-and-breakfast, where you get away from the stress of life. After your meal at night, you don't have to get up to work the next day. Dinner, breakfast, and bed!
What changes have you instituted at Aquavit since you took over?
I'm trying to make the restaurant a little more approachable — focusing on putting out the main flavors without making it too complicated. There's one dish that I really enjoy: sweetbreads with apple, sauerkraut chutney, blue-cheese foam, and candied pecans. That's a bit where my pastry background comes in, with the foam and candied nuts. I'm still the pastry chef, too. I don't think I will let that go easily.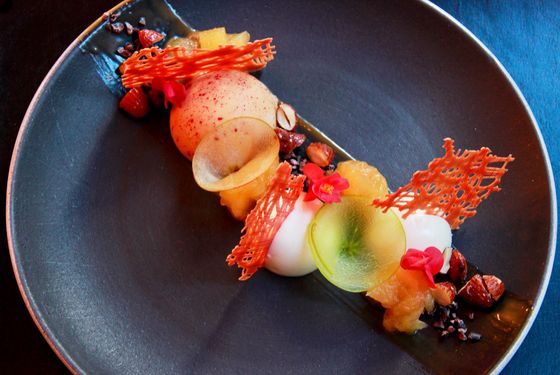 The caramel-apple dessert.Photo: Courtesy of Aquavit

Has there been a noticeable uptick in reservations since the Michelin news broke?
Since the news, we're getting more people coming in and eating the chef's menu. I think people are definitely more curious. It's definitely been a noticeable increase in demand, and it keeps going up.
Aquavit has been around since 1987, but in the last few years, Nordic food has become particularly trendy in New York. What do you make of that?
I think it's a good thing. It's opening up a lot of people's eyes to what we do and what our cooking is. Even if we've been here representing Scandinavian cuisine for a long time, there's still a lot of people that didn't know about our food until the trend started.
How has this award changed your life, personally?
More than I don't really sleep anymore? It's weird. I'm not used to having to talk so much about myself and posing for photos. People keep calling me!