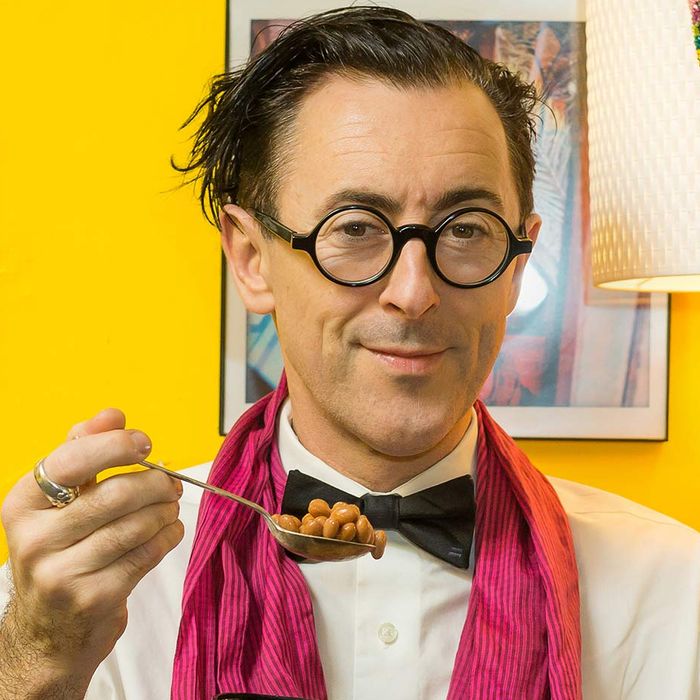 "I have loads of water and vitamins, but also loads of vodka sodas."
Photo: Noah Fecks
Long before Alan Cumming transitioned from vegetarianism to veganism — or, as he puts it, went "whole hog" — he pretended that he was vegan on airplanes so that he could get better food. It's a trick that clearly works: This week, the singer and Cabaret and Good Wife actor did a lot of flying, as he did coast-to-coast promotion for his new memoir, Not My Father's Son. Read all about his vegan leanings and strong feelings on melon, straight ahead.
Friday, October 17
First, I had an Americano before I got into the car with Carmine, my driver, and Katherine, my publicist, to go to a photo shoot at the incredible Diamond Horseshoe. I didn't have time for breakfast: I know I should try and have granola and things in the morning, and I always mean to, but I tend to rush out. So Carmine went and got me a bagel and a fruit cup. It was a plain bagel and I didn't like it, so I ate an eighth of it, and then took the strawberries and blueberries and pineapple bits out of the fruit cup and left the melon, because I hate melon with a passion. And melon is everywhere. It's the potato or rice of America, if you ask me.
Then I went to Peacefood on 11th and University with my assistant, Jimmy, and had some coffee and a kale-and-coconut-oil shake thing. We shared Shanghai-style dumplings, chickpea fries, and a Caesar salad. I love Peacefood, and I go there all the time. I also had a load of vitamins. Jimmy took the leftovers home for me to eat later.
When I got to the theatre, I had a cup of tea with a BBC lady, because my book has been chosen as Radio 4's book of the week. Then Kimberly, my dresser, came in at 7 p.m. with an Americano, and I began to get ready.
During the show, I had a handful of chopped almonds and some soup at intermission. Club Cumming — the party in my dressing room that's since evolved into somewhat of a brand — was in full swing Friday night, so I had several vodka sodas. Then, when I got home, I had some leftover chickpea fries, a pretend-chicken goujon, and some cauliflower that I found in the fridge.
Saturday, October 18
I had a banana and a coffee, black, at the studio where I was recording my book excerpts for the BBC, and a little plate of raw cashews, too. When I got to the theatre, I had a half of a BBQ Sizzler Wrap from Blossom Du Jour, made with some sort of vegetable protein that masquerades as chicken. All the Blossoms are delicious, and I order from Blossom Du Jour every matinee day for my between-shows fuel.
After the matinee, I had the other half of the wrap and a carton of Blossom's chili. I also had one of their supreme immunity drinks. I'm working harder than ever in my life right now, so I try to eat as many booster kinds of things as I can. I also get an IV of vitamins and Glutathione — an antioxidant — from my doctor once a week. I have loads of water and vitamins, but also loads of vodka sodas. Yin and Yang.
I had another Americano before the evening show. And when I got home, I ordered Indian food on Seamless from Curry Heaven that took 90 minutes to arrive, so I was totally starving, and wolfed down some vegetable vindaloo and some bean salad with two thirds of a paratha. The food was delicious, but the fact that it took so long — not heaven at all. I also had a couple of glasses of red wine. I always drink red wine with Indian food. That's the way I roll.
Sunday, October 19
I had the remaining bit of paratha dunked into some dahl and leftover vindaloo for breakfast. And then I heated up some vegetable soup in my dressing room when I got to the theatre. I had my Americano when Jimmy came in, too.
After the show, I went to the airport to fly to L.A. to do promotional work for my book, and on the way, I had a bit of a vegan meatball wrap. I had also ordered from Blossom yesterday. It was a little too much wrap, and so I just ate the meatball bit in the airport lounge, and also had some olives, carrot and celery sticks, and some pretzel mix with a Bloody Mary and a soda water. (I always have a Bloody Mary before getting on a plane.)
The flight was delayed for three hours, and the only thing I could use my $12 meal voucher on was two bags of salted nuts. I really hate American Airlines because I always approach flying with them as giving them another chance, and in such a positive way, but they continue to just totally balls it up. I will look great on Good Day L.A. at the crack of dawn tomorrow, I thought, drinking red wine and eating salty nuts.
On the plane, my vegan meal did appear! It was quite nice. Lentils with a polenta thing and a little quinoa salad. I had half the salad and half the polenta and all the lentils.
You'll have realized by now that I am a grazer. I haven't really had a full meal in all the time I've been tracking my food. And actually, when I do, I get really full and sleepy. But it's better to graze like this. It makes you lighter and more efficient.
Monday, October 20
I had some coffee on the way to Good Day L.A., and after that, we went to a vegan spot in the valley on Ventura Boulevard before heading to The Talk. I had biscuits and gravy for starters, which were delicious. I used to love biscuits and gravy, and so getting to eat them again in a vegan way was very nice and nostalgic. I also had kale and a vegetable juice and a gluten-free pizza, which I only managed a few slices of, but took to go for later.
At Larry King's show, I had some more coffee. I really like the shirt I wore on Larry King — I thought it was a kind of abstract collage of popcorn and telephone wires. On the way to Conan, I had another couple of bites of the leftover pizza. After Conan, I had some hummus and pita and tomatoes and cucumber in the car on the way to a book signing and interview in Santa Monica, and then after that, all I had was a bag of wheat chips that I had stolen from Larry King's green room.
At the hotel, I had some more nuts as a midnight snack.
Tuesday, October 21
On the plane on the way home to New York (Delta, this time, phew!), I had some fruit and then a lovely tofu scramble thing with spinach and some tea. I went straight to my doctor for an IV of vitamins and Glutathione, and also some antibiotics to try to knock the low-grade cold I've had for ages on the head.
When I came out, I went to Fresh & Company and got a delicious unchicken and arugula sandwich and some potato and sweet corn chowder. Then, after the show, I went home and had some soy protein medallions in chili sauce with broccoli that Grant, my husband, had bought me from Wild Ginger. When he was walking the dog, I just stood in the kitchen at the counter and stuffed some in before I went to sleep.
Wednesday, October 23
I had a cup of tea and some miso soup for breakfast before heading to physical therapy. That's all I ate until the end of the matinee, and then I went downstairs to snack and have some chips.
I had some lentil soup and an immunity drink from Blossom on the way to Watch What Happens Live.
In the city, I don't really cook, but when I head upstate, I cook all the time and I love it. (You kind of have to, because you're in the middle of nowhere.) But here, I cook actually more in my dressing room than I do at home: hearty stews and peasant food. Wednesday nights are usually "soup nights" at Club Cumming, but tonight I postponed, because I've got such a gnarly cold.
Related: 5 Awesome Outtakes From Alan Cumming's Grub Street Diet Shoot