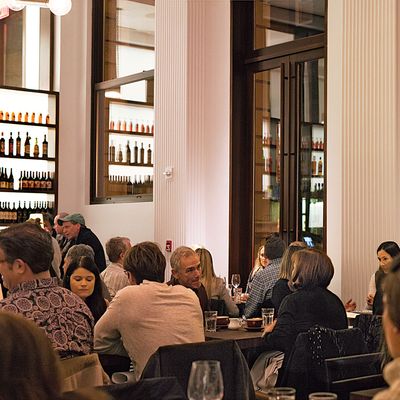 Photo: Carolyn Griffin/New York Magazine
Like lots of worthy restaurants around the city in this non-­ornamental-dining era, Danny Meyer's fine new Roman-style pizza joint, Marta, doesn't quite get the décor it deserves. The name is an Italianized "Martha," as in the Martha Washington hotel, a recently renovated old pile of a structure on East 29th Street that was briefly famous, long ago, as the country's first women-only hotel. The front lobby of the new Marta hasn't been fully decorated yet, although that hasn't stopped the proprietors from jamming a few dozen café tables next to the windows on one side of the room. There's a bar in one corner, and a slightly awkward dining counter built around a couple of impressive wood-­burning ovens along a wall. The floor is predictably mobbed most evenings, so you may find yourself nibbling your pizza, like I did, in a mezzanine space that feels a little too much like an oversize futon loft.
But, oh, what a pizza they serve at Marta. One of Danny Meyer's many talents is finding promising young chefs and empowering them to great heights. His partner and co-owner here is Nick Anderer, who has worked wonders in the realm of Roman pastas and pork dishes at their Gramercy restaurant Maialino and who now turns his attention to the Eternal City's most particular and finicky of comfort foods. As any pizza freak will tell you, the crust of the Roman pie is lighter, crispier, and thus more brittle than the floppy, chewier Neapolitan variety New Yorkers are used to. It's supposed to be wispy like a cracker (pizza is a snack in Rome and often devoured on the fly) but sturdy enough to hold a variety of toppings, since Romans, famously, like to adorn their pies with all sorts of elaborate items (fresh figs, whole eggs, foie gras) besides the usual tomato sauce and wads of melted cheese.
With the help of Meyer's state-of-the-art wood-burning ovens, Anderer manages to strike an elegant balance between what New Yorkers look for in their pizza (comfort, pulchritude, familiarity) and the slightly racier, more adaptable Roman model. The pies at Marta are roughly as big as a large Frisbee but twice as thin, and like the proverbial potato chip, it's more or less impossible to eat just one. I liked all of them (there are ten or so varieties on the menu), but the most successful tend to evoke the classic tastes of Rome itself. I'm thinking of the salsiccia, pooled with a gentle crumbling of pork sausage and barely visible cremini mushrooms; an ingenious creation called patate alla carbonara (drizzled, like the pasta, with whipped eggs and pepper); and the Amatriciana, which Anderer and his cooks dress with red onions, flakes of chile, and frizzled squares of guanciale, that famous Umbrian pork-jowl delicacy.
You can complement your refined pizza dinner at this unlikely hotel-lobby restaurant with a variety of simple fritti and salad dishes served, like in a Roman trattoria, on painted blue-and-white porcelain plates. There are fat, surprisingly tender rabbit meatballs baked with black olives and spoonfuls of ricotta, and deep-fried potato croquettes folded with scallions and bits of soppressata and served with wedges of lemon on slips of butcher paper. The seafood fritto misto di mare I ordered one afternoon was sodden and oily by classic Roman standards, but there were no complaints about the pizza-friendly salads on the menu, which include lemony tangles of arugula; a romaine-heavy Marta mista; and delicious little fronds of fresh escarole, dressed with soft bits of Gorgonzola, each one delicately topped, like cherries on an ice-cream sundae, with more of Anderer's favorite garnish, guanciale.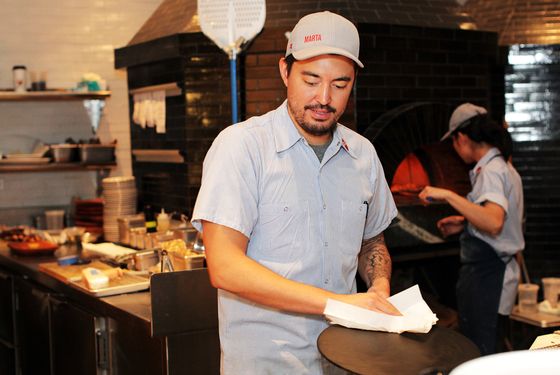 In addition to the world-class pizza ovens, the kitchen at Marta is equipped with a flame-belching wood-burning grill, capable of turning out a veritable tsunami of rustically grilled lamb chops, joints of beef, and assorted poultry and fish dishes in a matter of minutes. The lamb chops in question aren't cheap (you get three for $35, plus a few slices of sausage), but they were perfectly charred on the evening I sampled them and served with the salty little ribs on the side for maximum fatty goodness. The nicely sizzled costata di manzo short ribs receive similar treatment, although if you're looking for a breather in the midst of all this red meat (and pizza), try the sweet, almost peachlike, roast swordfish (it's suffused with fennel), or the deboned trout saltimbocca, which is grilled with a pattern of flattened sage leaves inserted under the skin and stuffed with the faintest scrim of prosciutto.
As usual with a Union Square Hospitality Group establishment, there are plenty of carefully chosen libations on tap at Marta to enjoy with all of this deceptively sophisticated grub. My uncle Frank, who last visited the Martha Washington hotel when Veronica Lake used to haunt the old dining room in the lobby, was impressed with the large-batch "bottle-aged" ­Negronis, which are premade with vats of Beefeater gin and Campari and measured out, for maximum facility, in little soda bottles with handwritten Negroni labels around their necks. He was less impressed with his tiramisu dessert, which is drowned in too much booze and served in a meager shot glass. So get the excellent buckwheat-and-risotto tart instead (it's scattered with fresh tiny strawberries), or the ice-cream panino, which is constructed with smoked-mascarpone-flavored gelato, two salty, addictively delicious chocolate biscotti, and a coating of crushed pistachios.


Marta
29 E. 29th St., nr. Madison Ave.; 212-651-3800; martamanhattan.com
Hours: 7 a.m. to 11:30 p.m. daily.
Prices: Appetizers, $6 to $15; pizzas, $12 to $17; entrées, $25 to $35.
Ideal Meal: Escarole salad; carbonara, Amatriciana, and/or salsiccia pizzas; lamb chops or trout saltimbocca, ice-cream panino.
Note: If truffles are your thing, we suggest the special black-truffle pizza (with goat sausage) instead of the slightly pricier white-truffle pie.
Scratchpad: Three stars for the pizzas, wood-grilled meats, and the ice-cream sandwich. Minus a star for the marginal room and décor.
*This article appears in the November 3, 2014 issue of New York Magazine.
Related:
Marta Chef Nick Anderer Explains His Surf-and-Turf Take on Saltimbocca
What to Eat at Marta, Danny Meyer's Brand-New Pizzeria