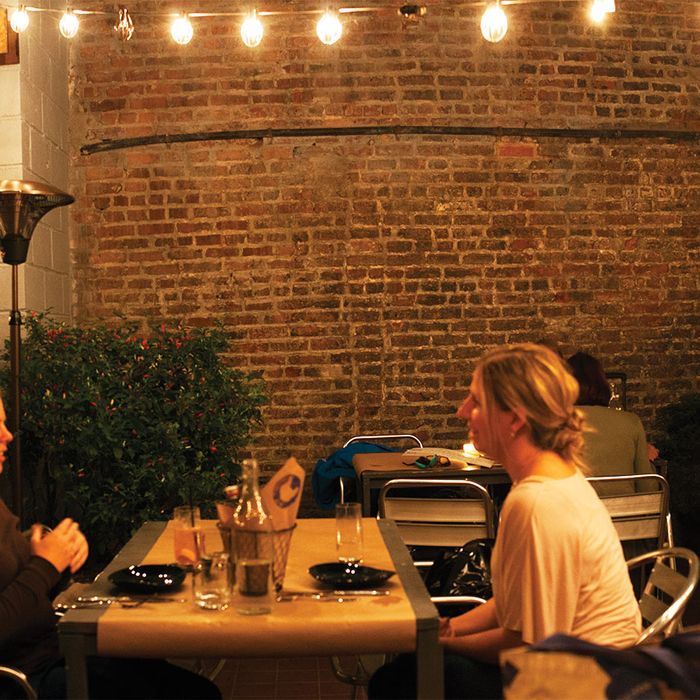 Seating at Birds & Bubbles.
Photo: Carolyn Griffin/New York Magazine
Fried chicken has already had several well-publicized moments during the course of this endless comfort-food boom, and now it seems to be experiencing another one. If you don't believe me, try joining the scrum of fried-chicken loons that tends to form in the evenings outside Sarah Simmons's sneakily posh new restaurant, Birds & Bubbles, which opened not long ago on Forsyth Street, near the northern border of Chinatown. When I finally got a seat in one of the narrow, submarine-size rooms, it was at the snug little bar, where discreetly tattooed women in summer dresses were merrily lifting $40 glasses of Grande Cuvée Champagne. There were also gently intoxicating punches being served in Mason jars (try the gin-based Blush and Bashful) and deviled eggs tipped in the hippest possible way with a mysterious substance that my bartender identified as a "Sriracha flake."

The Sriracha flake is made by gently dehydrating a thin layer of the famous hot sauce on a baking mat, it turns out, and it's just one of the surprisingly elegant creations that you will encounter at this haute chicken shack before the actual chicken even arrives. As I sipped my boozy gin punch, I enjoyed shrimp rillettes spread on little black-pepper crackers and a pair of crunchy, golf-ball-size croquettes filled, in the Carolina Low Country style, with melted Cheddar and pimentos. A fussy-looking salad of cold roasted carrots and avocado was strangely bitter (thanks to the unripe avocado), but there was nothing terribly wrong with the house version of tomato pie (made with late-summer heirlooms from the Greenmarket and more Cheddar), or the crayfish étouffée, which the kitchen seasons in the classic way with Creole spices and pours over a decorous mound of grits softened with spoonfuls of buttermilk.
Simmons comes from Fayetteville, North Carolina, where buttermilk was once the staff of life, and like many successful chefs of her generation, she makes a practice of serving her customers the kind of food (and the kind of booze) that she enjoys herself. She gets her birds from Amish Country in Pennsylvania. They're dry-brined in cayenne among other spices for a couple of days, dipped in butter­milk, dredged in flour, then pan-fried in cast-iron skillets. The whole-chicken dinner costs $65 and includes three side dishes (try the crispy potato salad and the Vidalia-onion soufflé) and a basket filled with knobby-topped country biscuits and dense blocks of fresh-baked jalapeño cornbread. The bird is hoisted to the table (or the bar) in a large silver Champagne bucket, and what it lacks in salty, just-cooked ­crunchiness it makes up for in tender chicken flavor and good old-fashioned fun.
Champagne goes with most things, it's true, but if you want to cut the richness of this kind of elevated country cooking without breaking the bank, call for a glass (or two) of the Camille Saves Carte Blanche, which costs $16 and has a drier, lighter crispness to it than some of the more opulent monsters on the 35-bottle list. If fried chicken isn't your thing, there are two exceptional Carolina-rice dishes on the menu (a delicate rice grits "risotto" with cherry tomatoes, and the other topped with pulled chicken), along with a flavorful vegetarian curry served with a roti made, ingeniously, with flat rolled biscuit dough. The banana pudding is probably the most polished of the pre-potted, mercifully small desserts, but if you're feeling a little bilious after all this fried food and booze, try a bite or two of the tangy, puddinglike lemon posset, which comes with a large sugar cookie shaped like a chicken, for snacking on the ride home.
The popular new Alphabet City restaurant Root & Bone also has a much-hyped version of fried chicken on the menu, along with a variety of other down-home southern specialties (cheese grits, grilled corn on the cob scattered with stale popcorn, "drunken" deviled eggs) prepared in all sorts of self-consciously stylish ways. Like the Forsyth Street restaurant, the entrance is crowded, most evenings, with a rabble of food tourists and neighborhood gastronomes clamoring to get in ("The wait's about an hour and a half," the friendly gate minder told me on one visit). Like at Birds & Bubbles, the dining space inside is roughly the size of a small country garage, and you may find yourself eating your fried-chicken dinner among the ­bourbon drinkers at the bar, or at a dining counter overlooking 3rd Street that's so narrow the server ended up taking our orders from the sidewalk.
Unlike the more polished Forsyth Street restaurant, however, the food here is a work-in-progress. Instead of elegant little Sriracha chips, the pink-skinned deviled eggs are garnished with frisée and random bits of potato chip. The fried chicken—created by the chef, Jeff ­McInnis, who made his reputation at a Miami restaurant called Yardbird—works well enough, provided you like your fried chicken tasting faintly sweet and ­citrusy, like Key-lime pie. The pork chop did not impress my friend the Pork Loon ("This pork chop has no balls," he muttered darkly), and the "braised short-rib meat loaf" tasted less like proper meat loaf than a mush of dank, barely edible mashed beef. The cocktails don't offer much relief (whatever you do, avoid Kill Devil Hills, made with bourbon and sparkling wine and served in a teacup), and neither do the desserts, the best of which is a wedge of carrot cake mixed, not very successfully, with shreds of parsnip.


Birds & Bubbles
100B Forsyth St., nr. Broome St.; 646-368-9240, birdsandbubbles.com
Hours: Tuesday and Wednesday 5:30 to 10:30 p.m., Thursday to Saturday till 11 p.m., Sunday 2 to 10:30 p.m.
Prices: Appetizers, $5 to $13; entrées, $16 to $65.
Ideal Meal: Cheese croquettes or shrimp rillettes, Winner Winner Chicken Dinner, chicken and rice or rice grits risotto, lemon posset.
Note: If you have the resources, check out the "So Vintage" section of the Champagne list.
Scratchpad: One star for the polished cooking and another for the booze.
No stars
Root & Bone
200 E. 3rd St., nr. Ave. B; 646-682-7080; rootnbone.com
Hours: Sunday to Thursday 5:30 to 11:30 p.m., Friday and Saturday till 2 a.m., weekend brunch 11:30 a.m. to 3:30 p.m.
Prices: Small plates, $6 to $15; large plates, $18 to $42.
Ideal Meal: Crispy free-range Bucket of Bird, succotash, carrot-and-parsnip pie. Note: Mama's Bar, around the corner on Avenue B, is a good place to sip good cheap bourbon while you're waiting for your table to clear.
Scratchpad: The signature chicken has its charms, but right now the rest of the menu isn't worth the wait.