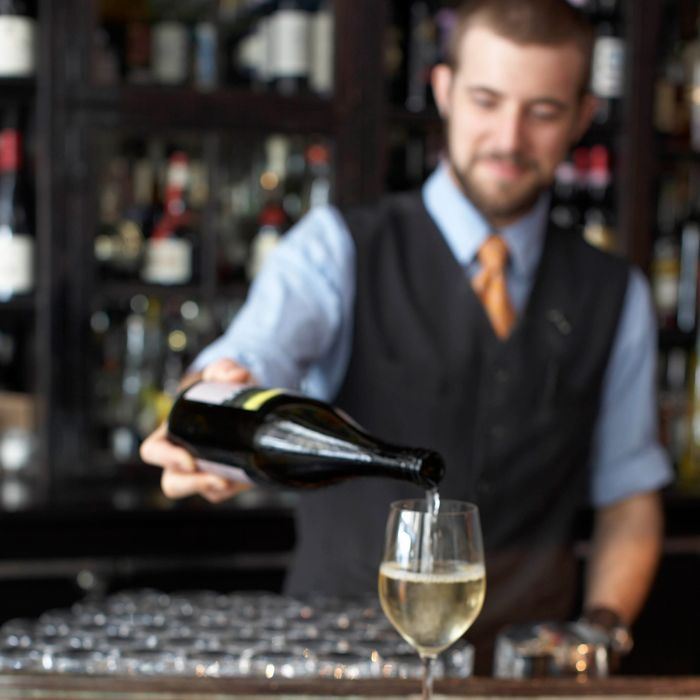 Gramercy Tavern's bar is just right.
Photo: Ellen Silverman
There was a time — long, long ago — when a restaurant's bar mainly functioned as a place to order a drink while you waited for a table. Of course, restaurant bars still do serve that purpose, occasionally, but they've also evolved into prime seating options for full meals. And for good reason: Wait times are shorter, menus tend to be more casual, service is quicker since the bartender is rarely more than ten steps away, there are usually great views of the open kitchen, plus you're likely to drink a little more than you would at a table. It's no secret that lots of restaurants only offer bar seating (especially sushi bars and high-end tasting counters). But even at many full-service restaurants with tables and servers and bussers, the bar can still be the best place to grab a seat — here are 14 places where that is exactly the case.
Eleven Madison Park
It's a little-known fact that you can order à la carte at EMP's bar — and composed dishes include foie gras with grapes, truffles, and mushrooms; slow-cooked halibut with clams; and chef Daniel Humm's famed roasted duck with apple and rutabaga and baked Alaska. (You don't need a reservation, but you probably shouldn't drop in wearing jeans and a T-shirt, either.)
Buvette
The bar seats are the best in the house here, because you watch the charming French servers soft-scramble eggs by steaming them in an espresso machine.
Lupa
Just because Carbone's across the street, it doesn't mean you should ignore this Greenwich Village favorite. It's almost a guarantee that you'll find a seat at the gorgeous bar, which lines the side of the restaurant. (Or, hey, walk a few blocks to the bar at Babbo, where there are often seats to be had, and order Mario Batali's Mint Love Letters à la carte.)
St. Anselm
It's notoriously difficult to get a table here, so you're better off going alone to eat a butcher's steak at the bar — where you can often score a lone seat, usually with no wait at all.
Gramercy Tavern
The more casual, à la carte menu is available at the front of the restaurant: Porchetta flatbread and ricotta-and-lamb cavatelli taste even better with a view of the handsome bar. Just make sure you go at an off-hour: This move isn't exactly a secret at the always-crowded restaurant.
Café Gitane
Here's another spot where you can watch all the food get prepared in front of your eyes: It's fun to watch the cooks rapidly prepare perfect avocado toast, while sipping a pot of mint tea.
Minetta Tavern
It's a power move to stroll in sans reservation, smile at the bartenders, and order the $145 dry-aged Côte de Boeuf, like it's no big deal at all. (In fact, great bars are a hallmark of all Keith McNally-owned restaurants, including his newest, Cherche Midi.) Even if the bar's packed here, as it tends to be, let the bartenders know that you plan to eat and they'll find you a spot in shockingly efficient fashion.
Franny's
It's still tough to score a table at this Park Slope mainstay, so consider ordering clam pizza and a tall glass of excellent draft beer at the large bar. As with plenty of bars, the corner is the ideal place to sit if you want a casual meal for two.
Del Posto
Surprise: Mark Ladner's full menu is available at the bar, as well as a very-fancy selection of snacks. (Like a $20 truffled-veal-and-potato club sandwich, a $15 lobster-and-lemon-basil tramezzini, and $12 'nduja with tzatziki.) And don't forget about Brooks Headley's top-flight desserts.
Marea
It can feel a bit stuffy inside the dining room, but eating a big bowl of octopus-bone-marrow pasta at the bar is always a good move. Bonus that the high seats here are extremely comfortable.
Peasant
The downstairs wine bar at at this Nolita restaurant is one of New York's (somewhat) hidden gems. It's exactly the kind of cozy atmosphere you want when the weather cools off and you're in the mood to feast on rabbit lasagna.
Perla
The great thing about Gabriel Stulman's restaurant is that it can feel fancy and elegant ($75 dry-aged New York strip for two), or relaxed ($10 chicken-liver mousse). For a decidedly more casual experience, sit at one of the two bars — the one towards the back is usually less crowded than the option up front.
Gato
The bar seating is front and center at Bobby Flay's scene-y Mediterranean restaurant, but that doesn't mean it's any less appealing. Perch at the bar for a quick bite of scrambled eggs with almond romesco, Boucheron cheese, and tomato-confit toast.
Diner
To get the full experience at this Andew Tarlow classic, you've got to grab a seat at the bar — and a burger. Plus: Nearby Reynard, also in Williamsburg, has a handsome bar. Or, if you're over in Fort Greene, there are few spots better for a glass of wine and a plate of pasta than Roman's, also owned by Tarlow.