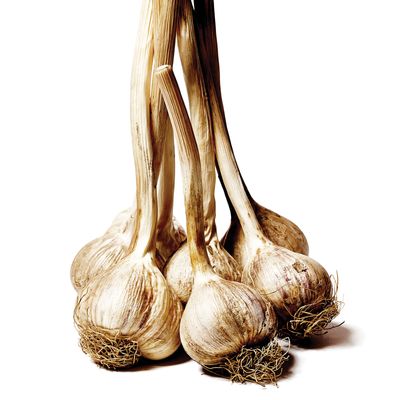 Like corn and tomatoes, garlic has a season—or make that seasons. Locavores track the odoriferous allium's progress throughout its growth cycle, from spring's green shoots to summer's curvy scapes to fall's papery bulbs, which are cured for several weeks after their late-summer harvest. Local hard-neck varieties—trickier to grow but more complexly flavored than the soft-necks from California, China, and Latin America—can be found now at Greenmarket stands like Keith's Farm, which bundles them as holiday gifts. Get in the spirit by gobbling every last one of our picks for some of New York's best garlickiest dishes. Then go off in the woods alone until the pungent bouquet wafting from your every pore subsides.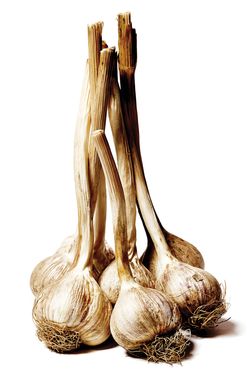 Otto's Garlic and Grana Pizza
Under the radar and over the top, this tomato pie juxtaposes molten pools of puréed confit garlic with piquant shavings of melted grana padano in such a deliciously addictive way it's probably good it's offered only as an occasional special. 1 Fifth Ave.; 212-995-9559; $16.

Han Dynasty's Cold Sesame Noodles
The dan dan noodles get all the glory, but if you want a deep garlicky flavor that coats your tongue like a heavy-duty paint roller, the sesame noodles are the way to go. 90 Third Ave.; 212-390-8685; $6.95.
Bar Primi's Linguine, Four Cloves of Garlic, Bread Crumbs
There's a school of thought that prescribes using garlic sparingly like a bottle of Chanel No. 5 or water during a drought; this plate of pasta comes from the opposite school. 325 Bowery; 212-220-9100; $14.
Ivan Ramen's Triple Pork Triple Garlic Mazemen
Actually, it's pork four ways, plus four variations on the theme of garlic (raw, pickled, roasted, and garlic oil). These ramen geniuses are modest to a fault. 25 Clinton St.; 646-678-3859; $15.
Karam's Chicken Shawarma
Before they dress this super-shawarma with parsley, lettuce, tomato, and pickled turnips, they load the chicken onto the pita and douse it with toum–the high-octane Lebanese garlic sauce that makes aioli, by comparison, seem like Marshmallow Fluff. 8519 Fourth Ave., Bay Ridge; 718-305-4815; $7.
Carbone's Garlic Bread
Never mind the colossal veal parm and the outsize portion of spicy rigatoni vodka. The reason you end up loosening your belt every time: You can't resist the fiendishly good garlic bread. 181 Thompson St.; 212-933-0707; free.
Taste of Persia's Ash-e Reshteh
Saeed Pourkay tops this supremely satisfying vegetal mush made from beans and spinach with mint, onion, and bits of garlic fried crisp and sweet as candy. 12 W. 18th St.; 917-592-3467; $8.
I Sodi's Spaghetti Aglio Olio e Peperoncino
"This is the simplest pasta you can ever make with spaghetti," says Rita Sodi. But as everyone knows, the simplest dishes are the hardest to get right. And Sodi, as always, nails it. 105 Christopher St.; 212-414-5774; $18.
Cafe Hong Kong's Garlic Fried Chicken
One bite and you'll want all your fried chicken served this way—seasoned with garlic and ginger and crop-dusted with slices of deep-fried garlic. 51 Bayard St.; 212-608-5359; $14.
Katz's Knoblewurst
This delicious beef-sausage garlic bomb goes by many names: knoblewurst, garlic ring, stukel, and…breath freshener. 205 E. Houston St.; 212-254-2246; $13.95.
Piora's Bucatini, Black Garlic, Dungeness Crab, Maitake, Chili
They flavor the dough for the pasta with Korean-style fermented black garlic, which adds a subtle note of sweetness. You won't even need to pop a postprandial Altoid. 430 Hudson St.; 212-960-3801; $36.
Best Pizza's Garlic Knots
What Rich Torrisi and Mario Carbone have done for the garlic loaf and the mozzarella stick, Best's Frank Pinello has done for the even more challenging, less reputable garlic knot. 33 Havemeyer St., Williamsburg; 718-599-2210; six for $3.25.
*This is an extended version of an article that appears in the October 20, 2014 issue of New York Magazine.