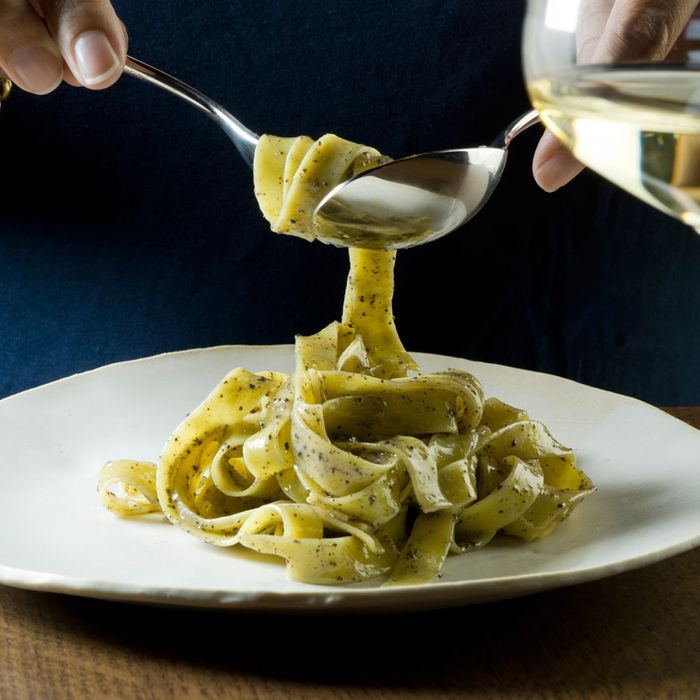 In New York, chef Eric Ripert serves grated yak cheese in a plate of truffled pasta.
Photo: Courtesy of Aldo Sohm Wine Bar
Aldo Sohm Wine Bar, the predictably upscale offshoot of Manhattan's famed Le Bernardin, has been open all of two weeks, but already those who navigate the snack-oriented menu may be puzzled by the appearance of something described as Tibetan yak cheese. It's offered either grated in a plate of truffled pasta, or on its own for $10 an ounce. "Imported from the Tibetan Plateau, Yak cheese is considered a rare delicacy with great health benefit," the menu reads, in case you need a little more incentive to give it a try. The wine bar will actually help expose yak cheese to perhaps its biggest audience outside the Himalayas — just as soon as the first few wheels clear customs.
"We call every day to see if it's ready," says chef Eric Ripert. "They say, 'Maybe tomorrow.' I have no idea where the cheese is now." His well-known support of the Tibetan cause aside, the venerated chef says he decided to put the yak cheese on the menu because he just really loves it.
It began when a delegation of staff from the International Campaign for Tibet visited Le Bernardin a while back, along with a monk who was carrying samples of the artisan-made stuff. Their hope was that a wider audience for the cheese would be economically empowering for Tibetans, help preserve cultural identity, and that it would help raise awareness of the region without being overtly political. Ripert said he was struck by the cheese's attractive appearance — when aged as a 15-pound wheel, it's similar to Comté and Gruyère — and its subtly luxurious flavor. "It's much milder and more delicate than Parmesan," he says. "In Beijing, it's prized."
It's also very hard to get pretty much anywhere else: The cheese is notoriously tough work, and production of this particular kind is overseen by Jigme Gyaltsen, a senior monk from Ragya Monastery in Qinghai on the plateau. Few indigenous foods are exported by China-controlled Tibet, where yak-centric diets are common — yak butter is a popular at breakfast — but the monastery-produced cheese has nonetheless spent the last decade making a very slow march toward mainstream interest in America: It received fanfare in 2003 and 2006, and meanwhile, even domestic production has been picking up.
But thanks to efforts mounted by Slow Food and the Trace Foundation, the handcrafted Tibetan variety, which has been made using the same methods for centuries, is now on its way to getting the same kind of regard and respect a connoisseur might dole out to a fine Emmental or nutty provolone. The experts at New York's Murray's are lending their own efforts to establishing a regular supply of yak cheese for Ripert, who created the Aldo Sohm menu, and a broader retail roll-out may be next. If that happens, Ripert, who a practicing Buddhist, will have played the most crucial role in bringing yak cheese to dinner tables everywhere.
The chef seems to recognize that a loss-leader strategy might be the best approach to convincing people yak cheese is worth trying in the first place. "We're going to offer it as a big discount, compared to what it's sold at in China," he says. But until the wheels come in, the only way to try it is grated into the pasta. At $22, that feels like a relative bargain, too, considering truffles are only the second most interesting ingredient in the dish.
Related: What to Eat at Aldo Sohm Wine Bar, Le Bernardin's New Offshoot