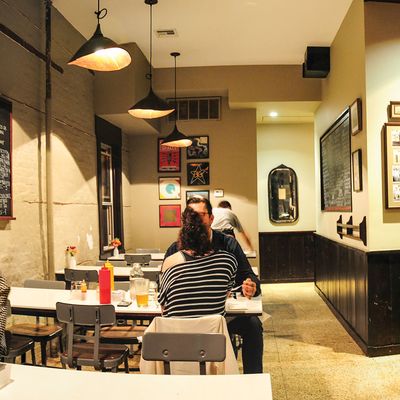 Wilma Jean
Photo: Sarah Silberg/New York Magazine
Dr. Mary T. Bassett, the commissioner of New York City's Department of Health and Mental Hygiene, shouldn't blame Robert Newton if Brooklyn's collective cholesterol count suddenly skyrockets. Nor should she find him at fault if that borough is seized by a gout epidemic. After all, at Newton's recently shuttered Seersucker restaurant, the Le Cirque vet and Arkansas native tried to get New Yorkers to appreciate a more refined, less clichéd (and not-so-artery-clogging) version of southern cooking. In pursuit of that goal, he supplemented what he called his "cleaned-up southern" menu with rigorously sourced ingredients and not a few fruits and vegetables from his neighborhood Greenmarket. He also heroically attempted to wean the locals off their barbarian zeal for fried chicken by initially restricting it to Tuesday nights. Well, it didn't work. In short, Newton wanted to channel the spirit of Edna Lewis, the grande dame of southern cuisine; his customers, he discovered, were hoping for a role model built more along the lines of Pies-N-Thighs co-founder Stephen Tanner, the bad boy of deep-fried dive-bar food.
Now, like a parent who pacifies a belligerent toddler with a Pop-Tart, Newton is giving his public what it wants. In July, he and partner Kerry Diamond shuffled two of their Smith Street properties, moving their Vietnamese restaurant Nightingale 9 to the old Seersucker space and turning Nightingale 9's former home into a new restaurant called Wilma Jean. The super-casual spot, named for Newton's grandmother and adorned with old-timey concert posters and a smattering of vintage family photos, specializes in fried chicken sold by the piece, by the dinner, on a bun, in a salad—even on a stick, the way they do at all the best gas stations down South. And with its craggy crust and high-decibel crunch, the bird's as juicy and flavorful as any you'll find in New York. The old Seersucker Robert Newton and Dr. Mary T. Bassett wouldn't recommend it, but you'll want to eat this chicken much more frequently than once a week. Ditto a perfectly proportioned, crisp-edged cheeseburger on a squishy sesame-seed bun, and any of the sides, especially smashed and fried Red Bliss potatoes, crisp-fried okra chips, a hunk of corn bread with salted molasses butter, and braised collards with country ham. (In fairness, the chef attempts to atone for his dietary sins by keeping portions small—and affordable—and ingredient quality high. That burger's grass-fed, and the chicken a free-range clucker from New Jersey.)
Newton groupies will recognize a few migrations from his other menus, including the notched-and-fried bologna sandwich he served as a $6 snack at Seersucker on a Thomas' English muffin with Dijon mustard. Here, it's been Wilma-Jeaned, arriving on a Martin's potato roll with a swipe of French's and sold for a dollar less. Likewise, a new version of Nightingale 9's excellent salad of thinly sliced raw collards turns up bathed in a celery-seed vinaigrette with roasted North Carolina peanuts. (Yes, you can get it with strips of fried chicken, but that's going too far.) In keeping with the family-friendly vibe, there's no hard liquor, but the terrific selection of local beers can be had in full- or half-size pours. (Hop-heads need to taste the Other Half Hop Showers IPA, brewed ten blocks away.)
To further distance Wilma Jean from any Seersucker-like association with fine dining, Newton serves everything in either paper boats or plastic mesh baskets on metal cafeteria trays, and the friendly service is accordingly built for speed. For dessert one recent evening, a tiny tin of warm peach cobbler served alongside a paper cup of Blue Marble vanilla ice cream was ordered, delivered, and devoured in about 90 seconds—a fitting tribute to the fleeting flavors of summer.
The Underground Gourmet has been in omusubi withdrawal ever since our main dealer, Oms/b, closed its midtown shop a few years back. So when we stumbled across Hanamizuki in the interstitial neighborhood between the Flower District and the Garment Center (call it the Penn Station Zone), we couldn't believe our luck. Here, in a sleek, whitewashed space on a schlocky block, a mostly Asian clientele congregates for $9.50 rice-ball combo meals—a tasty, relatively healthful lunch of two omusubi, a bowl of miso soup, plus pickles and a rotating side.
To the uninitiated, omusubi (also called onigiri) are traditional Japanese finger food made from seasoned white rice molded into triangular and oval shapes, filled with everything from pickled plum to dressed seafood salads, and found in their homeland everywhere from convenience stores to school lunch boxes. Hanamizuki—launched in May by the owner of the laser-hair-removal salon whose premises, somewhat oddly, are accessed through the café—takes a fusion approach, studding its roster of eight white- or brown-rice balls with things like salty eel and pickled sansho pepper (in the unagi) and a porky wallop of salami, plus black olives and capers, in the Italian. The Hawaiian, with its slab of teriyaki Spam affixed to the chile-and-sun-dried-tomato-flecked rice with a band of nori, might seem out there, but it's actually one of the 50th state's signature snacks.
The miso soups strive for like-minded diversity, but the accoutrements (gummy tofu "gnocchi" that taste more like mochi, or wilted lettuce and lardons in the "BLT") don't detract all that much from the underlying fermented-soybean base. For dessert, Japanese chiffon roll cake and black-sesame crème brûlée are imported from Patisserie Tomoko in Williamsburg.
The café-salon's hybrid setting and lofty, plant-filled space bring a breath of fresh air and a bargain lunch to a neighborhood filled with generic delis and indistinct Irish pubs. And should you happen to find yourself in need of a quick depilation as well as an omusubi combo, you're in the right place.

Wilma Jean
345 Smith St., at Carroll St., Carroll Gardens 718-422-0444 wilmajean345.com
Hours: Tuesday through Sunday 11 a.m. to 10 p.m.
Prices: $2 to $14.
Ideal Meal: Collards salad, fried-chicken dinner or cheeseburger with okra chips.
Note: Take your chicken to go and have a picnic in the adjacent herb garden.
Scratchpad: Two stars for the crowd-pleasing food, one more for the small-town-luncheonette vibe.

Hanamizuki
143 W. 29th St., nr. Seventh Ave. 212-695-5533 hanamizukiny.com
Hours: Monday through Saturday 11 a.m. to 8 p.m.
Prices: $2.50 to $6.50 à la carte; $9.50 for the combo plate.
Ideal Meal: Omusubi plate with Hawaiian and sweet potato rice balls and the "tofu & tofu" miso soup.
Note: To drink, there's a selection of hot and cold teas and La Colombe coffee.
Scratchpad: One star for the rice-ball focus, another for the serene, stylish setting.
*This article appears in the September 22, 2014 issue of New York Magazine.