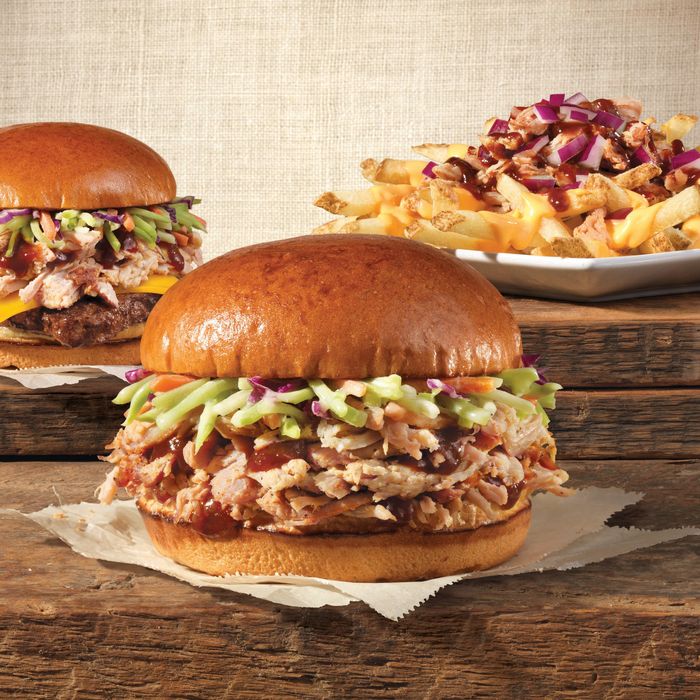 Does it come in tidy little squares?
Photo: Wendy's
Wendy's debuts its new pulled-pork menu this week, and along the same lines as Arby's recent foray into the realm of meat towers, it seems that the guiding philosophy here is to just load everything down with a lot of pork.
The chain says its pork is "smoked for somewhere between 8 to 12 hours," and the menu includes a fairly straightforward-looking BBQ Pulled Pork Sandwich that's been made weird with broccoli slaw. A pulled-pork cheeseburger and half-poutine pulled pork fries plied with barbecue and Cheddar sauces round out the other options. The fries look like this.
Wendy's director of culinary and product innovation says the move is a democratic one, intended to increase real barbecue for everyone, but it's also relatively cheap, considering the increasingly exorbitant cost of beef, and moves like Arby's, whose last encroachment on traditional barbecue cuts nearly wiped out America's brisket supply.
While the menu has just launched, Daniel Vaughn, BBQ editor at Texas Monthly isn't buying the fast-food chain's line about getting affordable pulled pork into the hands of Americans. "From their point of view, they think they can oven roast a bunch of pork, slather it in sauce, and idiots will come," he tells Fast Company.