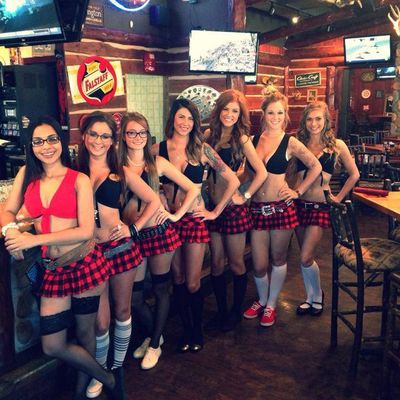 Great job, America.
Photo: Courtesy of Twin Peaks
News in the fast-casual dining world sector has been all about glum topics like closures and activist investor takeovers lately, but Twin Peaks, the burgeoning chain of self-described "racy" breastaurants, is somehow making it all work. Now up to $165 million in annual sales and 57 locations in the last nine years — 21 more are on the way — it is the fastest-growing restaurant chain in the country, according to Businessweek.
America's next biggest chain was founded on the bedrock principle that "Hooters just wasn't racy enough," it turns out, and is piloted by a Southerner named Randy DeWitt, who flipped Twin Peaks into expansion hyperdrive by buying up as many bankrupt Bennigan's and Rockfish Grill locations as he could before giving them the "racy" treatment. Not surprisingly, servers in this environment are given "points for hair, makeup, slenderness, and the cleanliness of their uniforms," plus discounts at tanning salons and the gym, and a special "diet menu" that helps "to keep them from gaining weight." All told, each location brings in a reported average of $3.6 million a year, and while DeWitt says servers bring in $500 a shift, former employees say that's more like $150.
Still, the chain's "girls brand manager," who once landed a spot on a Hooters calendar, says its servers are not being exploited. "I think it's a great place for the girls. They can work their way through college and move on," she tells Businessweek.