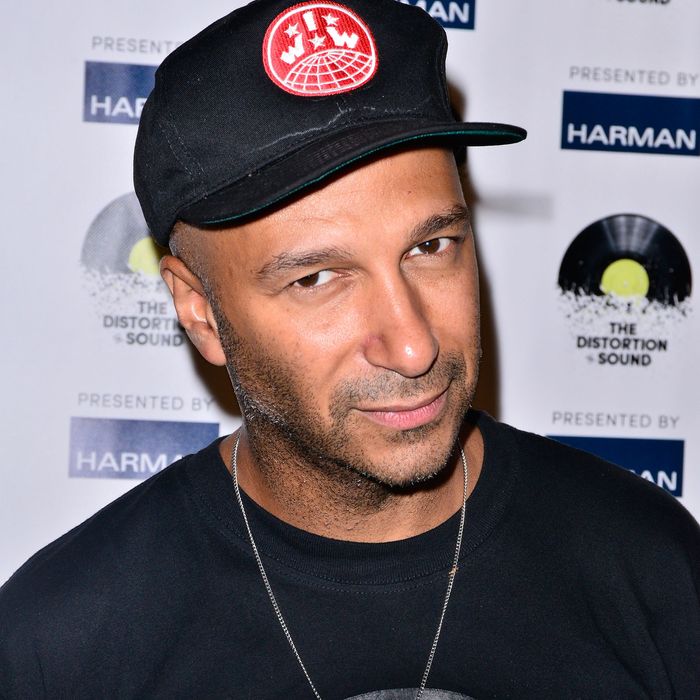 Ready to rage.
Photo: Jerod Harris/Getty Images
After rocking a solo performance this weekend in Seattle benefiting 15 Now, a group devoted to promoting a $15 minimum wage citywide for workers, Rage guitarist Tom Morello tried to waltz himself and his entourage into Seattle's 5 Point Cafe. The place was at capacity, however, and had quite the queue backed up outside already, so its doorman, "who's told bigger rock stars than him no," informed Morello they'd just have to wait their turn like everybody else. Upon hearing the news, the guitarist pulled out his phone to vent — where else at 4 a.m.? — on Twitter. Morello slammed the place, of course, but it turns out the restaurant's owner had some fighting words of his own.

Perhaps bewildered by the burst of sudden attention on social media, 5 Point proprietor David Meinert responded to the attack via the restaurant's Facebook page, laying out his business and political philosophies, and otherwise basically ensuring the rest of the fight would play out publicly:
For the record Tom Morello - The 5 Point is totally pro-worker. We try to pay more than any other small restaurant, and on top of the higher pay, we offer health insurance, paid sick days, paid time off, retirement and profit share. Sorry if you had an issue with our staff, but typically our staff is awesome, and when they are not, it's usually a reflection of the customer. Act like a prick = get treated like a prick.

I have to say, your attacking a small business without knowing anything about it, or addressing your problem with them directly before you go on a public rant, pretty much sucks. Just lost a ton of respect for you, and I've been a fan for years, both of your work in Rage and your work for workers rights since.

PS - rock stars don't get special treatment at The 5 Point. We couldn't give less of a shit. Sorry.

And PSS - I'm the owner of the 5 Point and have worked to raise the minimum wage in Seattle and support the same nationally, worked to get paid sick days law in Seattle, and am supporting a City sponsored retirement plan for employees of small businesses. I hope you do the same for your employees on the road…

PSSS - turns out he and his crew didn't get let in as the place was at capacity and there was a line. No one was being let in. According to our doorman who I totally trust, Tom and his crew were all totally rude. Quote from the door guys "I knew who he was, we had no room, his whole party was being rude. He wanted a special room in the back. Clearly had no ideas what it is like inside. I've told bigger rock stars than him no."
Here's what the place looks like. It's tiny.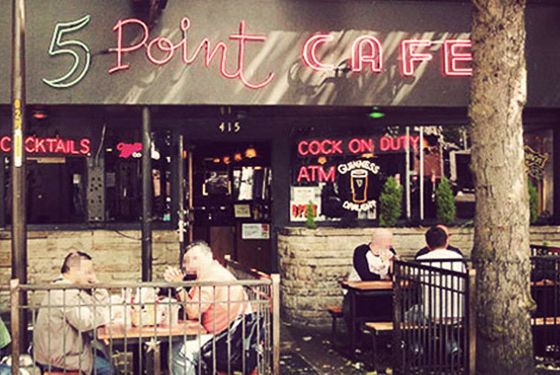 Having had the rest of the weekend to think about it, Morello picked it back up yesterday, whittling the issue down to the really important part:
The good news is that it seems as if everybody is well on their way to getting what they wanted. Who knows, maybe Meinert will even invite Morello in for a conciliatory eggs Benedict? There's no conflict that a little dialogue, plus a brunch joke or two, can't resolve.