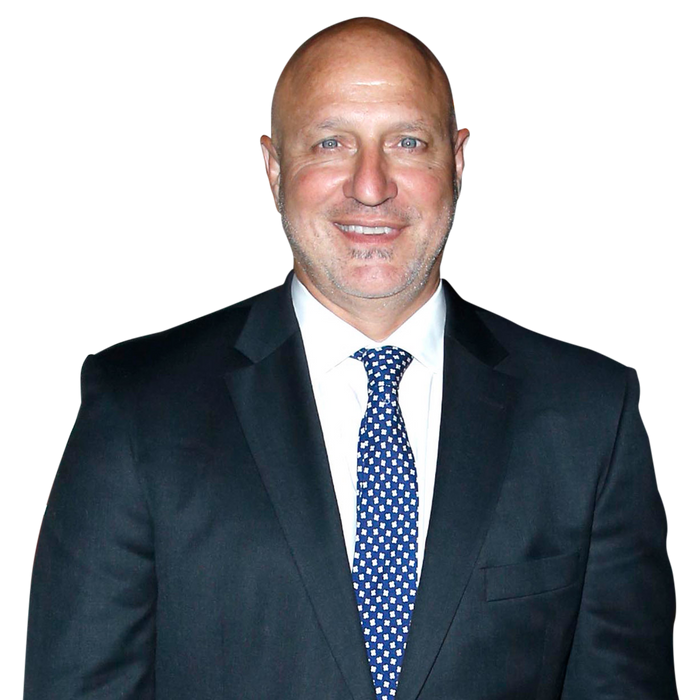 Colicchio, last night.
Photo: Jimi Celeste/PatrickMcMullan
Tom Colicchio has both a new restaurant (in the Beekman Hotel) and a new show (Best New Restaurant, on Bravo) in the works — a classic celeb chef twofer. When Grub bumped into Colicchio at last night's second-season premiere of PBS's Finding Your Roots at the MoMA's Titus Theaters, we took a few minutes of his time to talk about the new projects, how Best Restaurants will differ from Top Chef, and his current fascination with the history of New York dining.
Congratulations on your new restaurant in the Beekman.
Thank you.
 
What are your thoughts regarding chefs like you and Keith McNally opening new places in the Beekman and Danny Meyer in the Martha Washington? It feels like the trend for new eateries in New York is shifting back to hotels.
Well, I think developers are realizing that it's important to have an anchor with good food and beverage in the hotel. They are reaching out to us a lot more and looking to put together deals.
 
You're getting so much buzz. What details can you share with us?
I fell in love with the building down at 5 Beekman. It's just a magical place. Have you ever been there?
 
Well, not inside.
It's just a piece of old history; it's old New York. And so much of it was preserved, it was preserved on the sheetrock for so many years. And when it was opened up, it was like a time capsule. It felt like bit of history.
 
That's cool.
Yeah. And, even before demolition started, when you walk through, you can just imagine what it's going to be. And so, for me, it was just an immediate yes. It didn't even matter what the deal was. I was like, I want to be in this building.
 
Will we see this reflected on the plate? Perhaps an old-New York-inspired menu?
You know, that's one of the things that we're looking at. We're revisiting old New York menus and finding dishes and modernizing them. So, that's possibly a direction that we'll go in. We're still working things out.
 
And, you've got America's Best New Restaurant coming out in January.
Actually, it's Best New Restaurant.
 
My bad.
No, it's just that I insisted on the title. We're only in four states, so I didn't want to call it "America's" Best New Restaurant. I mean, people would be so quick to point that out.
 
Well, yeah.
It's obvious, but the title of the show matters.
 
Since you're stepping into Gordon Ramsay's shoes in the U.S. version of this show, what advice did he give you?
I have yet to meet Gordon.
 
I asked you this question a few months ago.
[Smiles.] I know. And I still haven't met him.
 
Make sure you call us when you do — but what's the latest on the actual show?
The production team went out and found the restaurants and ran a bunch of them by me. Some of the places sounded really interesting, so we picked them. You know, I'm really looking forward to this. We're about halfway through shooting, and it's pretty interesting.
 
How exactly is this show different from Top Chef ?
It's completely different. It's restaurant against restaurant.
 
Will the audience get to know the chefs? Or, is this more about décor and the waitstaff?
It's everything — food, service, hospitality, and design. Ultimately, this show is about whether or not they are fulfilling their mission. For me, it's about figuring out what these restaurants are trying to do and determining if they've accomplished it.
 
So, what's the verdict so far?
With restaurants, there's always something you find that's revealing, and stories are what connect people. When you find those things — those stories, you discover why people are doing what they do. And, to me, that's what's interesting about it.
 
That has a very human-interest feel. Does any of this take you back to your youth, when you were first starting out in the restaurant business?
Some of these chefs are very young, but some have been around for a little bit. But, yeah, I always feel a connection. I know what they do, and I know why they do it. And I can empathize with what they are going through. And these restaurants have been operating for less than three years, and sometimes they are struggling. I mean, you can see that they are trying so hard to break through.
 
You sound really moved.
Yes, this is important to me. I'm laboring over this, because I want to get it right. I'm deciding who wins and who loses. There's no panel and no discussion, so it's a bit different. I know what these people are going through and how hard they work. I want to reveal their stories, and I want to get it right.
Earlier: Keith McNally and Tom Colicchio Plan New Downtown Restaurants