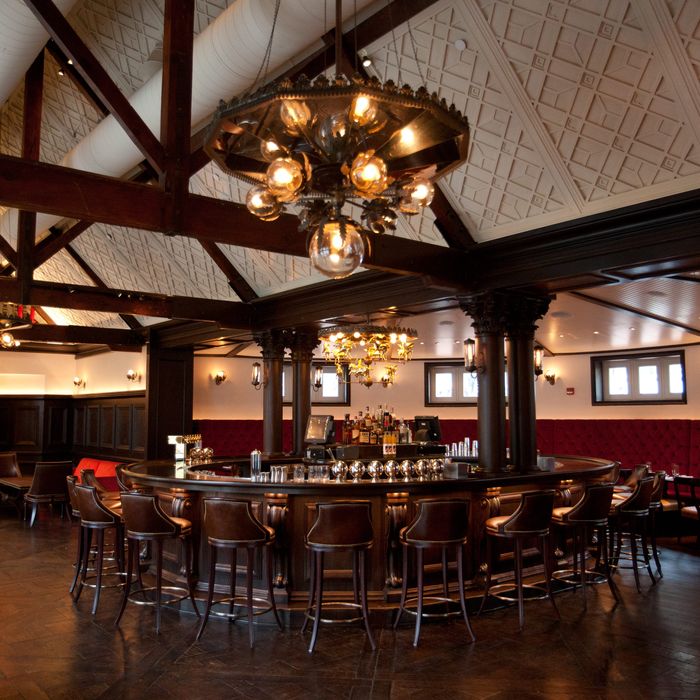 "I think they're on a path to do fabulously well," says Katy Sparks.
Photo: Konstantin Sergeyev
The long-in-the-works revival of Tavern on the Green, which at least had an auspicious springtime debut, has now lost Katy Sparks, the veteran New York chef who sought to imbue the iconic restaurant's menu with a locavore feel. Cooks served dishes made with vegetables from local farms, with touches of things like Nettle Meadow kunik cheese and Mast Brothers Chocolate, and the menu overhaul was just one part of a more complete renovation, but critics were not kind to the reboot.
In June, Pete Wells reluctantly gave it zero stars, as did New York's own Adam Platt. "The wood-roasted Maine mussels didnt taste of wood or smoke at all and were dappled with the kind of vulcanized croutons one usually encounters in a high-school buffet line," he wrote in June, in one of many such observations.
Sparks tells the Times she found some of the negative reviews helpful, but that the restaurant was not a great fit for her more than two decades of experience. Her now former partners, Jim Caiola and David Salama of the Emerald Green Group, described the split as amicable in a statement. An announcement regarding the new chef and other changes is forthcoming. "I think they're on a path to do fabulously well," says Sparks.
Bad times at the Tavern, meanwhile, raise the question: Should jumbo destination restaurants that traditionally worked the best as tourist traps attempt to be ambitious in the kitchen? The restaurant was, between 2002 and 2007 at least, the second-highest-grossing restaurant in the United States, mostly owing to volume. It was a food factory, excelling mostly at vast brunches and wedding parties that numbered in the many hundreds. It may have always been a spectacle, but carefully plated food was never really on the menu. Whatever happens at Tavern on the Green next, it probably shouldn't entail super-dry-aged Lobels steaks, single-origin chocolate, or carefully sourced local duck eggs. Or maybe they should at least bring back the fried sole and the iceberg wedge first.

[NYT]