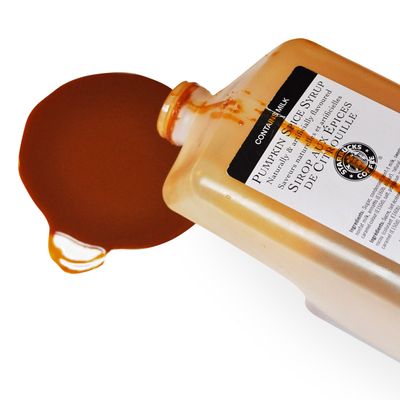 63 ounces to freedom.
Photo: Hugh Merwin
The package came from somewhere in the Rockies. I wasn't sure where, exactly. It arrived via Priority Mail at my Brooklyn apartment late one afternoon. It was neatly sealed with packing tape and it gave no indication of its contents. But I knew what was inside. I'd paid $65 a few days earlier to an unnamed seller on eBay for a 63-ounce jug of Starbucks pumpkin-spice syrup, the same stuff they put in the lattes. As I unpacked my new purchase — the jug had been cushioned with crumpled brown Starbucks bags, a nice touch — I set about my plan to add the sickly sweet syrup to everything I ate and drank until I ran out.
Starbucks sells an official "Pumpkin Sauce" to consumers, and though it is advertised as such, PSL connoisseurs know this is not the same syrup they use in the stores. As a result, there's a surprisingly robust black market for the real deal, which tends to peak in the PSL off-season: In July, one self-professed pumpkin-spice-fanatic seller moved three jugs for $120 each, claiming that they were culled from a "personal stash." The listing for the jug I bought included a photo of the batch number and its expiration date to assert its authenticity. But when I emailed to seller to find out more about this jug's origin, I received this cryptic reply:
The game of acquisition & liquidation is strung together with many parts and avenues including but not restricted to, craigslist sales, estate sales, garage sales, goodwill, internet (most often third parties) overstock, lot sales, secondhand findings, storage auctions, etc. I would have to jump into a pile of receipts to precisely pinpoint this particular acquisition. Product movement varies, our current methods do not isolate our products to one type of offer.
The seller went on to explain that he or she did "not partake in unlawful acts." After I told them I was a writer and planning a story, I expected silence. "We're very supportive of our journalistic comrades and their endeavors," they wrote.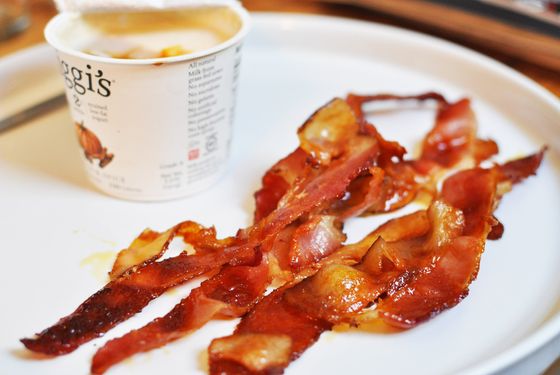 One sip of the stuff, plain, confirmed its industrial origins. The syrup had a pungent smell, like the worst potpourri you've ever encountered. It also lingered in a truly unpleasant way — nutmeg and cinnamon coating my mouth for longer than should have been possible. It was just too strong, and it needed to be cut with something. So I poured a bit into a cup of Stumptown Holler Mountain and the truth became immediately clear: Without the flavor or structure of the latte's milk foam to counteract the syrup, pumpkin-spiced coffee just tastes astringent and perfumed, as if there were some dish-soap residue left in the bottom of the coffee cup.
But still. Given America's vast arsenal of pumpkin-flavored products, I figured the syrup would be incredibly versatile. I quickly learned otherwise: I added a float to some yogurt and the result was like sour caramel ooze, but not in a good way. Pumpkin-spice pancakes with a little more pumpkin-spice syrup on top were unpleasantly acidic. I made a pumpkin-spice curry with lemongrass, shallots, chiles, galangal, and basil, and the syrup still dominated all the other flavors. Pumpkin-spiced cashew butter did blend well, but all that added corn syrup sort of defeated the point of making your own healthy nut butter. I thought pumpkin-spiced beef jerky would be surefire hit, but after spicing thick strips of London broil and diligently slow-drying them for four hours, I wound up with a pile of beautiful-looking jerky that tasted like beefy burnt oranges.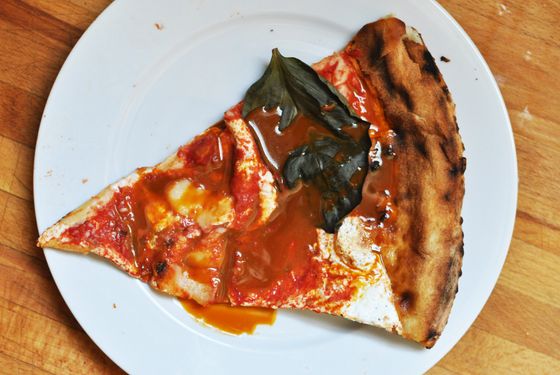 It wasn't all terrible, though: "This is not so bad," my girlfriend said as she ate some pumpkin-spiced bacon, which I'd candied in the oven, brushing it midway through cooking with a bit of the syrup — the ultimate proof that bacon really can make anything taste better.
One night, I also discovered that pumpkin-spiced Old-Fashioneds worked surprisingly well, provided you don't waste great bourbon and use extra Angostura bitters to help nullify the overpowering syrup.
Very soon, however, I discovered the main problem with a pumpkin-spiced diet: crushing sugar hangovers. I woke up in the middle of the night with a throbbing headache, sweating cinnamon and nutmeg. I got up and Googled "what happens if you drink pumpkin spiced lattes for three days straight?" but all that came up was a site that explained, unhelpfully, that pumpkin spice lattes contain no actual pumpkin.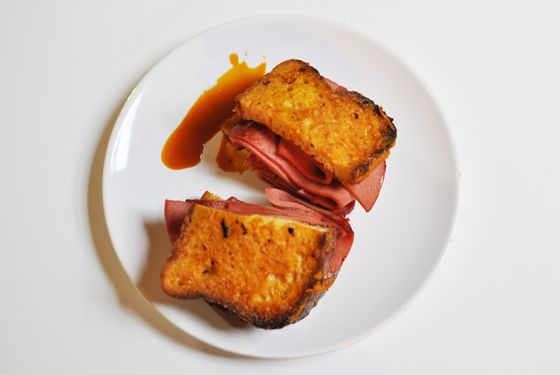 Even as I was hurting and making otherwise good food taste more or less inedible, I felt strangely compelled to continue — it was like pumpkin-spiced Stockholm syndrome. Like the latte-craving customers who get the stuff at Starbucks every morning, I was having issues weaning myself off this nightmare syrup. I discovered that the pumpkin-spiced cashew butter was actually pretty good if you mixed it with cream cheese and turned it into a sandwich. Bologna on slices of pumpkin-spiced French toast sounded a little odd, but it was another winner. Alas, I hit another wall with pumpkin-spiced acorn squash soup, which started off pretty enough. I finished it with some whipped cream, yogurt, and a culinary-school-worthy zig-zag of pumpkin-spiced syrup; it tasted like a bowl of autumnal garbage.
After a second straight night of painful pumpkin-spiced headaches, I knew it was probably time to shut this project down. I still had about half of my black-market syrup supply left, so I put it in the farthest reaches of my freezer. The jug itself is stamped "best before November 6," but I know there's no way I'll use it up before then. I poured myself a cup of Stumptown French Roast, black, and really enjoyed my coffee for the first time all week.