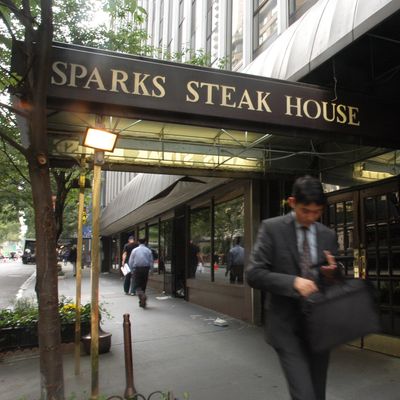 Sparks Steak House, where it all didn't go down.
Photo: Jennifer MacFarlane
Back in July, Yelp user "Besfort S." seemingly had some sort of malicious motive when he or she warned prospective Sparks Steak House customers that he'd "personally spit my own saliva into dishes for the passed three weeks now," and smart diners might wanna "double check" their food because the venerated 50-year-old NYC institution actually "condones it to guests who give us attitudes." The outrageous lie — which Yelp soon deleted — "wrongfully defamed and libeled" Sparks, the restaurant's lawsuit argues. As you might imagine, Sparks's legal team is now pretty curious to learn the legal name of "Besfort S.," and you may have already guessed that Yelp isn't telling.
The Smoking Gun got copies of the suit and Yelp review, and notes that a certain Bejfort Shala interviewed for a job at Sparks a few weeks prior to the phony review's post date, but wasn't hired. When questioned, he told police an imposter had done the review, somehow. Sparks says Yelp's data on "Besfort S." can prove whether that's true, so it's standing in the legal process's way. Sparks is hardly the first business irate over Yelp's policy of withholding user identities, and a Virginia judge in January upset free-speech advocates by ruling he wasn't such a fan either, so a judicial order against Yelp would be another minor victory for critics who call the anonymity unfair.
[Smoking Gun, NYP]